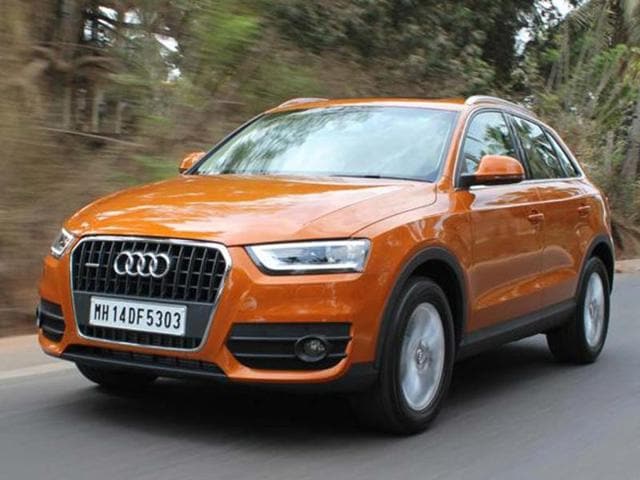 New Audi Q3 review, test drive
3 min read

.

Updated: 14 Jan 2013, 01:03 PM IST

Our first impressions of Audi\'s all-new Q3, equipped with a 2.0-litre 174 bhp diesel engine.

Our first impressions of Audi's all-new Q3, equipped with a 2.0-litre 174 bhp diesel engine.

Audi's foray into SUVs started with that Bollywood favourite, the seven-seat Q7. Then came the Q5, which offered much of what we loved in the big Q7, but in a five-seat package.
Similar Cars
The company's latest offering, the Q3, is its smallest SUV yet, so can we expect more of the same? We have been driving it in Goa and here are our first impressions of the baby SUV.
Audi is taking a different route, at least at launch, from the one BMW took with its X1. While the Bimmer is equipped and specified to offer the best price possible, the Q3 aims to deliver the full Audi experience. As a result, the Indian-spec model is fully-loaded with kit and looks and feels as good as any of its bigger siblings on the inside. It also gets Audi's Quattro four-wheel-drive system as standard, while the BMW is rear-wheel drive only.
The Q3 is compact, measuring less than 4.4 metres from nose to tail, which makes it almost 250mm shorter than the Q5. Many people mistakenly assume the Q3 is based on the Audi A4's platform. It is actually based on the Volkswagen Tiguan - a small SUV sold in other markets. Its engines are transversely mounted, allowing better interior packaging. As a result, it makes much better use of its interior space than the BMW X1, which mounts its engines longitudinally.
India will get the 174bhp variable geometry turbo-equipped 2.0-litre diesel, which we are familiar with from the VW Passat, mated to a seven-speed twin-clutch gearbox and powering all four wheels. However, it doesn't feel as refined in this car as it does in the Passat. There is a slight buzz at idle and a little grumble at low engine speeds, but it's not too intrusive. There will also be a 208bhp 2.0-litre turbo-petrol available.
We drove the diesel which, with its 38.7kgm of torque, is responsive and shifts the car's weight well. Performance is certainly not lacking. The Q3 pulls very well in its strong midrange. As a driver's car though, it's not phenomenal. The light steering, like with many other Audis, is not that involving and doesn't give you as much drive feel as some other cars.
Despite this being the baby of the range, Audi hasn't skimped on the Q3's interior one bit. It is literally as well built as the Q7. The two-tone cabin is full of high quality stuff - like the double-stitched leather boot for the gearlever, rich wood trim, intricately detailed plastic parts and the MMI screen that rises out of the dashboard - although this is just an MMI 'lite' and not the full-fledged system you get on the bigger cars.
The front seats are just as comfortable as either the Q5 or Q7's, if not as large. The rear seats are comfortable too, but there isn't as much headroom as you would get in the bigger cars. The boot, while not humongous, can easily swallow up 2-3 full-size bags, and this is possible largely because the Q3 uses a space-saver spare tyre.
The ride is not cushion-soft, but it does offer a decently comfortable experience. You do feel some road irregularities, but the ground clearance takes care of any major issues. The handling is quite flat and enjoyable, with body roll well in check.
It does have other virtues typical of a larger 4x4. Its raised driving position makes for easy entry and exit from the car, as well as for a relaxing elevated view of the road ahead; for good visibility to the sides and out of the rear of the car too. Cabin quality is impressive and it is well-equipped as well.
The Q3 will be initially sold as a CBU (Completely Built Unit) in our market and CKD-assembly will start later at Audi's Aurangabad facility. It will be the cheapest Audi in India. It is compact, well-appointed, looks sharp and the very fact that it feels premium will no doubt make it popular here.

Fact File
Engine
Fuel Diesel
Power 174bhp/4200rpm
Torque 38.74kgm 1750-2500rpm
Transmission
Gearbox 7speed S tronic DCT
Dimensions
Length 4385mm
Width 1831mm
Height 1602mm
Suspension
Front McPherson struts with aluminum lower wishbones
Rear Four-link rear suspension with separate spring/shock absorber arrangement
Brakes
Front Dual circuit brake system (Ventilated)
Rear solid discs