New Abarth range: a bigger sting in the tail
The new range of Abarth-tuned Fiat 500s is getting more features and even more power.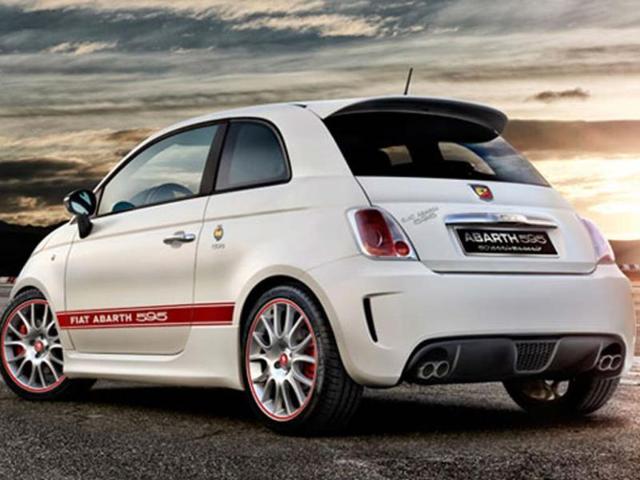 The new range of Abarth-tuned Fiat 500s is getting more features and even more power.
There's a reason why the Abarth badge features a scorpion, because despite its diminutive proportions, it is capable of felling an animal 10 times its size. Therefore, there is no more fitting badge to adorn the hood of the new 695 biposto - which starts out life as Fiat's cute 500 supermini.
However, unlike the standard car, it has 190bhp, a 0-62mph (100km/h) time of 5.9 seconds and a top speed of 143mph (230km/h). Thankfully this serious performance increase is balanced out by the addition of Brembo brakes and a better aerodynamics package. The car can even be specified with four-point racing harnesses instead of seatbelts and a proper "Dog Ring" racing gearbox.
For those that want something a little less extreme, the 595 Turismo offers a 1.4-liter turbocharged engine pumping out 160bhp and leather seats and 17-inch diamond-cut alloy wheels as standard.
To appeal to aficionados and to celebrate the 50th anniversary of Abarth's partnership with Fiat, the Abarth 595 50th Anniversario is the moderate version of a souped-up Fiat 500. Not too hot, not too cold, just right, and rare to boot - only 299 models are going to be built.
It has a 180bph 1.4-liter turbocharged engine, mated to an Abarth Competizione gearbox, serious Brembo disc brakes, a racing exhaust and 17-inch alloys as standard.
But regardless of which model you plump for, all Abarths will now come with a new 7-inch interior touchscreen display that offers information such as fuel consumption when driving around town, but when set in sport mode, offers a breakdown on performance data such as g-force being generated in the bends.
First Published Date:
13 Jun 2014, 01:35 PM IST
TAGS:
NEXT ARTICLE BEGINS