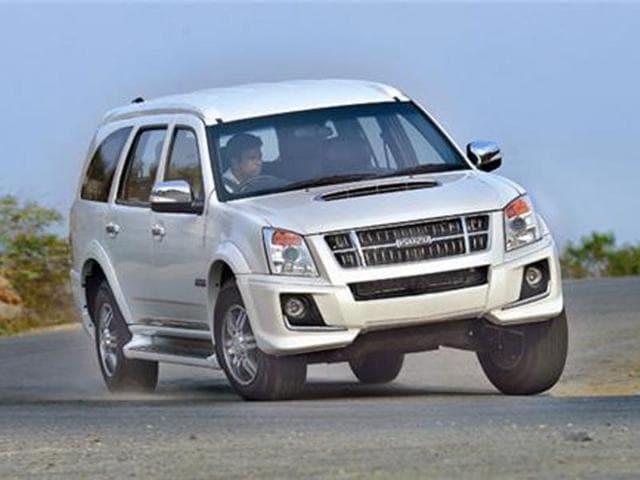 MU-7: strong engine, weak features
3 min read

.

Updated: 19 Jul 2013, 12:02 PM IST

It is renowned for making some of the best diesel engines in Asia, and at last Isuzu is in India with its own sports utility vehicle (SUV) quirkly named MU-7. Sumant Banerji writes.

It is renowned for making some of the best diesel engines in Asia, and at last Isuzu is in India with its own sports utility vehicle (SUV) quirkly named MU-7. The late entry belies the company's long association with the country having supplied engines for the Amabassador and erstwhile Contessa.
Similar Bikes
It has also supplied diesel engines in the past to many other bigger automotive companies including Honda, Ford, Mazda and General Motors. A thoroughbred Isuzu SUV is therefore worth a look.
Exterior
The MU-7 is visibly a big vehicle. With a length of nearly 5 metres, it is head and shoulders above its competitors such as the Fortuner and Santa Fe (see table).
It is also the only vehicle in that category with a wheelbase of over 3 metres. Easily then, it wants to make a big bold impression first up. And it succeeds in doing so.
While it is not a very exciting design, it has a pronounced butch appeal that will cater well for those who love their SUVs to have a threatening presence on the road. Its large two-slat grille pair up well with the boxy headlamps that reminds one of the old Endeavours. The high-strung wheel arches compliment the 16-inch wheels, giving it an eager, no-nonsense look.
Interior
What is good inside is the commanding ride position that literally makes you feel like the king of the road, good space in the middle seat and solid supportive seats to go with it. What is not, is everything else. There is a dated feel around this cabin with a quite few absentees on the feature list.
Most prominent of them is the lack of steering mounted controls and parking sensors. The dashboard does not have the slanted flowing design of modern SUVs and sticks to the drop-down cluster design, which is not very efficient in terms of ergonomics. You will be stretched to reach a few buttons while on the driver's seat.
Quality of material and fit and finish is also below par, especially when you compare it with the Hyundai Santa Fe. Also disappointing is the third row, which has a very high floor and is best only for infants. So much space at hand should have been addressed considering people buy SUVs mainly to ferry large families on the highways.
Performance, ride and handlling
The MU-7 is powered by a 3-litre turbocharged diesel engine that develops 163 PS power and 360 Nm of torque. On paper, these numbers aren't very flattering but on the road, one would be pleasantly surprised by the refinement of the engine. What also makes it stand out from the others is that it has a rear-wheel drive, which means it can offroad better than other 4*2 versions in its class.
The power delivery is linear and turbo lag, a big irritant in such vehicles, and is well controlled. The trick is in the tuning of the transmission, which ensures decent availability of power and torque at all times. As it is a heavy vehicle, ride quality is good and bad roads do not ruffle the vehicle one bit.
It even countered some of the large speed breakers in Chennai with ease. What is somewhat of a dampener is the perceptible body roll, which due to its height, may jar the experience on winding roads and at high speeds. Also, the refinement comes at the cost of fuel economy, which is on the lower side in its class. Not quite a guzzlers but not very frugal either.
Verdict
The high point of the vehicle is clearly the engine, an Isuzu stronghold, which is surprisingly refined as also sprightly. On other aspects, there are better vehicles on offer. It looks decent and utilises its size well but the interiors are uninspiring and the third row unusable.
While a vehicle of this size would not be put to test for off-roading, the lack of a all-wheel drive option is a handicap too. It is also priced on the higher side and at ₹23.75 lakh, a good ₹1.50 expensive than the Fortuner.
PS: At present, the vehicle is only available in Hyderabad and Coimbatore and its entry into the north and Delhi would only be in the first half of next year.