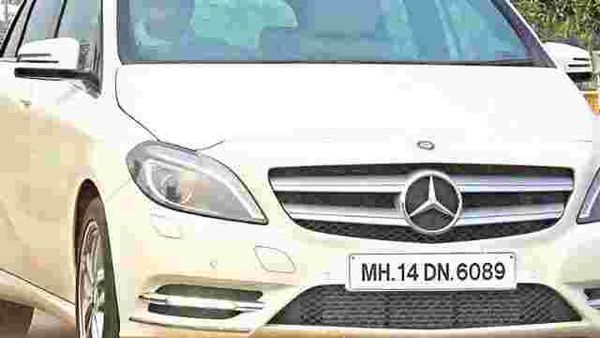 Mercedes goes small with B class
3 min read

.

Updated: 28 Dec 2012, 11:21 AM IST

It's polished, smooth and sophisticated. A car with the thrill of a sedan and the practicality of a multi-purpose vehicle. Sumant Banerji writes.

Ever wondered what would a sedan look like if it were converted into a hatch without compromising on any other technicality. Ever desired for a car that gave you the thrill and comfort of a sedan, the practicality of a multi-purpose vehicle and the road presence of an SUV. If you haven't, looking at the Mercedes B class, the German car maker's first 'compact car' will make you think on these lines.
Similar Cars
A stupendous success globally, the B class is part of the company's strategy in India to wrest the initiative in the luxury car rat race and return to the pole position. Based largely on the smaller A class platform, the car that will debut next year, B is for now the cheapest Merc on offer.
Looks : a belched up small car or a trimmed SUV?
A little bit of both actually. At almost 4.4 metres, it is definitely bigger than the small cars in India and is comparable with the mid size sedans like City, Verna or Vento. It is, however, much wider and taller than them, which puts it in a peculiar position. Aesthetically, it isn't a very jaw dropping design. But it looks well put together to not look like a touring van. From the front it looks every bit like a car with sweeping headlights accentuated with LED strip and a rakish bonnet. From the rear, the raised stance and large glass area makes it look like an SUV. It will not win any beauty pageants and out on the road not many turns but midway through we noticed a family in a Range Rover all poking their nose out and giving the B an eyeful. Surely, Merc will find it flattering.
Big enough for an elephant?
Billed as a sports tourer, the B class offers a practicality that is unheard of in India yet. True, it can seat only 4 people in comfort and a fifth with some degree of discomfort but its large 486 litre boot means it can accommodate even your giant tumbler. While it does not offer any extravagance, there is nothing that it does not offer.
The seats are big and comfortable, the rear leg room and head room is exemplary and the riding position is just right for both city and highway trips. The feature list is long too with seven airbags for safety and independent cooling controls for luxury. And a lot of other things thrown in between. There is, however, nothing flashy about the car both on the outside as well as inside. The understated luxury works all right in evolved European markets but for us, a little more of bells and whistles would have been handy. A touch screen multimedia system instead, for example.
For the roads or the jungle?
For now, the B class is offered only with a 1.6 litre turbocharged direct injection petrol engine that develops 122 horsepower and a dieselish 200 Nm torque. Combine this with a rather heavy kerb weight of 1.4 tonnes and there is proof this is not a car you can drag race with. But it still offers a very engaging drive. The performance is refined, the acceleration is smooth and handling is spot on. Like all luxury cars, it also makes a mincemeat of speed. It can touch speeds of over 150 kph and you would not even notice it. Or perhaps you will but not with too much of an alarm. So its a typical Merc...polished, smooth and sophisticated. The big drawback, however, is the lack of a four wheel drive option that limits its capabilities as a so called of a touring machine expected to conquer all terrains.