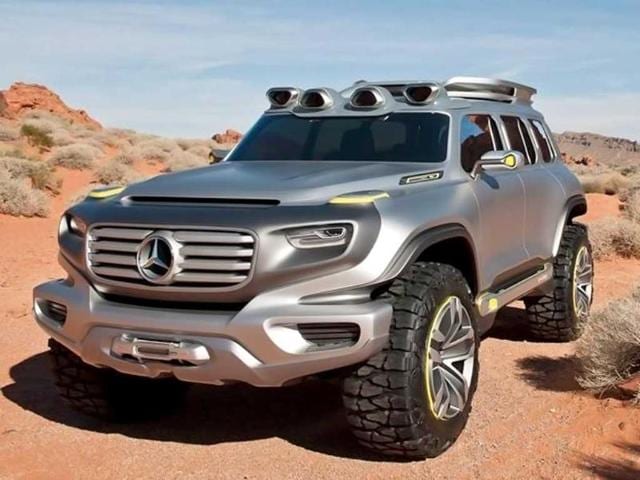 Mercedes-Benz reveals new SUV concept
1 min read

.

Updated: 05 Dec 2012, 12:11 PM IST

Mercedes has revealed a first set of images of the new Ener-G-Force SUV concept.

Mercedes has revealed a first set of images of the new Ener-G-Force SUV concept.

This new Mercedes-Benz G-class-based concept may be the first indication of the carmaker's plans to launch a direct rival to the Range Rover.

The Ener-G-Force concept SUV is an imposing seven-seater that, in kitted-up highway patrol vehicle guise, is also Mercedes' entry into the annual Los Angeles Auto Show Design Challenge at next week's LA motor show.
Similar Cars
Sources claim the Ener-G-Force is the forerunner to a new three strong line-up of Land Rover-rivalling off-roaders set to join its line-up in coming years, based around existing platforms and driveline combinations, including a long-awaited replacement for the iconic G-class in production since 1979 and a Range Rover rival.
"The Ener-G-Force invokes the genes of the G-class," said Mercedes' design Chief Gorden Wagener. "It could also be a clue about a new beginning for the off-road design idiom of Mercedes," he added.
Styled at Mercedes-Benz's advanced design studio in California, the Ener-G-Force updates the functional go-anywhere appearance of the 33-year-old G-class with a bold new look that provides clues to how the company's new SUV line-up, which Autocar understands has been conceived to include compact, mid-size and luxury, may appear if current proposals are approved.
The taut surfacing and lack of fanciful crease lines throughout the body helps provide the concept with a particularly tough appearance. The Ener-G-Force's proposed driveline consists of four wheel-mounted hydrogen-powered electric motors. Water held in containers on the roof and a Hydro-Tech Converter provide electricity that is stored in batteries within the concept car's broad sills, which also act as tread plates. Mercedes-Benz predicts the car would have a range of up to 800km.