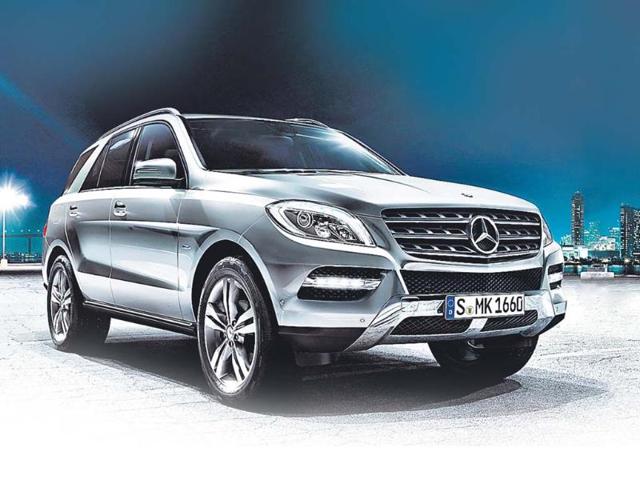 Merc's M: Look beyond the looks
3 min read

.

Updated: 15 Mar 2013, 12:17 PM IST

It may not be aesthetically the best SUV on offer, but will surely pamper you in everything else. Sumant Banerji reports. The best second-hand bet | Automotive Scrabble | Mercedes M Class

Barring the top of the line ₹ 1 crore-plus G Wagon, Mercedes' success in making sports utility vehicles (SUVs) has been moderate at best. Between the Wagon, a favourite with many Hollywood celebrities and often considered as a benchmark for a burly off roader, and the gamut of compact inexpensive vehicles that have besieged the market over the last few years, the German luxury carmaker has been flat footed more than once.
Similar Bikes
Till date, it is exploring the answer to the BMW X1 and Audi Q3, a big reason why it is falling behind the two. Even at one level up, it does not have a vehicle in India. Though, it does have one in the M Class and like all Mercs it has been built painstakingly and improved upon with each generation. How good is it really?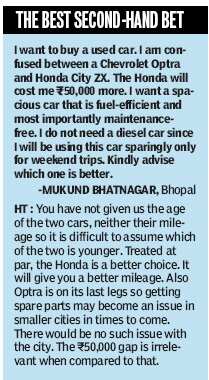 Exterior
The M makes no bones about it. It is a big burly vehicle that is more American than German. A look at the numbers suggests it is only slightly bigger than a BMW X5 and actually shorter than an Audi Q7. But it is the tallest of the lot that gives it a raised bonnet and a butch-like stance. Throw in an uber aggressive front-end and the car looks almost menacing. This is a good thing in India for we love to drive vehicle that threaten others (not kill, mind you). But the design is its weak point. The build quality is good and overall it does look sharp and not ungainly. But the bits of inspiration needed in any luxury car, is missing. It looks very conventional and staid otherwise. A little bit old school.
Interior
No qualms inside though, barring lack of 7 seats (the Q7 and Volvo XC90 offer that by the way). There are lots of things that you would like, our favourite are the gears behind the steering wheel. This opens up space in the middle for large bottles while at the same time enhances driving comfort. You don't need to take your hands off the steering wheel at all, even while paying the toll. Space is a big plus. There are acres of it everywhere. Even three adults at the back isn't a squeeze. How many times have you heard that now? Boot is cavernous as well, 700 litre. Your dog is invited, and his kennel too.
Performance, ride and handling
The M comes with two engine options. A 2.1 litre diesel, which belts out 203 bhp, and a bigger 3 litre diesel powertrain with 255 horses. The former is more economical but the latter is more fun and adrenaline. No, this isn't a sports car. But thanks to the 7 speed automatic transmission it makes light work of carrying the bulk 2 tonnes-plus mass. And, it is quiet like a church. The suspension has been tuned to perfection for India. Potholes and speed breakers don't bother at all. Sadly, the steering feels too light at times and lacks feedback. It gets one big aspect right where so many others fail. It handles the call of the wild really well and cannot be called a soft or an occasional off-roader. What dampens the fun a trifle are the tyres. The puncture that we suffered was proof. This is a problem that stalks every luxury car maker in India though. They have not got the tyres right at all. And sadly, a car does ride on them alone. Mercedes M Class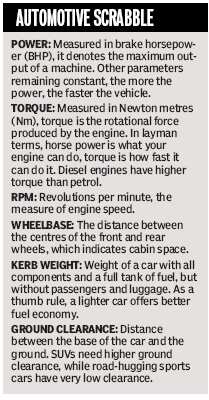 Verdict
We know Mercedes can make very good sedans. Their focus on luxury and comfort over sheer performance is well suited for that. We also know that among other German manufacturers, Merc is one of the more technology-driven firms. This is something because everything German reeks of cutting edge craftsmanship. Where they lack finesse is in design. And the M shows why. It is surely not the best-looking SUV you can buy. From some quarters it even looks dated. But it pampers you in everything else. You will never feel the need for room inside and the interiors is rich and sophisticated. The equipment list is long and the ride quality one of the best in its class. It does not handle as well as a BMW X5 but is a more handy off-roader. Like the other Mercs, all it needs is to drop the stately look for something a little more cool.