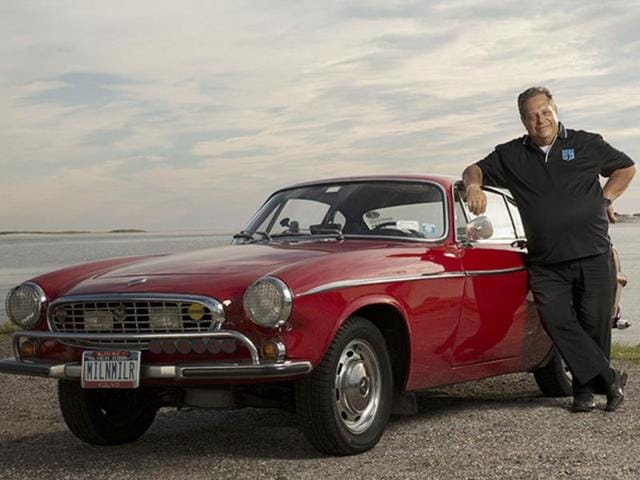 Meet the three million mile man
3 min read

.

Updated: 29 Jun 2013, 03:48 PM IST

Irv Gordon is about to break his own world record for the most miles driven by a single person in the same car.

Irv Gordon is about to break his own world record for the most miles driven by a single person in the same car.

The car in question, a red 1966 Volvo P1800, has been in Gordon's possession since the day it rolled off the production line and on to the dealership forecourt.
Similar Cars
For the 73-year-old retired science teacher it was love at first sight: 'I bought my Volvo P1800 on a Friday, and immediately fell in love,' Gordon recalled. 'I couldn't stop driving the car. It was a long holiday weekend, and I brought the car back to the dealership the following Monday for its 1,500-mile service.' That first long weekend proved the shape of things to come. By 1976 the odometer had already reached the half-million-mile mark, and by 1988 Gordon had driven the Swedish coupe into the record books for the first time for hitting 1.69 million miles in the same car.
'The best way to explore America is by car,' said Gordon, 'I challenge everyone to go out and see as much as possible. Find your own journey and reason to believe, because you only have one life to live. No matter how many roads I've been on, there's always one I haven't taken. That's what makes it exciting.'
When the now legendary Volvo and its owner clocked up 2 million miles it was along Times Square in 2002 and with huge media attention and, as Gordon approaches the next incredible milestone, his journey is being captured by Volvo via 3millionreasons.com in the hopes of inspiring others and as an attempt to catalogue each of Gordon's miles since he took ownership of his car almost 50 years ago.
And with fewer than 10,000 miles to travel before the driver and his car make history once more, Gordon has planned a road trip around the US which will help him look back and remember journeys past as well as continue on his adventure. 'I'm realizing this will be a record that no one will surpass. So, these next few thousands of miles will be special and sentimental for me. I'm looking forward to visiting my favorite places in big, beautiful America -- from national parks to roadside cafes, from the Pacific Coast Highway to small roads that are miles from the Interstate. Send me an invite and maybe I'll meet you for a cup of coffee.'
Based on his calculations, Gordon plans to reach three million miles in Alaska this September which, quite fittingly is regarded as America's last frontier. 'It's not about getting to the three million miles; it's about the trips that got me to the three million miles,' Gordon said. 'I never had a goal to get to one million, to two million. I just enjoyed driving and experiencing life through my Volvo."
And while his story is no doubt inspiring, it also highlights that with a little love and attention a well-maintained car can stand the test of time. 'Because Irv follows the owner's manual and truly cares for and loves his car, I have no doubt he'll reach three million. Irv always says he takes better care of the car than himself! And he's fun to ride with on trips because you don't need a map,' explained Nino Gambino, a technician at Volvoville in Huntington, New York, where Gordon has been taking the car for servicing for the last 15 years.
'For every mile Irv has logged in his Volvo, there have been just as many reasons why he's been able to do it -- from his meticulous care, on-schedule oil changes and his safe driving practices -- all the way to Volvo's legendary attention to engineering,' added John Maloney, president and CEO of Volvo Cars of North America and friend of Gordon.