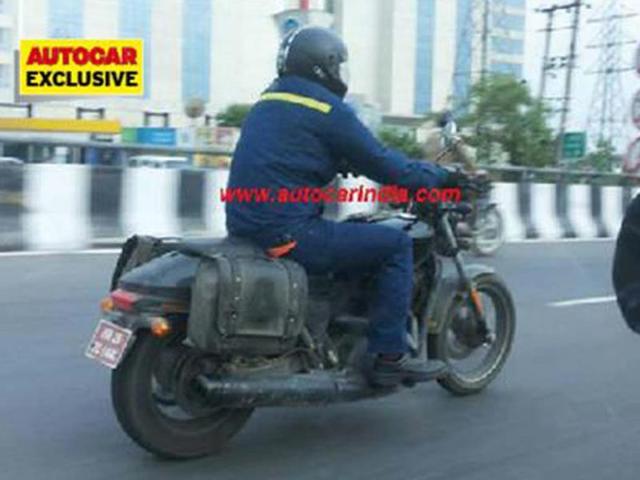 Made-in-India Harley, fresh details
2 min read

.

Updated: 02 Nov 2013, 11:25 AM IST

We broke news of Harley-Davidson's made-for-India motorcycle in our September issue, after which there's been much buzz and anticipation surrounding this landmark new motorcycle.

We broke news of Harley-Davidson's made-for-India motorcycle in our September issue, after which there's been much buzz and anticipation surrounding this landmark new motorcycle.

The famous American bike maker has confirmed it is at work on a motorcycle to be produced in India, built using a large percentage of locally sourced parts.

Big bike market leaders in India by a hefty margin, Harley-Davidson India is in the process of getting set to flaunt really rock solid commitment to India, with an earnest approach, as it leverages the benefits of high quality motorcycle production in India, at competitive costs.

Harley already offers Indian bikers a wide range of motorcycles, having found firm footing here by assembling several popular bike models as CKD packages, which helps keep pricing alluring. It's a proven formula that's allowed a new generation of Indian riders access to the famous motorcycles, its riding gear and lifestyle statement.

A made-in-India Harley Davidson is certain to accelerate this dream run, with little known about it this far. Harley has kept a tight lid on information, but is certain to unveil more in the first week of November, at the upcoming Milan motor show, EICMA, before which, here's our take.

We know the made-in-India Harley-Davidson will ride in with a cruiser typical front end, going with simple, classic lines, including a petite round headlamp. Our picture shows the butch and macho bike in unfinished, pre-production guise. It's evidently a muscular, low and lengthy motorcycle, with powerful presence and ample chrome accents. The India bike's elongated tank should accommodate about 13 litres of fuel, and flows backwards into a distinct, edgy tail.

Expect the Indian manufactured Harley-Davidson to rely on power from a four-stroke, approximately 60 degree, V-twin engine, displacing in the region of a healthy 750cc, with fuel-injection offered as standard. A single overhead camshaft configuration and liquid-cooling will be offered. You can expect excellent low end grunt, supported by a peak power figure of around 53bhp, ample torque and adequate performance for this class of easy riding motorcycle. The motorcycle's manual transmission will shift in the universal, one-down, rest-up pattern, and rear-wheel drive will be via a Harley typical toothed-belt, a system that's quiet, reliable and better suited to Indian conditions than a drivechain.

You can look forward to a potent sounding exhaust growl when the new H-D finally breaks cover to enter Indian showrooms, in 2014. Harley-Davidson knows Indian riders and riding conditions well, which is why the India bike is certain to output pulse quickening acceleration to 110kph, and a true top speed that won't extend far beyond 150kph, as should satiate most.

The heavy cruiser motorcycle will have a lengthy wheelbase, seating its rider in armchair comfort, with a back-upright riding position supported by feet-set-forward rider footrests. A steel fabricated frame will hold the new motorcycle together, with an ample, plush riding saddle to support riders and their pillions. Alloy 17 inch rims, telescopic fork front suspension with smart reflectors and dual rear shock absorbers shall be standard on the upcoming Indian manufactured Harley-Davidson.

Tyres are expected to be from MRF, in the region of a 90/90 x 17 inch section unit in front, and 140/60 x 17 inches at rear, while braking will be via single disc brake units, front and rear.