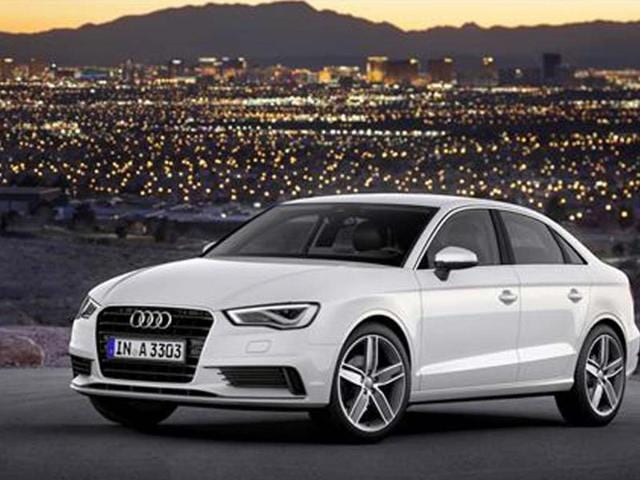 Luxury carmakers chase India's young, female and frugal
5 min read

.

Updated: 23 Apr 2013, 11:38 AM IST

Luxury carmakers in India are moving downmarket and shifting production of smaller and cheaper cars to local plants to cut costs, broadening their target market to include India\'s young, female and middle-class drivers to boost lacklustre performance.

Luxury carmakers in India are moving downmarket and shifting production of smaller and cheaper cars to local plants to cut costs, broadening their target market to include India's young, female and middle-class drivers to boost lacklustre performance.




In an effort to raise stuttering sales that far lag emerging Asian rival China, the German big three of Mercedes-Benz, Audi AG and BMW AG want to win buyers outside the ultra-rich with locally-made hatchbacks and smaller cars.
Similar Bikes
'This is a real year of offensive,' said Eberhard Kern, India managing director of Daimler AG's Mercedes-Benz brand, for which sales dropped nearly one-third in the financial year just ended. He expects the rollout of its hatchback A-Class and a diesel version of its B-class model to help spur double-digit sales growth this year.
After two decades of economic boom, the sight of a sleek Lamborghini or polished Bentley outside Mumbai or Delhi's flashiest hotels or most exclusive nightclubs is not uncommon.
Yet annual sales of luxury cars stand at just over 20,000 vehicles, or about 1% of the total car market, compared with around 7 percent in China.
Tapping into India's love for compact vehicles - which account for around 75% of all car sales - is no guaranteed fix for the German firms, whose luxury hatchbacks will face competition from far cheaper mid-market offerings made by competitors including Toyota Motor Corp and Volkswagen AG in India's highly cost-sensitive market.
'What the (manufacturers) are trying to do is lower the prices and create a much more marketable population. That trend is going to continue,' said Abdul Majeed, automotive leader at PricewaterhouseCoopers India.
'In India you have to demonstrate a value-for-money proposition ... but 'How can I make sure that the BMW stands a class apart from the other products?' will be the challenge for the (manufacturers),' Majeed told Reuters.
Luxury car sales fell an annual 14% in the financial year that ended in March, as India's lowest economic growth in a decade brought years of rising demand to an end.
Overall car sales fell for the first time in 10 years in 2012, and now to attract Indians who are affluent but lack the vast resources of the super-rich, Mercedes and its rivals are introducing lower-priced models, more of which than ever before will be built in India.
Mercedes, which has built cars in India since 1995, is doubling assembly capacity at its plant in Pune in western India to 20,000 cars annually this year, and will bring its A-Class small cars to the country in the next three months. It is also introducing guaranteed resale prices across its range, and adding cars like its GL-Class to its local plant this year.
Kern said he does not think local assembly will put off buyers, 'because the Mercedes-Benz quality everywhere in the world is the same'. Mercedes will add more models to its local production line in 2014, Kern added.
The range offered by Mercedes in India starts with the B-Class from around $40,000. The A-Class starts in Germany at around $27,000. No details of the Indian price of the A-Class were available.
Audi, owned by Volkswagen, and BMW are following similar scripts. The UK-based luxury Jaguar Land Rover unit of India's Tata Motors Ltd, which saw sales in India double last year, is even mulling full production, using Indian parts, in the country.
In 2014, over 90 percent of the vehicles Audi sells in India will be made there, up from around 80 percent now, as it adds the Q3 compact SUV to its Indian assembly line where the A4, A6, Q5 and Q7 are already being built.
'We will look at which of our global models will allow us in India an even higher and faster scaling up of our production capabilities,' Michael Perschke, managing director of Audi India, told Reuters.
Cars built from imported kits, known as complete knock-down (CKD) production, avoid high import taxes on ready-to-drive models such as the top-end Audi R8 Spyder, which costs around $320,000 in India and will continue to be shipped in from overseas plants and sold alongside 'Made in India' vehicles.
No details of the cost of the upcoming Indian-made cars were available.
In his February budget, India's finance minister raised the import duty on luxury cars to 100 percent from 75 percent, making local production even more attractive.
YOUNG AND TRENDY
None of the German luxury trio sold more than 7,500 cars in the financial year just ended, when Mercedes fell to third place behind BMW and Audi in a market it used to dominate.
Stuttgart-based Mercedes-Benz, which entered India in 1994, expects total Indian luxury sales to rise to 280,000 annually by 2020, or 4 percent of the total forecast car market. The company believes it must break into new markets to secure that business.
'There is a different growing segment below the 30 lakh (3 million rupees, or $55,500) threshold, where we are not in the game right now,' said Kern. 'There the game starts for us in the next three months.'
The A-Class will be India's 'first luxury hatchback' according to Kern, and will be launched alongside a diesel version of its B-Class model, a fuel that powers 90 percent of the cars Mercedes now sells in India.
Both those smaller models will be prime candidates for local assembly in 2014, further lowering their cost, while the company is also considering the CLA-Class compact for an Indian entry, Kern said.
BMW, India's biggest luxury carmaker by sales, began making its Mini small car in India last week, and will add the 1 series hatchback to its production line in the south Indian city of Chennai this year.
Mercedes has introduced guaranteed resale values on its new cars in India, increased financing options and made its branding more youth-oriented, including a competition for Indians aged 18-25 to race its cars internationally, in a bid to broaden the range of customers coming into its showrooms.
'The current segment of customers is a CEO or the owner of the business,' said Amar Sheth, director of Shaman Wheels, a Mercedes dealership in Mumbai. 'With the new generation cars coming in, it will be totally different. It might be his son, or his wife... (or) people between 20 and 30 years old.'