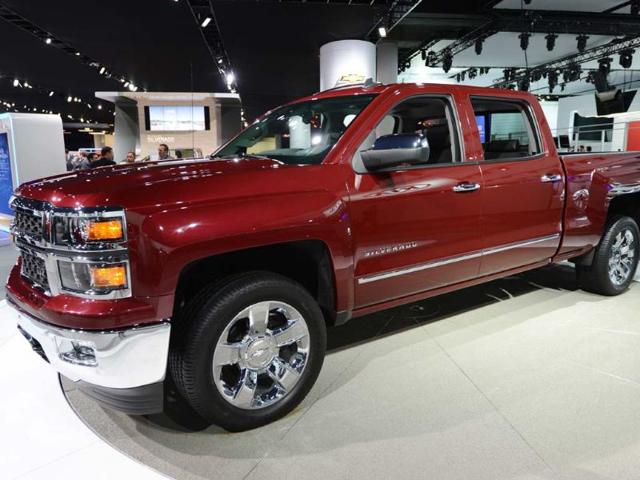 Leather and steps: America's working pickups go easy
3 min read

.

Updated: 21 Jan 2013, 11:26 AM IST

Pickup trucks are the essence of the identity of the American working man: rugged, beefy, and powerful enough to haul loads of lumber and pull huge trailers.

Pickup trucks are the essence of the identity of the American working man: rugged, beefy, and powerful enough to haul loads of lumber and pull huge trailers.

But that's no longer just what is on sale, as was clear at the North American International Auto Show in Detroit: the US auto industry workhorse is also about soft leather interiors, iPad mounts, easy steps to scale the rising floorlines and fuel efficiency.
Similar Cars
Pickups are increasingly doing double duty as work vehicles in the daytime and family carriers the rest of the time, so they need more versatility in the cab, said marketers for Ford's market-leading F-150, Chevrolet's brand new Silverado and Chrysler's award-winning Ram.
Their users want as much comfort as sedan buyers, along with lots of storage space. And there are also the urban pickup lovers who don't haul or climb mountains but still want their own workhorse, as long as it doesn't burn too much fuel.
'Our customers don't want to compromise between work and personal use. They want both,' said Doug Scott, Ford's truck group marketing manager.
That has meant that the four-door crew cab pickup already dominates the market, and traditional two-door pickup sales are few, he said.
It also leads to sumptuous leather-lined interiors in the top models: pecan in one Ford, for instance, and red in another, and video touch screens that can be used by drivers wearing work gloves.
Top-line models from Ram, the breakaway truck unit of Chrysler's Dodge, sport cushioned leather, and trim on the steering wheel, dashboard and doors that comes from special French walnut trees, said marketer Nick Cappa.
Ram's customers are not just carpenters and engineers, he explained. Some pull heavy trailers of prize horses and show cars around the country, or motor across huge Texas ranches, and want luxury on top of power.
And they want, and can get, a wi-fi hot spot and media hub in their truck, double glove boxes, and USB ports. Dodge can offer more than 40 storage places in its cab, while on GM's high-end Sierra, the center console is designed to hold hanging files.
GM's Tom Wilkinson said that the communications and personal electronics being fitted into trucks as much as high-end cars are equally important for work and personal use.
But truck owners don't want to feel like they are in sedans, he said, so GM has kept the Silverado dashboard in a more traditional pickup layout.
'Customers want all the latest connectivity, but they still want it to look like a truck,' Wilkinson said.
Manufacturers are making the trucks easier to use for every kind of driver. Back-up cameras to help line up to trailers are increasingly standard, and parking assistance is available.
Ford's new concept pickup introduced in Detroit, the Atlas, has 360 degree camera coverage to help the driver in tight spots.
The Atlas also has a rearview camera and sensors to guide the driver in backing up a trailer, one of the tougher challenges for less-experienced drivers.
It is also getting easier to climb aboard. The Ford F-150 has fold-out steps built into the tailgate, along with a vertical post, like a fixed cane, to help someone climb in.
Ram has just tucked lower steps under the corners of the back bumper, and put handholds.
But Ram also offers a hydraulic unit to lower the whole vehicle -- like urban buses -- to allow people to climb up.
'My mother likes that best,' said Cappa.
With power at a premium, truck owners have traditionally written off fuel efficiency as a priority. But not anymore: it's now a priority for buyers, said Scott. Some 40 percent of Ford pickup buyers have been willing to pay for its energy-saving EcoBoost engine.
The new Ford Atlas has louvers in both the grill and the wheel rims that will close at higher speeds to reduce drag.
Wilkinson said the lines of the new Silverado were altered to eke out more aerodynamic efficiency, as well as boost its road presence.
More importantly, the Silverado's engine sports cylinder deactivation: when power is not needed, like on family trips to the supermarket, cylinders shut down to save gas.
'That's well-suited to the way people use trucks now,' said Wilkinson.