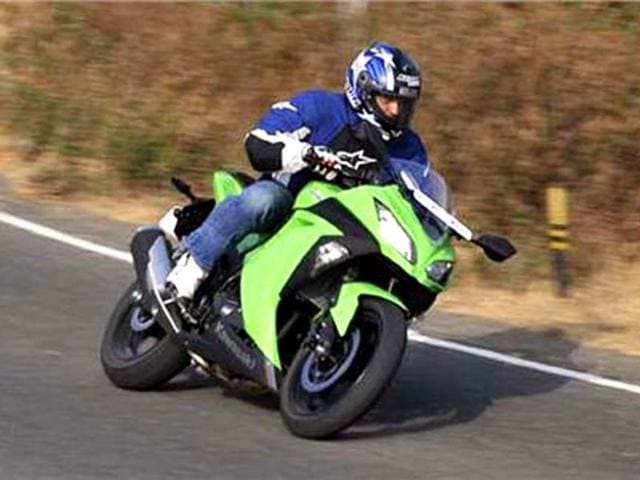 Kawasaki Ninja 300 review, test ride
3 min read

.

Updated: 15 Apr 2013, 12:54 PM IST

Kawasaki's Ninja 250R rode into the country in 2009, grabbing attention at Bajaj's existing Probiking showrooms. The 250R has just been replaced by the Ninja 300, a new motorcycle to build which the Japanese marquee has pulled out all stops.

Kawasaki's Ninja 250R rode into the country in 2009, grabbing attention at Bajaj's existing Probiking showrooms. The 250R has just been replaced by the Ninja 300, a new motorcycle to build which the Japanese marquee has pulled out all stops.

The Ninja 300 comes with refreshed styling, a larger capacity engine and better chassis.
Similar Bikes
The Ninja 300 harks of its elder sibling, the ZX-10R when viewed head on, thanks to a set of similar dual headlamps and floating visor. There's a smashing looking, easily viewed analogue tachometer, with digital display reading out speed, the odometer, dual trip meters, fuel indicator, clock and economy riding indicator.
The contemporary Ninja 300 has revised 17 inch 5-spoke alloy wheels and flush fitted front indicators. The 300's tank is neatly sculpted, leading back into split seats and a sharply styled tail. The 300's palm grips, control levers, mirrors and switchgear exude quality, and Kawasaki has provided a pass-light switch as earlier missed. The 300 deploys reworked fairing vents and a radiator fan cowl to push heat away from riders. Other improvements include a chain guard to protect the monoshock from grime. Underseat storage incorporates a set of compartments now, one for tools and another for documents. Overall fit-finish, attention to detail and build quality are top-notch, just as expected from the new Kawasaki.
The Ninja 300 houses a four-stroke, 296cc parallel-twin and liquid-cooled engine that breathes via fuel injection. Maximum power generated is 38.5bhp at 11000rpm, with peak torque of 2.8kgm made at 10000rpm. The new generation engine has been extensively revised, gaining lighter pistons with flattened crowns, shorter connecting rods, 600gm lighter sleeveless die-cast cylinders and longer stroke. The cylinder bore and stroke measure 62 x 49mm. Along with both intake ports, valve diameters have become larger. The 300's engine is rubber mounted. Having ridden the Ninja 300, we can confirm this is a refined, vibe free engine with noticeable improvements to its mid-range and top-end power delivery. More mid range clout makes the 300 easier to ride in city, where you can trundle along at low speeds in a higher gear without much protest, while a really hefty top end ensures this is a much quicker bike when pushing harder on an open highway. The engine is willing, and loves being given the stick, screaming to its 13000rpm redline whenever you gas it really hard. The 6-speed, 1-down and 5-up shifted gearbox imparts smooth, well weighted shifts. The Ninja 300 clutch works with a pleasantly light feel at the lever. Gear ratios are perfectly spaced, closely packed and a slipper clutch system works to ensure you can bang down the gearbox with abandon when braking hard.
Our tests confirm the Ninja 300 is about half a second quicker than the 250R to 60kph, and over a full second faster to 100kph, which is impressive. Look out for more details, and fuel efficiency in our full test report coming up soon. Top speed is now a genuine 168kph in top gear as measured by us on our data logging equipment, and 150kph flat out in fifth gear.
The Ninja 300 weighs in at 172kg and is held together by a reworked rigid, diamond type, steel frame. The main tubes use high tensile steel sections for improved rigidity. 37mm telescopic forks are standard kit, with a linked 5-way preload adjustable monoshock at rear, now with softer spring rates. We found ride quality has become a touch more plush on the 300, relative to the 250R. The 300's riding position still makes its rider lean into the handlebars as on a sportsbike, that pushes much rider weight forward, but there's a slight improvement due to higher handlebars, making the 300 a tad more rider friendly. The seat is narrower, which makes the 300 more accommodating for shorter riders. The 300 uses IRC rubber that provided ample grip during our rigorous testing, and a broader tyre worked at rear to give us enhanced traction. The Ninja 300 comes equipped with a 290mm front disc brake and 220mm unit at rear, both combining to provide strong stopping power. ABS is missed.
The Kawasaki Ninja 300 is already available across Bajaj's vast Probiking sales network (71 dealerships, growing to 80 in the near future) in a choice of Kawasaki green or then white, at ₹ 3.5 lakh (ex-showroom, Delhi). The Ninja 300 is a premium motorcycle, that offers style, top class fit-finish and build quality and best-in-class performance in India. The Ninja 300 is premium priced for its class, but this twin makes a serious sportsbike that proves a class above the quarter litre pack if you can afford it.