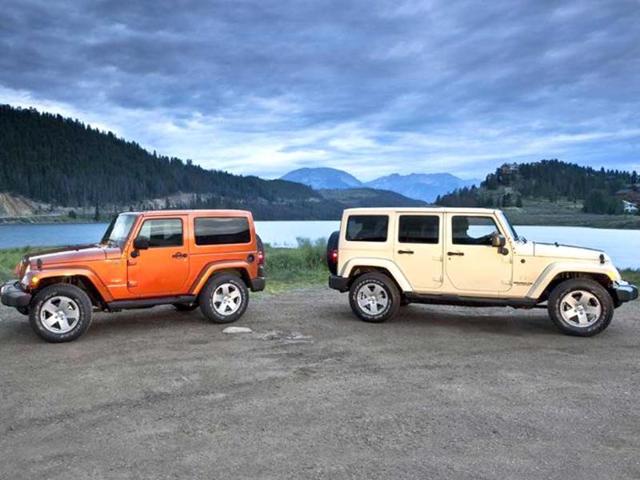 Jeep's aggressive India plans
1 min read

.

Updated: 07 Dec 2012, 03:54 PM IST

Fiat and Chrysler will launch 2 Jeep models in India next year and may follow up with another two.

Fiat has announced that Chrysler will officially enter India next year with the launch of their iconic off-roader brand Jeep.

Fiat shouldn't have problems marketing the brand in India -- it is well known thanks to its tie-up with Mahindra.
Similar Bikes
Jeep sold as many as 18,000 vehicles annually when it was present here earlier.

When it is launched, Jeep will bring two products to India and both will be brand-defining and introduced via the CBU-route. Chrysler is expected to launch these two models in the second half of 2013.

The first of the two will be the Jeep Wrangler. Successor to the famous World War II Jeep also known as Willys CJ (Civilian Jeep), the first Wrangler debuted in 1987. What we will get here is the latest generation Wrangler (code; JK). Like the CJ, it uses front and rear live-axles. The current-generation is also available in a long wheelbase, five-door version known as the Wrangler Unlimited.

Powered by a 2.8-litre common-rail diesel engine that's good for 197bhp, it will no doubt be the fastest off-roader in the East.

Another Jeep model that'll hit our shores is the Grand Cherokee. Codenamed WK2, this fourth-gen Grand Cherokee is powered by a 3.0-litre common-rail diesel that makes 237bhp and is a proper luxury SUV. Based on the Mercedes Benz M-class, it is thoroughly modern and it promises to offer superb off-road ability with plush, comfortable interiors.

There are two more models in the pipeline for Jeep in India. The first of these two would be a B-segment SUV that could share underpinnings with the upcoming Fiat SUV and the second model will be a C-segment offering that could be based on the Jeep Compass - currently the smallest model in the Jeep Global lineup.

Chrysler has already set up an R&D centre in Chennai that houses about 1,000 employees and is the third-largest Chrysler R&D facility worldwide.