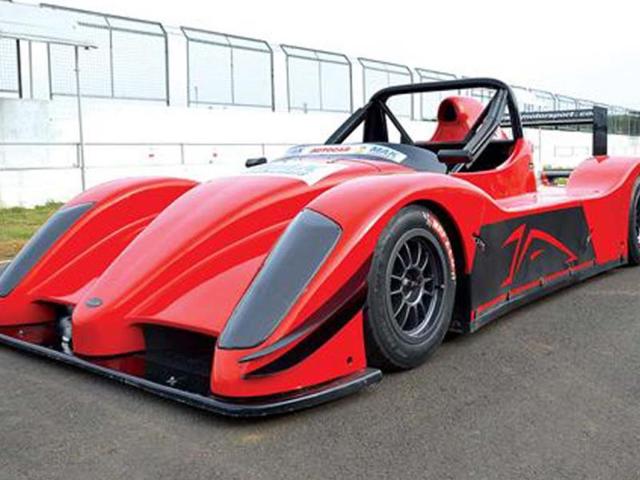 JA Motorsport Inde 2.0 review, test drive
6 min read

.

Updated: 05 Oct 2013, 04:39 PM IST

In the flesh, the JA Motorsport Inde 2.0 looks a touch unimpressive. Yes, it is as low slung as a squashed bug and slippery looking too, but it looks a bit too tiny to be seriously quick. The wheels, for example, measure a dinky 13 inches.

In the flesh, the JA Motorsport Inde 2.0 looks a touch unimpressive. Yes, it is as low slung as a squashed bug and slippery looking too, but it looks a bit too tiny to be seriously quick. The wheels, for example, measure a dinky 13 inches.
Similar Bikes
They just don't look like they can generate serious amounts of grip. Then, although the shape is similar to a Le Mans car, the sub-four-metre length makes it look scaled down, and the engine capacity isn't too impressive either - it only has a 2.0-litre naturally aspirated engine. How quick could it possibly be? Could the Inde 2.0 really blow past something like a 518bhp Audi R8 V10?
As it happens, I'm about to find out; very quickly. Narain Karthikeyan, already strapped into the driver's seat, gestures that I get in next to him. This should be fun. I place my right foot on the seat and lower myself into the nest that is the tubular chassis of the car. Safety harness locked, helmet on, we are ready to go. Herr Karthikeyan is already nicely warmed up. He's done a couple of really hard laps in the car and is pretty impressed. He's also got a lot of pent-up energy; we've just made him do three slow laps behind a camera car and he isn't happy.
He's hard on the gas even before we're properly out of the pit lane, and my head is suddenly tossed back. I look across and there's an evil grin on his face. Acceleration is strong, much stronger than I'd expected, but it isn't brutal. And the snarl from the barely silenced exhaust is more rally car than track racer.

What comes as a bit of a shock, however, is just how hard the suspension is. It's so rigid, I can literally feel the Inde thudding over every pebble and every patch of gravel on the less than perfectly paved pit exit. And the thuds are so hard and unyielding it feels like there's no suspension at all. No springs, no dampers and no give; just nothing.

The pit lane exit is a tight right-hander, but Narain's right foot stays pinned as his fingers flick up the 'box. Now we're fast approaching C2, a 90-degree right. We sail past the normal braking point, still hard on the gas, still accelerating. The speed is colossal, the kerbs come rushing at us and it seems there's just no way we can make the corner. But the car just grips, and after a slight lift, a dab on the brakes and a flick of opposite lock, we sail nonchalantly past what looked like a certain trip into the gravel trap. One thing's for sure, in a normal road car, we'd be picking foliage out of our ears now. The lateral grip is just mind numbingly insane.
Narain's already hard on the gas again, even before my brain has had time to process what's just happened. The next few corners pass in a blur as I struggle to come to terms with the high g forces this little car is throwing up. It just sticks, sticks and sticks. But Narain is going so hard that it's beginning to slide around now, India's fastest driver wrestling the wheel like he's grappling with a gator. This car feels like it is regularly making twice as many gs as the supercar we'd only recently been driving on this very same track. It isn't really difficult to come to this conclusion. All you have to do is pay attention to your stomach. In this car, you can feel your innards getting squished from side to side as the car rides from apex to apex.

A hard left follows a high-speed left-right combination, but all I'm doing is hanging on, trying to prevent myself from falling over Narain. And that's with my right hand grasping onto a chassis tube on the left of the car, my forearm held across my chest like I'm holding a shield.
The track-biased gearing of the car also makes it feel quicker the faster it goes. At higher speeds, the more tightly stacked gears multiply the power of the car with greater effectiveness. So, while it isn't really quick from a dead stop, it can still hit 120kph in just 6.5 seconds. We hit around 180kph on both back straights, which is really quick and not too far off from the top speed of the mid-engined R8 V10, which hits around 190kph in the same places.
What the Inde lacks in straight-line speed it makes up in other areas. Every time Narain hits the brakes hard, I'm lifted off the seat slightly and can feel the straps digging into my shoulders as the car decelerates. And Narain is going even harder now, attacking corners with an almost demonic abandon. This is a proper track car, and watching Narain on full attack feels like I'm perched on his shoulder during one of his single-seater races. What an experience!

So, what is it that makes this car so quick? Think of it as a two-seat Formula 3 car and you'll understand it better. Of course, it isn't really the same thing. There's no carbon-fibre monocoque chassis like in a single-seater - this car uses a tubular chassis, and with the Inde 2.0, there's the added weight of the second passenger too. But otherwise, it is as track car as it gets. The rear half, in fact, is all but identical to an F3 car. The engine, gearbox, transaxle and even rear wing are pure single-seater. Take a look. The different bits start forward of the big roll bar. There's that heavy roll cage, an FIA-spec crash box and a modified suspension system. JA Motorsport used thicker-diameter springs, thicker wishbones and larger AP brakes due to the extra weight of this car. A Dallara F2000 car, which JA Motorsport also produces, weighs 520kg. This car weighs in at around 595kg, and has the added weight of two passengers. Other interesting bits on the car include bag-type fuel tanks for greater safety, and aerodynamics that channel air past the nose cone, through the radiators and out the splitter at the rear. J Anand says the shovel-type nose should be delivering plenty of downforce; they don't exactly know how much as the car hasn't been in a wind tunnel yet. MRF slick tyres, an essential bit of kit, round off the package.

JA Motorsport's Inde 2.0 isn't fully ready; it's still a bit of a work in progress. Yet it managed to pip MRF's F1600 single-seater around Irungattukottai with a time of 1:43.3 seconds. That was with no setup and no practice. Narain just got in, did three laps and got out. He reckons the car, once properly set up, is capable of a 1:39, which is bloody quick, even for a single seater. What this ₹48 lakh car will be like to drive for one of us mortals is anybody's guess. One thing's for sure, this one should go straight on your bucket list.
Fact File

Price Range (in lakhs)* Ex-showroom price ₹ 48 lakh (ex-factory)

Engine
Type RenaultSport 2.0-litre, 4 cyls, dry-sump lubrication
Power 210bhp
Transmission
Gearbox Hewland 6-speed sequential
Dimensions
Length 3800mm
Width 1490mm
Height 1117mm
Wheel base 2530mm
Chassis & Body
Tyres 200/R13 (f), 240/R13 (r)
Brakes
Front AP Racing Brakes with brake-bias
Rear AP Racing Brakes with brake-bias
Performance
0-20 1.16sec
0-40 1.85sec
0-60 2.95sec
0-80 4.03sec
0-100 4.96sec
0-120 6.56sec