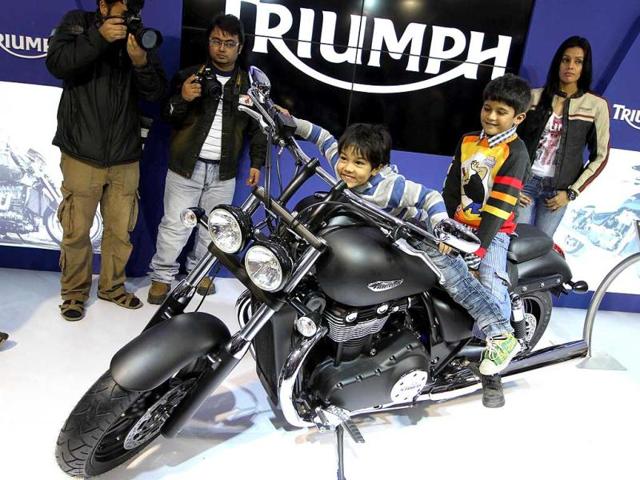 It's war: Triumph vs Harley
1 min read

.

Updated: 06 Jan 2012, 01:37 AM IST

British challenger announces Rs 6-17 lakh bikes, Harley launches locally-assembled models. Manu P Toms reports. Mean machines in mega battle

India is the new battleground for classic motorbike brands such as US' Harley Davidson and UK's Triumph. While Harley has already established a foothold in India, Triumph has just announced its entry into the domestic super bike market.

The transatlantic rivals are showing their might at the New Delhi Auto Expo.
Similar Bikes
While Triumph announced an array of products in the price range of ₹5.8 lakh (the 675-cc Street Triple) to ₹17 lakh (the 1700-cc Storm) Harley, already two-year old in India, announced two models. More such would be assembled in India.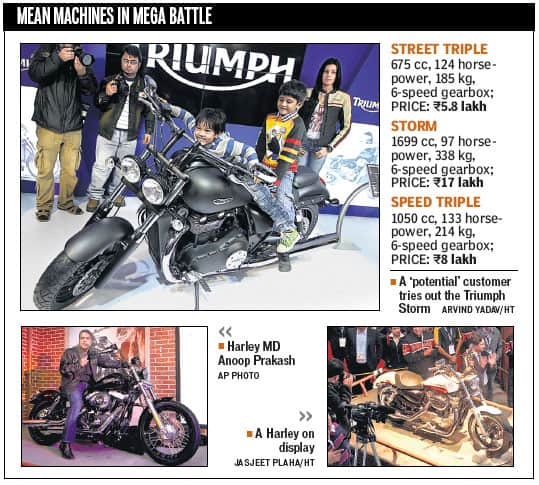 Keeping in mind the import duty that jacks up prices, Harley and Triumph have opted the CKD route - assembling models in India and selling at nearly the same price as in the rest of the world.
With two new additions Harley Davidson will assemble five models - 1600-cc FXDB Street Bob with a price tag of ₹10 lakh, FXDC Super Glide Custom at ₹11.5 lakh and three 883-cc models at a starting price of ₹5.5 lakh.
Harley will add three new dealerships to its existing seven.
Meanwhile, Triumph will start assembly operations in India by March and will commercially launch its bikes by June, the company said on Wednesday. The company has shortlisted four port cities as potential manufacturing locations, said Ashish Joshi, managing director, Triumph Motorcycles India. The company will set up 12 new dealerships in the country in two years.
The real question is whether India's niche heavy bike segment holds a promise that justifies these classic bike makers' new-found interest in India.
'We have been contemplating an India entry for four years,' said Joshi. 'A real estimate of the size of the Indian market is difficult. It will take at least four years to shape up.'
The niche bike market has in fact exceeded the company's expectation, said Anoop Prakash, managing director, Harley Davidson India said. 'Now there are 1,000 Harleys on the Indian roads. It will be exciting for the next two years.'