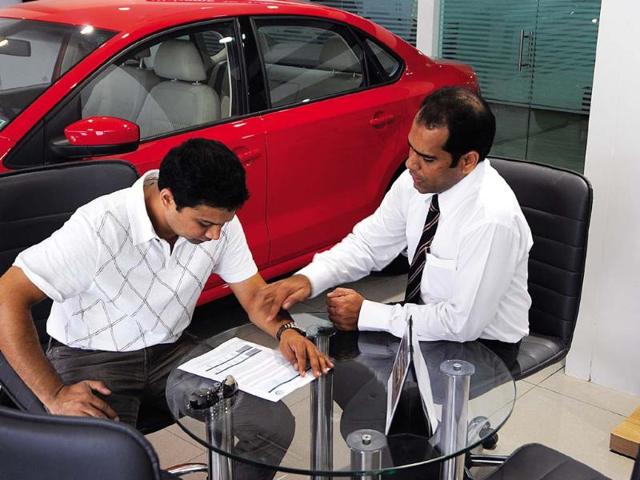 How to beat the salesman
6 min read

.

Updated: 05 Dec 2012, 12:51 PM IST

Worried you won't get the best deal? Don't be – we tell you how it's done so you'll always pay the right price for your new car.

Worried you won't get the best deal? Don't be - we tell you how it's done so you'll always pay the right price for your new car.

Illustration by Anthony Williams

Buying a car is easy, if you don't mind paying the first price you're offered.
Similar Cars
If you want the best deal, though, you'll need to beat the salesman. That's where we can help. We'll talk you through the entire buying process, tell you what you should and shouldn't say to secure a great price and give you the heads up on some salesmen's tricks.
Doing your homework
A little research goes a long way when it comes to getting the right car at the right price. You simply can't trust a salesman to put your best interests first. Yes, he may know all the models, but he'll naturally be torn between pleasing you and making a big profit.
You're on track to get clued up with this copy of What Car? in your hand. Everything else you need - including brochures and promotion details - can be found on manufacturer websites.
After you've settled on a make and model, choose a trim variant and an engine option, if there is one. Get it all clear in your head, so that when you visit the dealership you'll be able to dismiss any suggestions from the salesman that you should consider a more expensive car.
Make sure it adds up
You know the list price, but you shouldn't pay it. Discounts are available on most cars, with the exception of brand new or ultra-desirable models.
The easiest way to find out the minimum you can expect off the price is to flick to the Hot Deals pages, starting on pg 27 of this mag. It's a regular feature that highlights the best discounts and deals available in the market and lists them conveniently in one place. Our researchers dig diligently through dealers' directories each month to achieve the discounts quoted to make sure you get the best deal.
If you're trading in your old car, you'll need to know how much its worth so that the salesman doesn't hoodwink you into accepting less. Check out our 'How to Sell Your Car' feature in this issue as well as our regular Used Best Buys pages.
Unless you've got a cheque in hand, you'll also need to arrange finance. The salesman will happily handle that for you: dealers make a big profit from selling finance. The chances are that it won't be at the best rate, though, so first check the manufacturer's website to see if there are any special finance promotions. If not, get some quotes from major car loan companies.
Visit the dealer
You're now ready to speak to a salesman, but be patient. Don't just appear at a dealership unannounced: book an appointment and test drive. That way you won't be left wandering around the showroom because all the sales staff are busy. It also shows you aren't just window shopping, and gives the dealer the chance to arrange the correct demonstrator.
You should always test drive a car before buying it, and not just any old version that's lying around outside the dealership. Insist on driving a car with
the exact engine and gearbox combinaton that you're considering purchasing, even if this means the dealer has to source a car from elsewhere.
When you're ready for a test drive.
Take the car out alone if possible - it will be much easier to judge it objectively. If that isn't possible, make sure you drive the car on a mix of different kinds of roads for at least an hour. If you can, bring along a friend to keep the salesman talking. That way you can focus on the car rather than the sales spiel.
If you don't like the car, or if you'd like to try it with a different engine, don't be shy - say so.
Haggle!
If, however, the car feels exactly right for you, it's time to talk money. Tell the salesman you've been looking at special deals and ask him for his best price. Don't expect him to give up straight away, though. You'll most likely hear lines such as: 'we can't discount that particular model', or 'there's very little margin on this car for us, so I can only knock off a few hundred rupees'. If our Hot Deals suggest otherwise, he can do better.
Assuming the figure the salesman quotes is higher than a price you've seen, show him a print-out. Don't be surprised to some scaremongering about the dangers of trusting external sources, but don't be put off. Starting low is the first rule of haggling.
You'll be lucky if the salesman matches your asking price, but if you push hard, there's no reason you can't get close to it. If negotiations aren't going to plan, though, have your copy of What Car? to hand and refuse to pay a penny more than what you see there.
The salesman will usually eventually agree to the your price, but if he doesn't, don't be afraid to walk away and try another dealership. There is a good chance he will call back with a better offer.
Get a discount on your extras, too
If you're adding options to your new car, get the same percentage discount on these as on the car itself. Options on discounts do exist.
If you're trading in your old car, the salesman might try to claw back some of this lost profit by undervaluing it.
Watch out for this and have your What Car? Used Best Buys page ready to show the salesman.
If you're buying on finance, ask the dealer to print out full details fo the offers available, so you can look them over. Remember to compare the 'total amount repayable' rather than the monthly payments.
Dealer interest rates are rarely fixed, so if you've found a better finance deal directly from a bank, ask if they'll match it, and don't be afraid to say no if they won't.
Close the deal
Even when you're happy with the deal, it's best to sleep on it before signing. Remember, no decisions you make are set in stone until you've signed on the dotted line.
Ignore any nonsense about special deals that are only available today - unless it really is the end of the month and a dealer is struggling to meet sales targets, you'll get the same price tomorrow. Scrutinise every aspect of the agreement in the cold light of day before putting your name to anything. Remember you can, in most cases, confirm your purchase over the phone to secure your car.
When you return to the dealer to hand over a deposit and pick up the keys to your new car, check any documents carefully before you sign them. Be sure to read the fine print and beware of complex jargon in the documentation. Don't hesitate to ask for a full explanation of anything you don't understand; remember, the dealer wants to make this sale.
Don't say... Do say...
'I want to buy this car.' 'I'm thinking about buying this car.'
'Can I have a discount?' 'How much discount will you give me?'
'You're sure you can't meet the my price?' 'I'll buy elsewhere if you won't meet my price.'
'Is that all my old car is worth?' 'I can only buy if I get more for my old car.'
'Is that the best finance rate you can offer?' 'I've found a lower finance rate elsewhere, thanks.'
WHATCAR says...
Showrooms can be intimidating places and salesmen are trained to extract every paise from you that they can. Don't worry. If you follow every one of the steps that we've outlined here, you'll be able to purchase your ideal car at a price that suits you.