Honda unfazed by slowdown, starts new investment
Even as most carmakers in India are shutting down factories and reining in output, Japanese car major Honda Cars India Ltd on Tuesday announced to operationalise its second car factory at Tapukara in Rajasthan. Sumant Banerji reports.Shifting to a new gear

All-new-1-5-litre-98-6bhp-diesel-motor-in-Honda-s-first-compact-saloon-Amaze-claims-a-record-fuel-efficiency-of-25-8-kpl
Even as most carmakers in India are shutting down factories and reining in output, Japanese car major Honda Cars India Ltd (HCIL) on Tuesday announced an investment of ₹2,500 crore to operationalise its second car factory at Tapukara in Rajasthan.


The 120,000-units-a-year factory would create capacities for Honda's line of diesel cars, beginning with entry-level sedan Amaze that will be launched next week.
At least four more cars — a diesel variant of its best-selling sedan City, premium compact car Jazz and a compact utility vehicle and a sports utility vehicle — will follow in the next 3 years. All these cars will have Honda's new 1.5-litre diesel engine.
"So far Honda has operated in only about 10% of the Indian passenger car industry, but now we are all set to expand our business in the country with our line up of diesel cars," said Hironori Kanayama, president and CEO, Honda India.
"The universe that we operate will increase to almost 50% of the total passenger vehicle market over the next few years."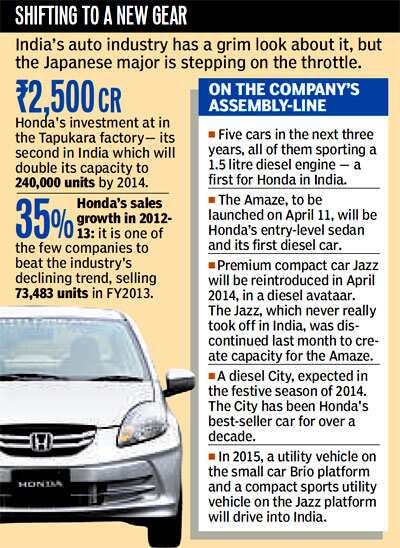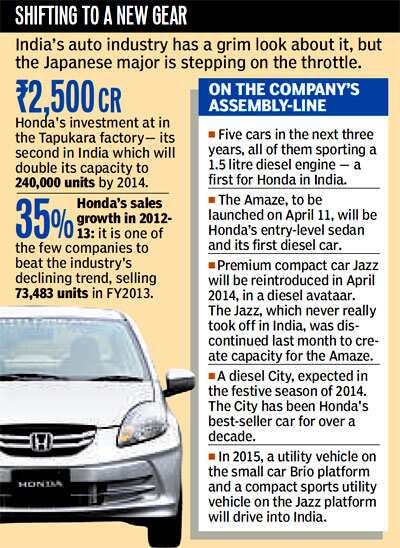 Honda is the only car manufacturer that does not have any diesel car in its portfolio in India. The surge in demand for such vehicles, often at the price of petrol cars, has cost the company dearly in the past.
Its bread-and-butter model City, for example, lost out to the Hyundai Verna in the mid-size sedan segment simply because it lacked a diesel powertrain.
"In view of the rapid expansion of diesel power in the country we plan to introduce diesel engines in all new models," said Yoshiyuki Matsumoto, president and CEO, HMIC.
"Competitive new models armed with an excellent diesel engine will create a huge business opportunity."
There are some red herrings though. The Indian government's decision to slowly decontrol the price of diesel, alongwith a recent softening of petrol prices, lends some credence to the view that the golden run for diesel cars may be at its fag end.
However the company said it will not be impacted by this.
"We are not making diesel cars only. Our petrol cars remain the benchmark in the industry," Kanayama said.
"We will now have an offering for whatever the customer wants. If he wants diesel he can have a Honda. If he wants a petrol, then too he can have a Honda."
After two consecutive years of decline, the company saw its sales grow by 35% in 2012-13 to 73,483 units, largely on the back of its small car Brio.
The investments are not restricted to making cars alone. Honda will also set up a diesel engine component unit with a capacity of 160,000 units per annum and a forging plant of 10,00,000 units per annum.
A lot of these components would be exported to other markets such as the UK. The total employment generation at the facilities would be 2,200 people by next year.
Last year, Honda had said that it was targetting global sales of 6 million cars by 2016-17 fiscal year, of which emerging markets would account for almost 50%.
First Published Date:
02 Apr 2013, 23:12 PM IST
TAGS:
NEXT ARTICLE BEGINS