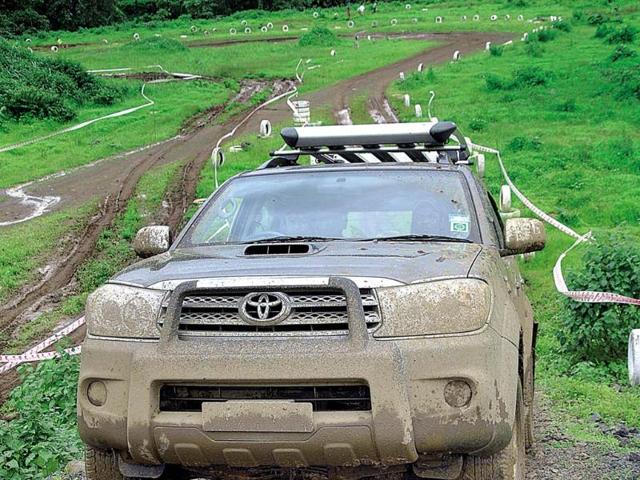 GUIDE - Off Roading Tips
4 min read

.

Updated: 05 Dec 2012, 12:51 PM IST

SUVs are meant to do more than just look good on the road. Their original purpose is to go where most regular cars can't, off-road that is. Here are our tips on off-roading with an SUV.

Off the beaten track

SUVs are meant to do more than just look good on the road. Their original purpose is to go where most regular cars can't, off-road that is. Here are our tips on off-roading with an SUV.
Similar Cars
INDIANS LOVE BIG cars. They are considered a status symbol and this explains why there is always a high demand for SUVs in the market. Most SUVs, however, hardly ever get to lay a wheel in the dirt. Things are changing now though. With such diverse terrain at our disposal and more avenues of adventure sports opening up, the off-road culture is slowly picking up. Exciting as it may sound, driving off-road is not easy. You never know what you might encounter
- it's quite easy to get overconfident and cause lakhs worth of damage to your vehicle.
Know the car
It's good to have an idea about the capabilities of a vehicle. Most SUVs are equipped with four-wheel drive, but that isn't the only thing worth knowing. Familiarise yourself with the dimensions of the car. Sitting inside the cabin, you should be able to clearly know where the car begins and ends. An SUV with shorter overhangs - the amount of body kit extending beyond the wheels - is more capable off the road and there's a lesser chance of grounding the vehicle.
Carefully read the owner's manual and learn how to engage the four-wheel-drive system. Some cars have permanent four-wheel drive, but may have a lever to engage the four-wheel ratio to high or low, depending on the terrain. Then there are some shift-on-the-fly systems which can be engaged while on the move. On very challenging terrain, it's better to switch to low range especially for climbing and coming down steep inclines.
Never alone
Never venture into unknown terrain alone. Always try going off-road in a large convoy, so if one vehicle gives up or breaks down, there are others to help out. Imagine stalling in the middle of nowhere with no help in sight. With other vehicles around, at least you can be pulled out if you happen to get stuck.
On the other hand, if you are alone and have no other option, be very cautious. The instant you start having doubts about whether you will be able to go any further - stop! It's better to turn around while you can rather than risk being stranded.
Easy does it
It may come as a surprise, but the smoother you are on terrain like sand, slush or for that matter snow, the better. Abrupt steering inputs or heavy-footed throttle application aren't conducive off the road. Start by selecting the lowest gear possible. Generally, second or third gears are preferred depending on the topography. Shifting to first when required shouldn't be ruled out either.
Holding the steering in the correct manner is equally important. Hold the wheel gently and let it turn on its own, while feeding in corrections if it veers in the wrong direction. Knowing where the wheels are pointing is important. Straight wheels help in climbing over obstacles, which is better than trying to go around and getting stuck. Finally, make sure your thumbs are on the rim of the wheel, since there are chances of getting hurt because of steering kickback.
Most diesel engines these days make the most of their pulling power at 1800 to 2000rpm. Keep a light foot on the throttle and try not to rev the engine too much. This should provide enough momentum to tackle most surfaces and keep the SUV moving. Never rev the engine to speeds common on regular roads. This is because a lack of grip on loose surfaces will tend to make the wheels spin a lot and your car will end up digging itself in.
The recommended air pressure for tyres used in normal conditions is usually too high for off-road purposes. A lower air pressure helps increase the surface area of the tyre and improves grip levels. Before you get off the road, remove just about enough air. Make sure it doesn't lead to the tyre-wall touching the ground and causing too much flexing of the tyres.
When in doubt
On a particularly challenging section, it's always better to get out and have a look on foot rather than attempting to scale without even checking. Ask the passenger to walk up ahead and guide you through.
In case of inclines, it's a good idea to have some momentum. Start from a distance and gain some speed, so that you
can be in second gear by the time you hit the incline. If you are unable to reach the top and the car bogs down, don't step on the throttle; instead, come back down and try again.
Descending is the trickier part. Put the car in first gear and engage low range. Then gently drive over the edge. With
the car pointing downwards, one tends to apply the brakes a lot, especially on steep inclines. But don't ever do that as it might cause the wheels to lock and the car may roll over. Instead, let engine braking take effect and keep the steering pointing straight.
Crossing a water body is also a tricky affair and should only be attempted if you are sure of the depth. Keep a steady speed and don't come off the throttle. Also, try not to create a big splash as you enter the water. If you do manage to get stuck or dig yourself in, slowly rocking the car forward and back will help free the car.
WHATCAR SAYS
You might be doing it for fun or out of necessity, but going off the tarmac is not as easy as it sounds. Keeping the car in good condition helps and not overestimating one's own or the car's ability goes a long way in staying out of trouble too.