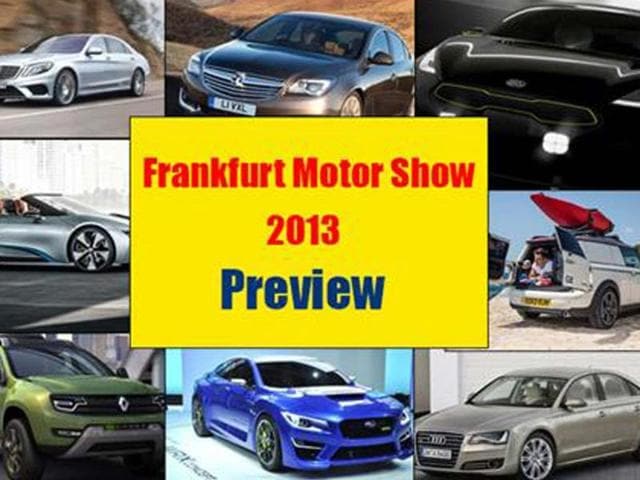 Frankfurt motor show 2013 preview
1 min read

.

Updated: 22 Aug 2013, 04:25 PM IST

The 65th Frankfurt motor show will open its doors to the public between September 10 and September 22, 2013, and there are a lot of car manufacturer's lining up to show off their vehicles.

The 65

BMW will unveil the production version of the new i8 electric roadster, Audi will showcase the reborn Quattro supercar concept and Toyota's been plugging away at a new hybrid concept that uses the same hybrid race tech as in the manufacturer's FIA World Endurance Championship car. And there's so much more.
Similar Cars
We've highlighted our pick of the lot from the upcoming Frankfurt motor show.
Audi's A8 saloon is due for a facelift and will be launched at the Frankfurt motor show. There will be styling changes in the form of a new grille, revised front light graphics, minor tweaks to the bumper and changes to the rear lights. Also in the offing will be revisions to its engine line-up, which will include the latest twin-turbocharged 3.0-litre V6 diesel engine from the A6, and the most recent version of the 4.2-litre V8 turbo-diesel found in the Porsche Cayenne.
Audi Quattro concept
While Audi has only released sketches of it so far, the Quattro supercar concept is set for a proper unveiling at the Frankfurt motor show. The car has been conceived as a limited-production model that is set to be priced well above that of any existing Audi, and will be assembled in Germany. The car is likely to be based on a modified version of the MLB platform that underpins the A5. The new Audi Quattro looks set to be powered by a heavily tuned version of its twin-turbocharged 4.0-litre V8 that'll put out more than 600bhp. Sources suggest a 0-100kph time of less than 4.0sec and a top speed of around 300kph.
Audi MPV
Luxury carmaker Audi is reportedly planning its first MPV based on the A3 saloon, and is possibly lining it up for a Frankfurt motor show reveal. It could come with five- and seven-seat options and could be badged the V4. Audi has long struggled with the MPV format, with company sources stating that a traditional MPV was "a boring concept", but that an Audi with "six or seven seats" was a possibility.