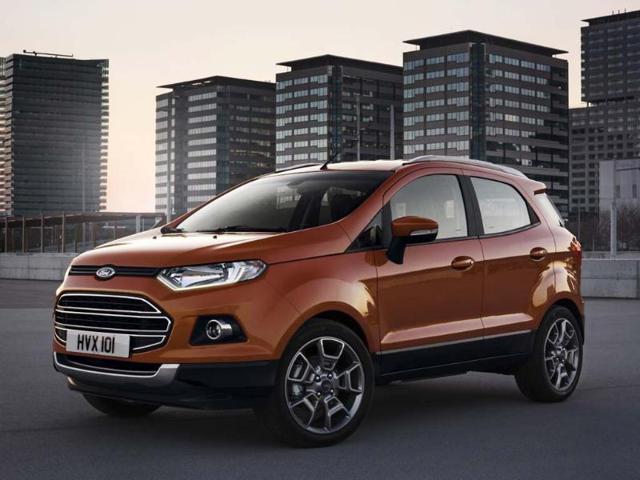 Ford launches EcoSport SUV at mobile technology conference
1 min read

.

Updated: 27 Feb 2013, 11:45 AM IST

Despite the 83rd Annual Geneva Motorshow being less than 10 days away, Ford has chosen the opening day of the Mobile World Congress as the venue to launch the European production version of its new EcoSport SUV.

Despite the 83rd Annual Geneva Motorshow being less than 10 days away, Ford has chosen the opening day of the Mobile World Congress as the venue to launch the European production version of its new EcoSport SUV.

Of the decision Paul Mascarenas, Ford chief technical officer and vice president, Research and Innovation, said: 'We are entering the age of the connected car and debuting EcoSport at Mobile World Congress underlines just how important advanced vehicle technology is to customers and to Ford.'
Similar Cars
As well as offering one of the most efficient gas engines currently available, the EcoSport will be one of the first European Ford vehicles to showcase the company's SYNC connected car platform and in particular its SYNC ApplLink technology that provides car-safe versions of a host of leading smartphone and tablet apps that can be activated via voice command.
'The role of the car is evolving,' said Mascarenas. 'Customers want to be able to safely enjoy the same level of connectivity in their cars as they would do at home, and SYNC AppLink enables them to do just that. By maximizing the potential of apps, Ford can offer customers a class-leading range of smartphone app capabilities while on the move.'
As such, the latest app to join the platform is Spotify's music streaming service, but as well as access to apps, the platform also offers a number of safety features. Chief among these is SYNC Emergency Assistance, which directly connects the car to local emergency services in the event of an accident. Using data from the vehicle, first responders can pinpoint the exact site of the accident and where the car will be when they arrive on the scene.
The EcoSport will be offered with Ford's 1.0-litre EcoBoost engine, a 1.5-litre gas engine and a 1.5-litre diesel engine at launch. The EcoSport is also expected to be joined by the Ford Edge, the company's current US flagship SUV later this year.