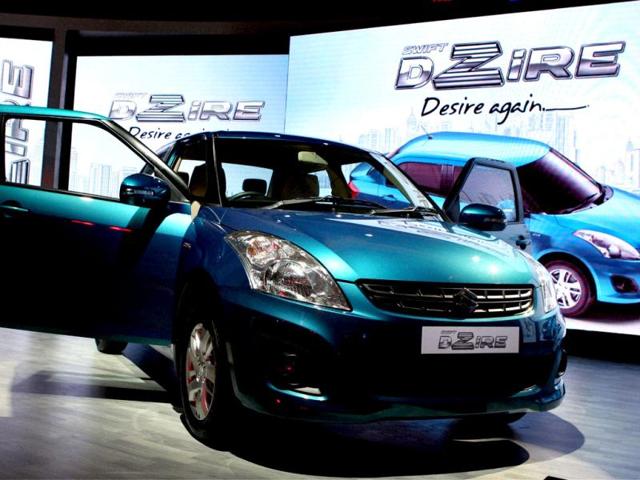 Dzire becomes smaller, cheaper
1 min read

.

Updated: 02 Feb 2012, 01:11 AM IST

Maruti Suzuki India on Wednesday rolled out a shorter version of its entry-level sedan Dzire at an introductory price between Rs 4.79 lakh and Rs 7.09 lakh in New Delhi. HT reports. On right path

India's largest carmaker Maruti Suzuki India on Wednesday launched a smaller version of its best selling entry-level sedan Swift Dzire cutting its length to below 4 metres that enables it to attract lower excise duties at par with small cars. As a result the new car is priced between ₹4.79 and 7.09 lakh, approximately ₹30,000 lower than the existing car.


Similar Cars
Small cars attract an excise duty of 12% against bigger cars that attract 22% duty. This allows companies to shorten the length of the car to make them affordable. The new Dzire with lower boot space has 316 litres against the existing version's 440 litres.
Homegrown auto major Tata Motors was the first to take this route with the Indigo CS 3 years ago. Utility vehicle major Mahindra and Mahindra is also likely to do an encore for its dud Verito.
"The existing Dzire will continue but it will be only available for fleet operators and taxis," said Mayank Pareek, managing executive officer, MSIL. "We are confident that the new car offers enough value for individual customers to choose this over the older version."
Based on the new Swift platform, which itself saw a change in the middle of the last year, the new Dzire is powered by a 1.2 litre petrol engine and a 1.3 litre diesel engine.
Maruti claimed it has spent ₹230 crore on the new car and affected as many as 150 changes over the old one. Some of them such as the smaller boot and a new music system are significant, but many are cosmetic. The company has also not passed the full benefit of the lower excise duties to the customers.
"The new car offers much more value in terms of features and refinement to the customer," said IV Rao, managing executive officer (engineering), MSIL. "Like to like, this is a completely new machine."
The Dzire is the only car in Maruti's portfolio that is not borrowed or shared with parent firm Suzuki in Japan. It has also been an instant hit. Since its launch in 2008, MSI has sold over 3.2 lakh units of Dzire in India so far.