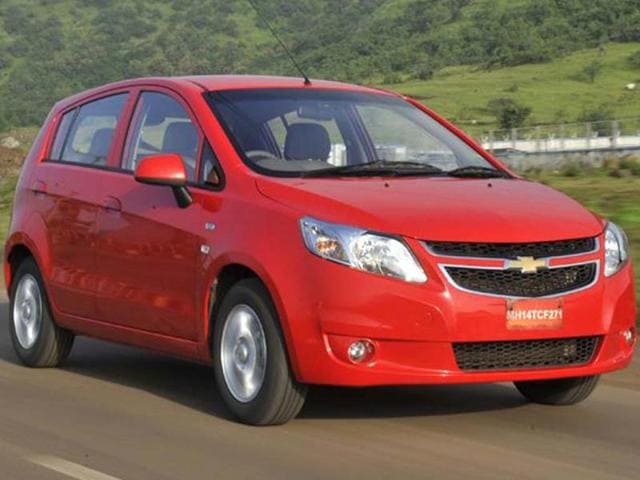 Chinese checkers against the Samurai
2 min read

.

Updated: 09 Nov 2012, 02:11 AM IST

General Motors\' Sail U-VA wades into an already crowded premium small-car segment, but may create little more than a ripple. Sumant Banerji writes.

It is the first serious car to have ventured into India from China. But for US auto General Motors, that is a mere footnote. The Sail U-VA launched in India last week is its litmus test, a make-or-break launch.
Similar Cars
Its success will determine whether GM's 2-year-old tie-up with China's SAIC works in terms of direct product launches in India.
It will also indicate whether Chinese design and engineering have come of age. In dragonland, Sail is the largest selling small car. But that is home settings. An away match is what determines true mettles.
Exteriors: mix and match?
The first look gives a sense of a déja vu. As if you have seen it all before, in bits and parts, here and there.
It is inherently and unabashedly Chevy: the signature grille and wrap around headlamps proclaim the fact. The facia is accentuated in places with lines and creases that make it appear big and muscular. There are no surprises at the rear, either, and a lack of inspiration becomes evident. The high strung vertical tail lamps are a done-to-death design, and from the back the car looks boxy. Design is not adventurous or eye catching, but functional.
Interiors: plasticky issues
When GM showcased the Sail in the Delhi Auto Expo in January, one winced at its bland plasticky interiors and hoped the company would do a thorough restyling before bringing the car to India. To cut a long story short, a re-look has been done, but not too extensive. The grey dashboard and instrument console are clean and solid but not eye catching. The plastic has been improved, but is still not up to the mark. The main strength is space: it sets the benchmark in rear legroom and headroom, and matches the big boot of the Liva. Also on offer is a 60:40 split rear seats, a highly useful feature.
The Performance
With a small car like Spark or even the Beat, one may excuse lack of grunt. In a premium hatchback - which is what the Sail U-VA is - there can be no excuse. Sadly, the petrol version is a no-show. With an 86 PS engine, it should be up there with the likes of Swift and Brio, but the Sail's horses seem to be asleep. The diesel Sail gets the award-winning 1.3-litre multijet engine that also powers the segment benchmark, Maruti's Swift. The engine was developed as a collaboration between Fiat and GM in the first place, but Chevy has been late to bring it to India. The company has worked on the familiar motor to squeeze out an extra 3 PS of power and a significant 15 Nm more torque. As a result, Sail U-VA diesel is a peppy car that accelerates and rides well. It even corners better than the Swift thanks to the work done on the suspension, and is at ease on rough surfaces too.
Pocket-wise: more frugal?
ARAI says Sail petrol will give you 18.2 km to a litre, par for the segment. In diesel, it gives 22.1 kpl and GM claims this is closer to actual driving conditions.