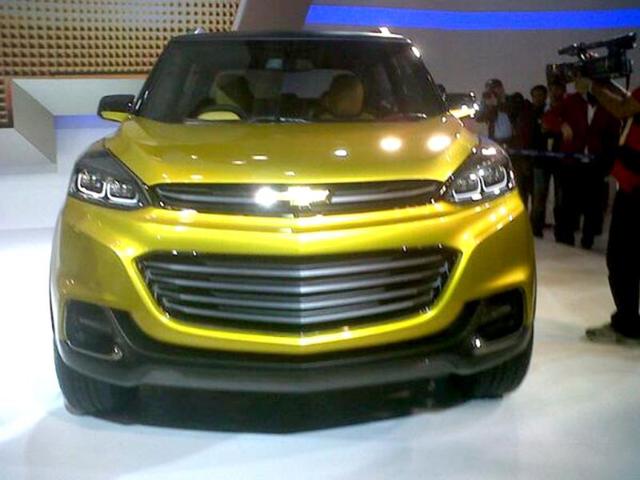 Chevrolet launches new version of Beat, showcases concept SUV Adra
1 min read

.

Updated: 06 Feb 2014, 11:46 AM IST

Unfazed by the massive vehicle recall due to emission norms violations, General Motors is optimistic about Indian market and launched a new version of hatchback Beat - its best-selling model in the country – on Wednesday.

Unfazed by the massive vehicle recall due to emission norms violations, General Motors is optimistic about Indian market and launched a new version of hatchback Beat - its best-selling model in the country - on Wednesday.

The car maker also showcased concept SUV Chevrolet Adra, which is developed entirely by Indian designers at company's technical centre at Bangalore, at the 12th Auto Expo in Greater Noida.

In all, the company is showcasing 13 concept and production vehicles at the expo which started on Wednesday.

"The 10 variants of the new Beat are priced between ₹4.06 lakh and ₹6.10 lakh," GM India president and managing director Lowell Paddock said at the launch.

#AutoExpo2014 in pics: Cars on display

On the back of new launches, the company aims to raise its market share from 3% to 5% in the next five years.

Asked about the recall of its MUV Tavera due to violation of emission norms, GM executive vice-president Stefan Jacoby said, 'The recall is going ahead very well we have managed from 1,14,000 lakh Tavera cars ... It is according to the plans.

#AutoExpo2014 in pics: Motoring heaven!

'This is one of the most organised and professional recall we are undertaking. It is going exactly according to plans. By the end of this year, we would have covered most of the vehicles which are in the market.'
The company, in July last year, had announced the recall of 1.14 lakh units of Chevrolet Tavera multi-purpose vehicle, manufactured between 2005 and 2013, to address emission and specification issues.
A three-member panel probing alleged violations by General Motors India related to recall of Tavera multi-purpose vehicle had submitted its report to the ministry of road transport and highways last year.
#AutoExpo2014 in pics: Bikes get leaner and meaner

'We are collaborating with the government. We are open for any investigation by both federal as well local governments,' Jacoby said.
Asked whether the company has taken any preventive steps, he said we have changed the management we have installed processes to avoid this does not happen again.
#AutoExpo2014 in pics: Driving into the future