Cadillac to unveil the XT4 at the New York International Auto Show
Cadillac will unveil the XT4 Tuesday, March 27 at an exclusive pre-show party.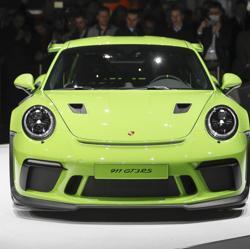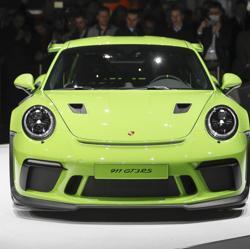 The Porsche 991 GT3 RS automobile sits on display on the opening day of the 88th Geneva International Motor Show in Geneva on March 6, 2018.
Cadillac has long wanted to own New York as its spiritual home.
It's fitting, therefore, that next week's New York International Auto Show will host the brand's biggest effort to shine this year. Cadillac will unveil the XT4 Tuesday, March 27 at an exclusive pre-show party. The tiny crossover will share the same platform as the Chevrolet Malibu and will be among the first to utilize Cadillac's forthcoming hybrid and electric technologies.
The XT4 will undoubtedly make a splash. The glitzier brands that would normally steal Caddy's thunder—Aston Martin, Bentley, Ferrari, McLaren and even Volvo's new Polestar, among others—showed everything they've got weeks ago at the Geneva Motor Show.
This means that Cadillac, Acura, Lincoln and Lexus will have a chance to make a real impression in New York. As in years past, manufacturers will make their marks with compact, luxury SUVs. This year, however, the case can be made that the NYAS will offer a pivotal moment for the hybrid and electric versions in that lucrative segment. Acura will show a redesigned RDX. Lincoln will flaunt an Aviator, mostly likely in hybrid form. Lexus will introduce to the UX to the U.S. Volkswagen will show a new 5-passenger SUV.
"The world is interested in new, small SUVs, and you will see plenty of plug-in hybrid versions," said Joe Wiesenfelder, the executive editor for Cars.com. The challenge for brands such as Cadillac and Lexus, he said, will be playing catch-up to other brands that have long produced quality products
"With more competition, there's less room for error, and Cadillac and Lexus haven't had a hit in a while," Wiesenfelder said.
Cadillac and other domestic manufacturers will have to contend with Jaguar's all-electric I-Pace and BMW's X4, X2, and X3 SUVs. If any of those have a hybrid component as well, the segment will be stuffed. (On the other side of the spectrum, props go to Mercedes-Benz. The brand will bring its iconic gas guzzler, the AMG G63, aka the G Wagon, to the U.S. for the first time.)
Hyundai will zip into New York with an all-electric version of its Kona SUV. In European tests, the larger of its two battery packs was good for almost 300 miles of range. That's Tesla territory. The electric version is also likely to make more horsepower and torque than the gas-powered Kona currently available in the States.
The real star of the show will likely be Toyota's all-new RAV4 SUV. In 2017, a long-in-the-tooth RAV4 still outsold every vehicle in America, save for a few pickups. In short, there's not much for Toyota to gain when it unveils the new version of its compact cash machine next week, but there's plenty to lose. Expect a sportier design, better mileage on its hybrid system and enough trim options to confound even the most diligent car shopper.
Also on tap in the everyman SUV space is a new Forester from Subaru. The vehicle is almost as popular as its sibling, the Outback, and remarkably similar in size, shape and specs. Now that the company has a legitimate SUV, look for Subaru to give the Forester more of its own identity.
Those wandering over to the Nissan stand will find crowds of people who actually need to buy a car, rather than seed an Instagram feed. The marque will unveil an all new Altima sedan, a dad-jeans car if there ever was one; then again, there are a lot of dads. Americans bought more Altimas than Audis last year—nearly 255,000 in all. Sober shoppers can expect racier lines and possibly, all-wheel drive, a rare feature in a family sedan.
Perhaps the week's biggest wild card will come from Kia, which plans to unveil a new iteration of its K900 super sedan. You may recall this car from a Lebron James endorsement and a Super Bowl ad. It was the Korean company's play for the 1 %—or at least the 5 %—and it flopped spectacularly. Kia rebounded with the Stinger GT sport sedan, which does a very capable impression of its German rivals.
An auto show wouldn't be complete without a concept car or two. Genesis will show one that's rumored to be a plug-in hybrid.
No car show would be complete without some bling: Porsche will show the new 911 GT3 RS with "Weissach Package"; Audi will show an as-yet unnamed "sport vehicle"; and Jaguar will debut a "high-performance" model that the brand has left rather undefined before its Tuesday debut. Even Cadillac will show a CT6 V-Sport—a performance-tuned version of the sedan, similar to an AMG from Mercedes-Benz or BMW's M cars.
These will attract attention and applause from marque devotees. They'll be sexy and fast. Still, these days, tiny SUVs have them all beat.
First Published Date:
26 Mar 2018, 12:26 PM IST
NEXT ARTICLE BEGINS