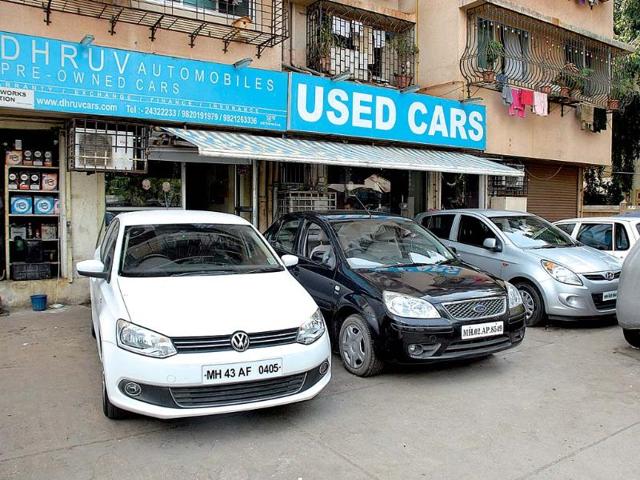 Buying and owning where to buy used
6 min read

.

Updated: 26 Nov 2012, 07:07 PM IST

The biggest advantage of buying a used car is that, for the same amount of money, you can generally shop a whole segment higher than if you were buying new car. Modern technology and rising quality levels today mean that cars are, by and large, trouble free. As long as they have been serviced regularly, there is not much that will go wrong.

Where to buy used?

Second Glance

With so many options to choose from, we explain where you should buy a used car from.

The biggest advantage of buying a used car is that, for the same amount of money, you can generally shop a whole segment higher than if you were buying new car.
Similar Cars
Modern technology and rising quality levels today mean that cars are, by and large, trouble free. As long as they have been serviced regularly, there is not much that will go wrong. Major engine work will only be required once the odometer is nudging the 2,00,000km mark. Therefore a car with 50,000km on its clocks, theoretically, has only run a quarter of its life and will safely serve at least twice the distance still.
What is interesting to note and important to remember is that a new car also loses almost 10 percent of its value within the first few days of being driven out of the showroom. Going by that figure, the more expensive the car, the bigger the drop in its value is. By the end of the first year, the value drops further, and considering an average yearly running of 12,000km, a year-old car is great value for money. The question, however, is what options you have when it comes to where you buy a second-hand car.
The organised sector
Still in its nascent stages in India, the organised sector is made up mostly of manufacturers running their own used-car sub-outlets at dealerships and a couple of players like First Choice and Carnation. At present this sector accounts for around 13 percent of the market. One big advantage of buying a car here is that you get a warranty, and nothing can match the peace of mind that brings. Cars sold here have to meet certain parameters before being put on sale - like not having been involved in an accident and not having crossed a certain distance on the odometer - and must meet stringent quality checks. These checks are conducted by trained professionals who are qualified to judge a car's age and the wear and tear of parts, which determines the value of the car. This process goes a long way to ensure that the car doesn't give you any trouble during your subsequent period of ownership. However, the rejection rate is quite high. Mahindra First Choice, for example, tells us that it rejects nearly 75 percent of the cars that come up for sale and, like any other buyer, it buys its cars from individual sellers and even local car dealers.
Another plus is the buyer experience, which is similar to buying a new car. Buyers walk into the showroom, choose from a variety of models and, if required, can even get finance and insurance at the dealership. Since infrastructure like parking and showroom space is better, there is also a larger number of cars on sale compared to a local car dealer. The drawback is that prices are generally on the higher side. This is because the cost of refurbishment of the cars' mechanicals gets added to the selling price. This can often be a deal-breaker for a buyer, especially in the lower segments. Price is a crucial aspect for most and if an opportunity to save, say, ₹15,000 exists elsewhere, a buyer will more often than not take it. Prices are usually fixed and buyers generally can't negotiate a lower price, although dealers tell us that a bit of haggling does take place and is something that can't be completely eliminated.
Local dealers
For most, the neighbourhood car dealer is the destination for their used car needs. Things are quite different here, however. Most dealers work from small shops and the buyer experience can sometimes be comparable to grocery shopping. It's not all bad though. Most dealers will arrange for finance and insurance, but your choice of cars is limited to whatever the dealer has at the time you visit. As you can imagine, a small dealer will have fewer cars in stock compared to a bigger dealer. Word of mouth is a big part of the business and as much as 60 percent of sales happen through references. Hence a happy customer is a good thing for them, and as one dealer told us, they go 'out of their way' to ensure that is the case (see box).
Used car prices in the unorganised sector are lower than in the organised sector thanks to lower input costs. When a dealer sources a car, his priority is to fix faults that a potential buyer will easily spot on a quick inspection. First up is the bodywork and tyres, as these are out in the open and can't be hidden. Next are the interiors and lastly any faults that can be gauged during a basic test drive.
We recommend getting a used car professionally inspected before buying - something most owners don't do. The buying experience can be confusing and intimidating, and most people just want to get it over with in a hurry. A smart buyer should always haggle as getting a price lowered is a lot easier here. Of course there is no official warranty provided, although most dealers we spoke to said that they would get any post-sale problems rectified. How many stay true to their word is anybody's guess.
The individual
A buyer's best bet when it comes to value for money is buying directly from another individual. Since there is no middle man involved, this is the best way to save money on buying a used car. The seller and buyer meet, the car is inspected, the terms of sale discussed and the deal is finalised on a handshake. As simple as that may sound, there is a lot to be done still, including transfer of ownership, NOC from the finance company if required, and more.
All this is usually taken care of when buying from a dealer or at the showroom in the organised sector, which saves the buyer the headache.
What the buyer should focus on here is making sure that the car is mechanically sound and checking the service history. And because it's being bought directly from the person who uses it, the car can be seen in its actual state of running and not as something that has been worked over on the surface to make it look good.
Behind the scenes
Buying and selling used cars is a business — a businessman is in it to make a profit, and malpractice is common in the unorganised sector. A car is made to look good on the outside and any amount of problems can be hidden. Mechanical maintenance is avoided as much as possible and it's the buyer's ability to gauge a car on the test drive that is crucial. One of the tricks up a dealer's sleeve here is to keep a minimum amount of fuel in the car so as to dissuade the buyer from driving too great a distance.
When potential buyers visit a dealer, they are made to believe that the dealer is only working as a middle-man on a commission, merely facilitating the sale and that the price is being demanded by the previous owner. In reality, the car has already been bought from its previous owner. If the buyer then asks to speak to the owner to negotiate a better price, dealers often produce a fake owner who is 'adamant on the price'. Usually it's an investor who is involved in the business through his money and gets a percentage from the sale. Simply put, this is another way to dissuade the buyer from haggling for a lower price.
WHATCAR? SAYS …
While there are advantages and disadvantages to buying from any of these sources, the best used car a buyer can get is the one that appeals to them as the best value for money. When such an example is found, haggle hard and get the best price that you can extract.