BMW unveils the X5M and X6M ahead of LA
Not one, but two supercar-baiting BMW SUVs are heading to this year\'s LA Auto Show in November.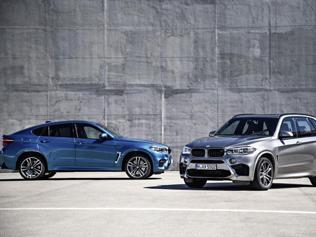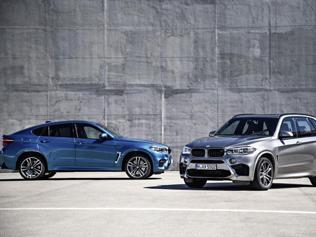 The-new-BMW-X6M-and-X5M-Photo-AFP
Not one, but two supercar-baiting BMW SUVs are heading to this year's LA Auto Show in November.
Both the X5M and X6M are powered by the same glorious twin-turbo 4-liter V8 that currently works miracles in the company's M5 executive sports sedan and M6 coupe and the result is, if anything, even more impressive considering the extra size, weight and girth the engine is attempting to propel.
Whether you go for the X5M with its full-sized boot and sufficient headroom for four or the sloping coupe-styled X6M you'll get a car theoretically capable of not getting stuck in the mud and being able to cope with inclement weather but that can also go from 0-100km/h in 4.2 seconds and onto a top speed of 280km/h if you ask BMW very nicely to remove the engine's restrictor.
For those that are too shy to ask about the restrictor or who are frankly scared of traveling at nearly 300km/h in something that weighs 2275kg (2265kg for the X6M), then the cars are limited to a slightly more sedate 250km/h but will still offer the same levels of power and acceleration -- 564bhp and 553lb ft of torque to all four wheels.
As a result the new cars are not only faster and lighter than the cars they're replacing, they also give everything from the latest Porsche Cayenne Turbo S to the Mercedes-Benz ML63 AMG a serious run for their money -- matching or outright beating them in terms of straight-line speed and acceleration.
To the uninitiated, trying to imbibe a lumbering SUV with the performance and handling characteristics of a sportscar might seem like a strange thing to do. After all, the qualities that make for an excellent off-roader -- high driving position, massive chunky wheels and a high ground clearance -- are all things that make for a poor track car. Yet car companies continue to try and consumers continue to snap them up in tens and hundreds of thousands of examples.
To try and minimize the negative effects of converting something with the aerodynamic properties of a small chalet into a speed machine, BMW's engineers have worked overtime on the suspension and chassis set-up so that the cars can handle the lateral G-force in the bends without rocking like a rowing boat out at sea. The X5M and X6M both ride on air suspension with adjustable dampers as standard and feature a modified front wishbone and a clever self-levelling rear axle to keep yaw to a minimum.
Following their official unveiling in Los Angeles in November, the cars will make an appearance at the Geneva Motor Show next March before going on sale in April 2015.
First Published Date:
03 Nov 2014, 14:33 PM IST
TAGS:
NEXT ARTICLE BEGINS