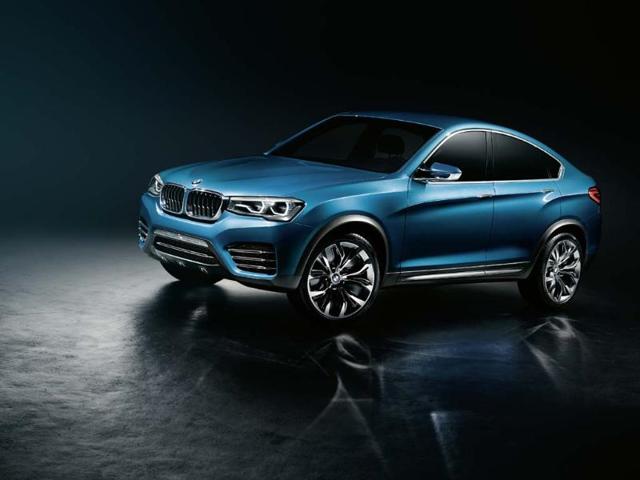 BMW reveals X4 concept ahead of China debut
2 min read

.

Updated: 08 Apr 2013, 03:41 PM IST

German carmaker BMW has published the first images of the latest edition to its rapidly growing line of \"sports activity vehicles\" in the run-up to this month\'s Shanghai motor show.

German carmaker BMW has published the first images of the latest edition to its rapidly growing line of 'sports activity vehicles' in the run-up to this month's Shanghai motor show.

Wide, muscular and suitably aggressive in stance, the X4 will join BMW's 4X4 line-up alongside the smaller X1 and X3 and the larger X5 and X6, making it the fifth such new model the company has introduced over the last 14 years.
Similar Cars
Before 1999, when the company launched its first off-road offering, the X5, big four-wheel-drive vehicles were largely utilitarian and designed for climbing every mountain and fording every stream. They could navigate the highways and byways of the urban environment but the ride was less than comfortable and, with the exception of the Range Rover, their interiors were lacking in the sorts of creature comforts a similarly priced executive car would feature as standard. To cap it all off, most of these cars -- collectively called SUVs (Sports Utility Vehicles) -- were not exactly fast. The X5 was very fast in comparison and thanks to intelligent four-wheel drive, it could perform on uneven ground too, but only up to a point.
Massive sports wheels and poor ground clearance, plus no locking differentials, ride height adjustments settings or low-range gearbox meant that its off-roading was limited to a slightly muddy field or a gravel track. BMW called the X5 a Sports Activity Vehicle to emphasize its performance, whereas the world's motoring press called it a soft-roader because of its inability to perform when the going got tough.
Despite these limitations, BMW's X cars have been hugely successful and the company is clearly hoping that its latest addition, the X4, which BMW describes as a Sports Activity Coupe because of its sloping rear lines, will attract even more potential customers away from an Audi Q5, Range Rover Sport or a VW Tiguan.
Though BMW is yet to provide any details regarding its four-wheel drive system, engine, powertrain or interior options, it has gone to great lengths to highlight its similarities to the X6 and on paper they appear identical in every way other than size. The X4 is 'only' 4.6m long, 1.9m wide and 1.6m tall, and its wheelbase (the distance between the front and rear wheels) is 2.8m. Reviews of the X6 were overwhelmingly negative. Most motoring journalists found it impossible to explain why somebody would want a car that was too heavy and with too high a driving position to be driven at speed and in comfort on the road and too few 4X4 accessories and supporting technologies to be competent off the road.
However, beauty is in the eye of the beholder and when standing still the X4 is striking in appearance. Whether or not it can perform on and off road is yet to be seen. BMW will not be officially launching the vehicle until 2014 but interested parties will be able to get a closer look when it makes its official public debut at the Shanghai motor show which is set to open its doors on April 21 and run until April 29.