BMW 630i GT first drive: Focussed on comfort, it's also the perfect driver's car
There's always been a huge chasm, in India, between the mid-size luxury sedans - the 5-series, E-class, A6 and XF, and their larger, limousine siblings - the 7-series, S-class, A8, and XJ. This is partially because those larger cars get larger engines, but more so because they're only sold in India in their stretched, long-wheelbase guises. The result is, if you wanted to upgrade from the lesser segment to the bigger one, you had to double your budget! Imagine a price gap of ₹50 lakh from one class to the next - that's exactly how it was until Mercedes decided to stretch the E-class and fill that gap. It was a killer strategy that disrupted the market, but as it turns out, BMW had its own, different strategy to ford that chasm. The new 6-series Gran Turismo (GT for short) sits above the 5-series, but because it will be locally assembled from day one, it's not too much more expensive. So, at ₹58.90 lakh, it's about ₹7 lakh more than the equivalent 5-series. But BMW has made sure to spec it better, too, keeping the rear seat passengers, rather than the driver, in mind; more on that later.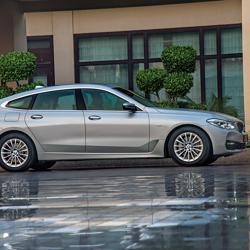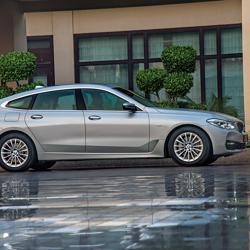 BMW's new 6-series Gran Turismo sits above the 5-series, but because it will be locally assembled from day one, it's not too much more expensive.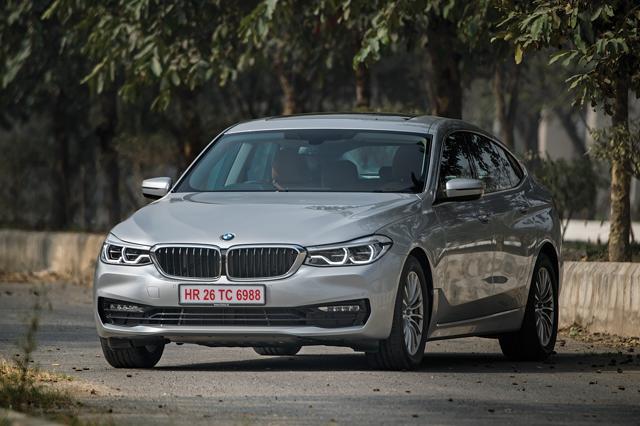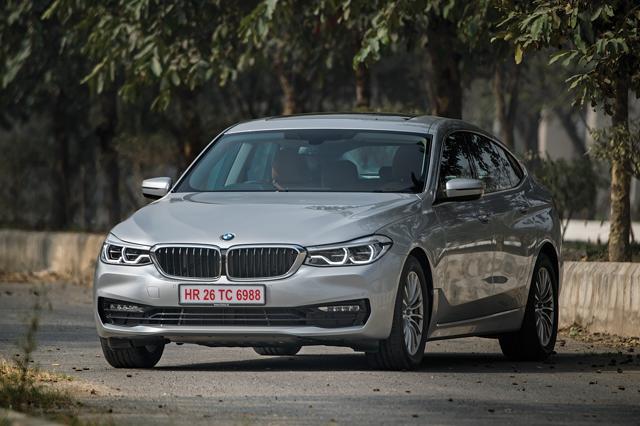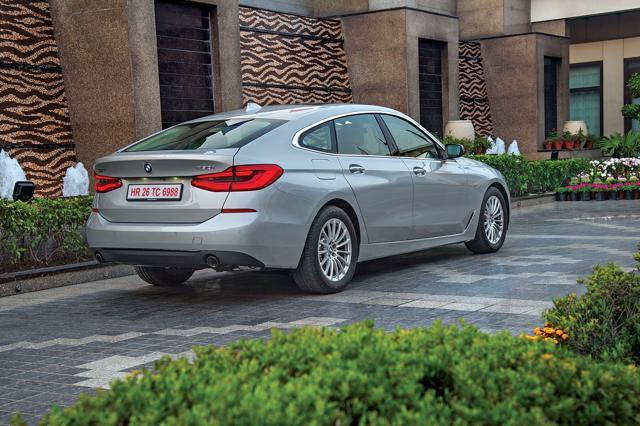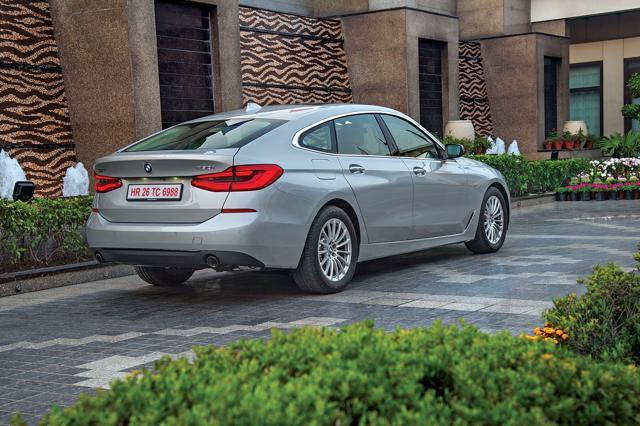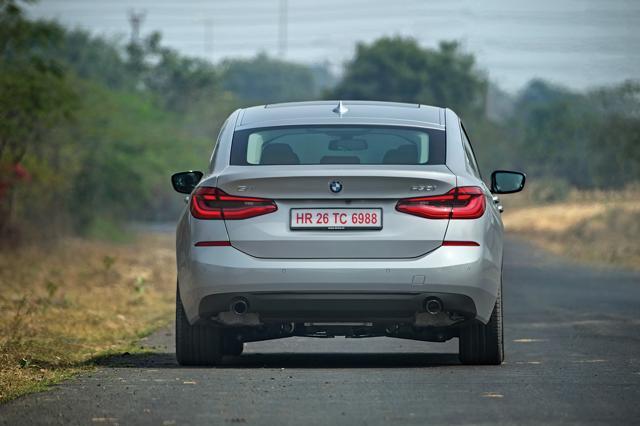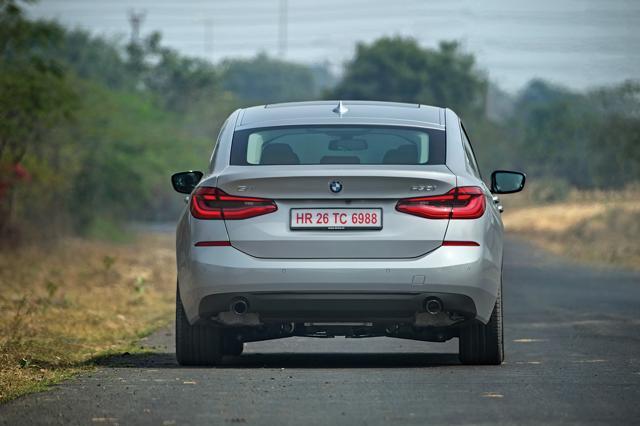 There's another, more quantifiable thing that makes it fit perfectly between the 5 and the 7 - and that's the wheelbase. The 6 GT's 3,070mm wheelbase is exactly the same as the standard-wheelbase 7-series sold in Europe, but 140mm shorter than the long-wheelbase version sold here. It is also 95mm longer than the 5-series' wheelbase.
The 6GT is a big car, but the roof flows gracefully into the raised rear, the bulk of which is cut down by long, slim tail-lamps that wrap around the sides with a tremendous-looking 3D effect. At the front, it's not quite as dramatic, with a rather ordinary-looking BMW face that's much too similar to the 5-series. The other thing to note is that the 6 GT has been launched in only its base Sport Line trim, and that means it doesn't get the aggressive body kit of the M Sport, nor the chrome embellishments of the Luxury Line trim, and that makes it look a little ordinary. The wheels, too, look a bit plain, and a size too small for a car this big but you can choose different sizes and styles from the options catalogue.
Also check these Cars
Find more Cars
On the inside, the new 6 immediately gives you a sense of space thanks to its huge passenger compartment. The design does, however, feel a bit too similar to the 5-series - and again, it's perhaps the base Sport Line trim that contributes to this. It's not low rent, by any means - it gets real leather seats with a faux-leather dashboard top, dark wood-brushed aluminium and even contrast stitching; but we just wish BMW did a little more to give it its own identity. The equipment list mirrors the 530i Sport Line, as well, and that means it's good but not extravagant. You do get the latest iDrive with a touchscreen and gesture control, and it's the first BMW to get Apple CarPlay in India - that too, without the need of a cable. You also get adaptive LED headlamps, a digital instrument cluster, a panoramic sunroof, four-zone auto climate control and adaptive air suspension, which is more 7-series than 5.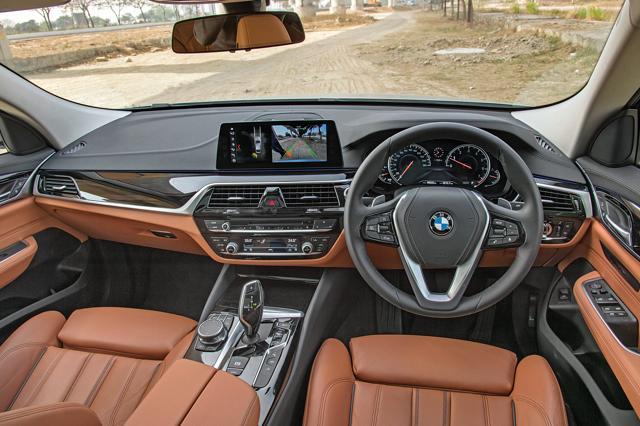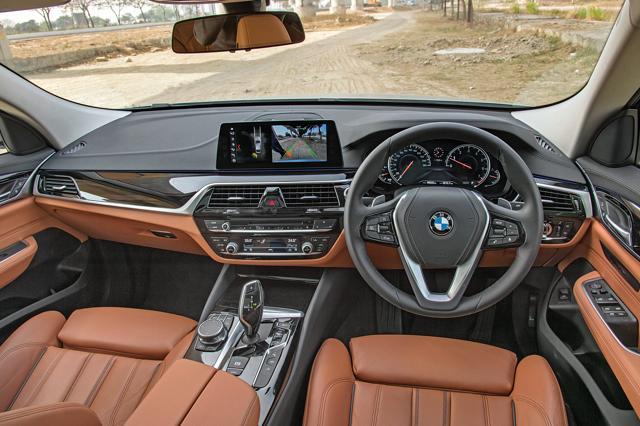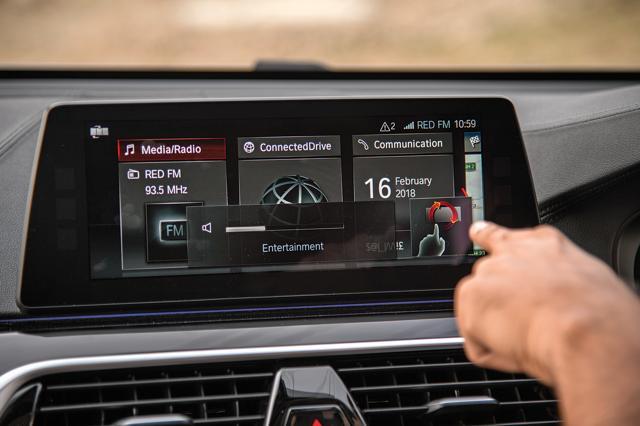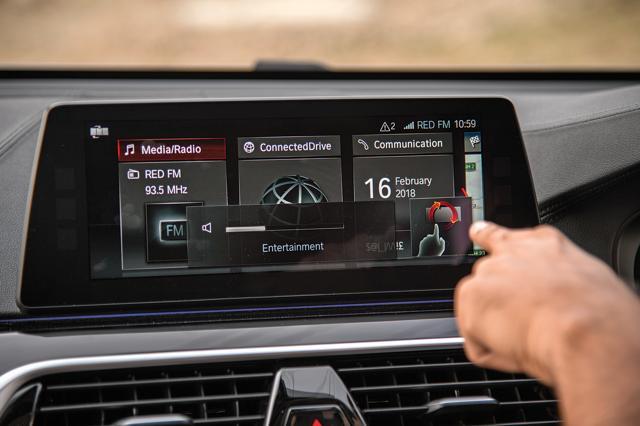 It also has some additional features over the 5-series, specific to the back seat - like electric rear window blinds, rear entertainment screens and a reclining rear backrest. Things they've left out - at least until higher trim levels come along later on - are 360-degree cameras, a wireless charging bay for your phone and hands-free parking assist, to name a few. And while you do still get BMW's fancy 'display key' fob with a touchscreen, the high-tech remote parking facility is missing.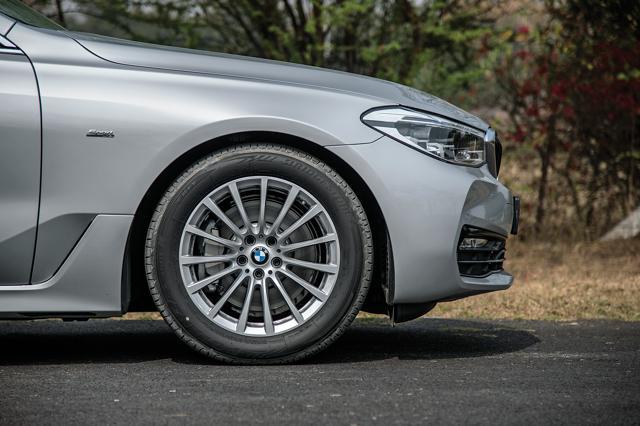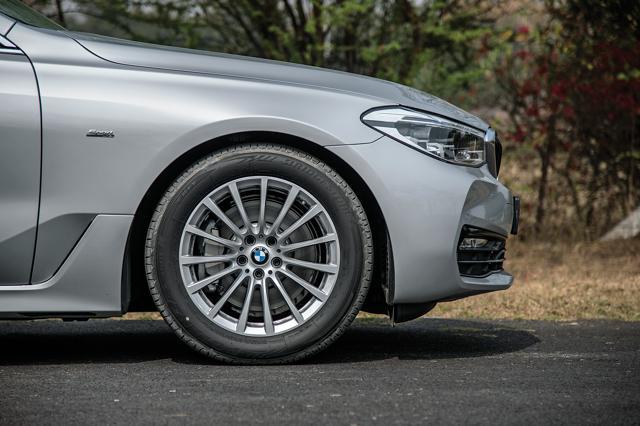 Like the 5-series Sport Line, this one gets sports front seats which, though quite supportive on their own, offer very limited adjustability. There is no lumbar support adjustment, for instance, but you can at least tighten the side bolsters. There is a memory function for the driver, which is nice. However, even though frontal visibility is good thanks to a large front windscreen, you can't see much through the sloping rear glass. The seats that matter more, however, are at the back; and we're happy to report that space here is immense. Thanks to that 3,070mm wheelbase (still 9mm shy of the E-class), you get a huge amount of rear legroom. Headroom is also really good, despite a roof that appears to slope down quite sharply; another inherent benefit of a notchback body style. Support is decent too, although the rear armrest is set a bit too high, and all in all, this seat is very good on its own. It's just that it's not nearly as plush as the back seat of an E-class. Yes, it too gets soft pillows on top of the headrests and you can recline the backrest; but where these seats recline by 9 degrees, the Merc's go 37 degrees, and the 'individual' seats in the E are more heavily cushioned and contoured.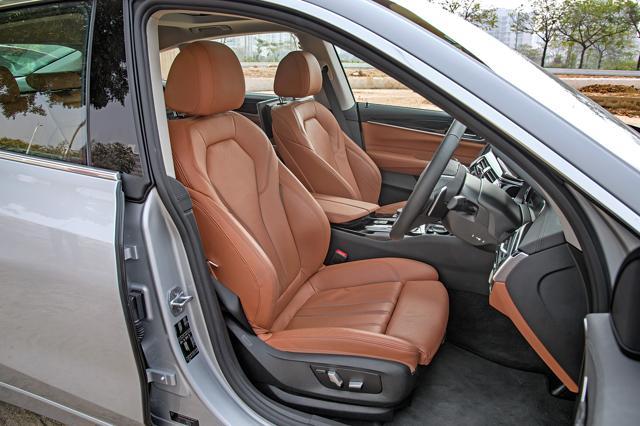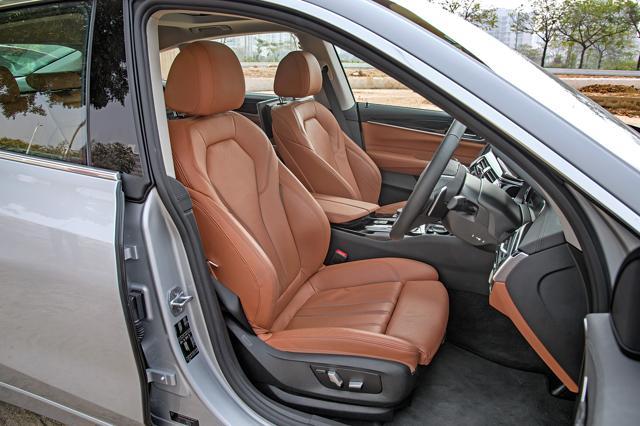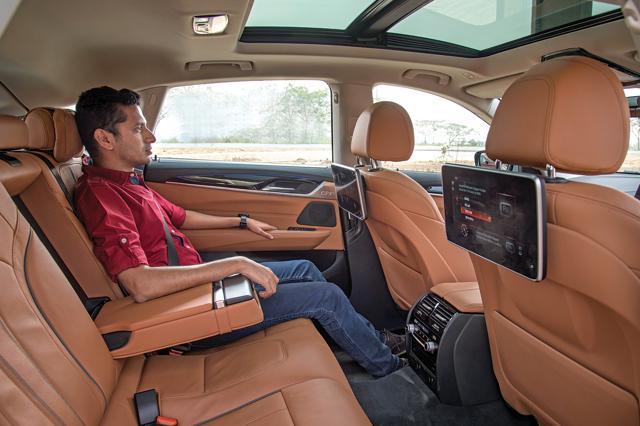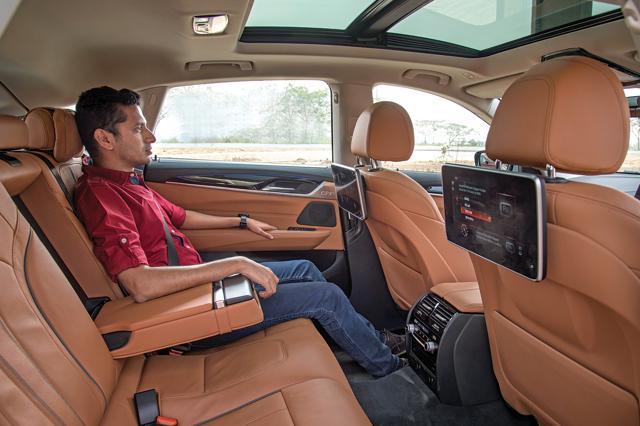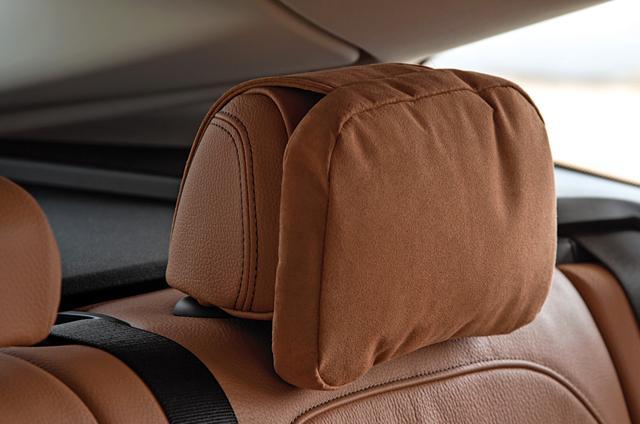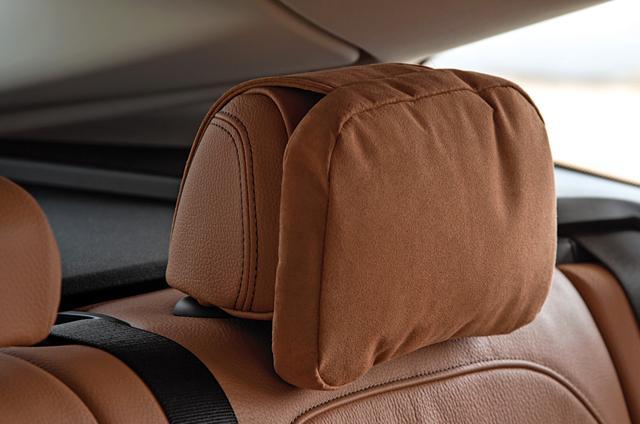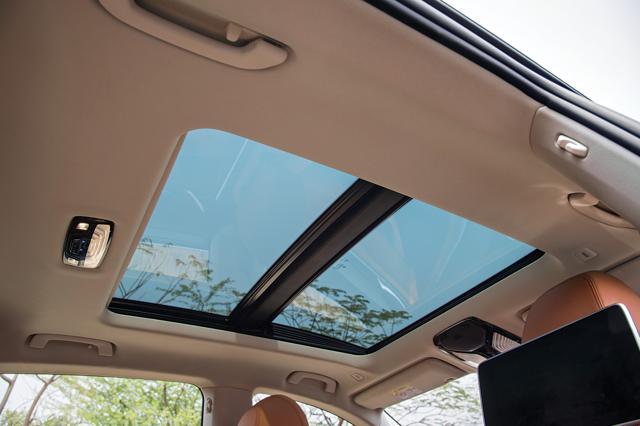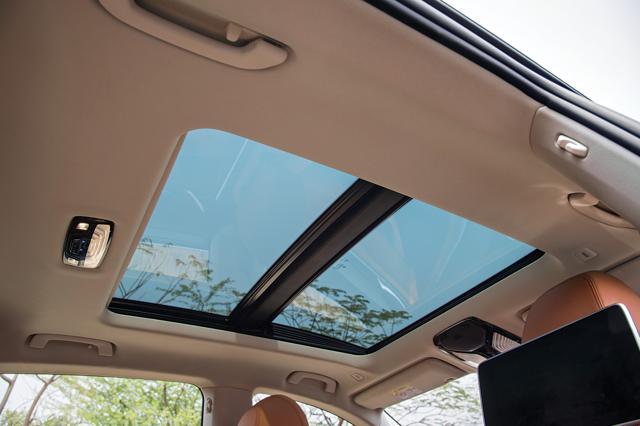 This is where, in true BMW fashion, the 6-series GT really holds its own. In launch spec, on paper, it might not seem to have the chops. For one, it's got air suspension, which though good for comfort, doesn't generally translate to sharp body control. Secondly, it's a 630i, which these days means a 2.0-litre, four-cylinder petrol engine and not a six. However, the power is up 6hp to 258hp compared to the 530i and torque is up 50Nm to 400Nm - and this does make a difference. 100kph is dealt with in a respectable 6.7sec; and if you've got it in Sport mode, responsiveness, in general, is pretty good. Of course, Eco Pro and Comfort modes dull the acceleration in comparison, but they still work fine for chauffeur duty, and this way it's very refined, too. The eight-speed automatic, as ever in BMWs, is a brilliant mix of smoothness and quickness with its shifts, milling away in the background without you noticing.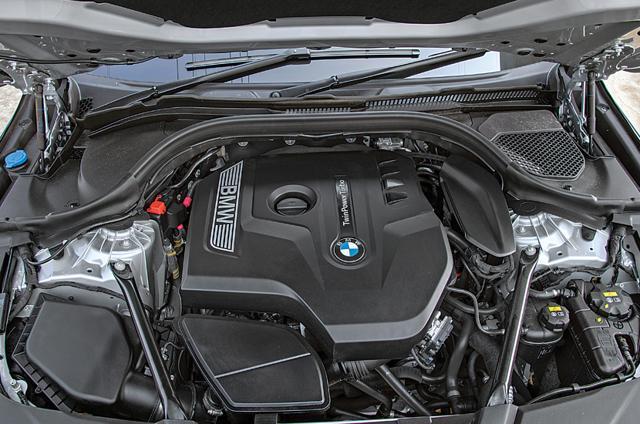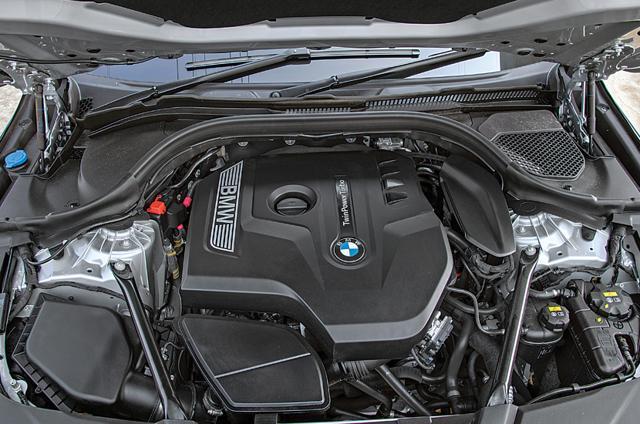 Air suspension plays a crucial role in the dynamic character of this car. What this means is, even in Sport mode, it could never be quite as sharp or controlled as a 5-series. However, it does a far better job than other air-suspended cars, like say, the E 350d. Even the steering feels a lot sharper, better weighted and more direct. So, while the focus is more on comfort, it's very much a driver's car, too. You wouldn't mind taking the wheel, every once in a while. As for the comfort, there is that ultra-plush ride that only air suspension can give you. Even in Sport mode, only the very sharpest bumps catch it out. In Comfort mode, it's as good as any of the big limousines.
So, while the back seat might not be quite as plush as the Merc's, and, though distinctive, the GT body style still isn't your conventional sedan shape; but overall, the 6 GT delivers on most fronts it set out to - it's more spacious and comfortable than a 5-series, and it's still nice to drive, as all BMWs should be. Most of all, however, it perfectly bridges the gap between the 5 and 7-series, plugging a crucial hole in BMW's range.
First Published Date:
10 Mar 2018, 08:54 AM IST
Recommended for you
View all
NEXT ARTICLE BEGINS


Shop Now

55% OFF

19% OFF

73% OFF