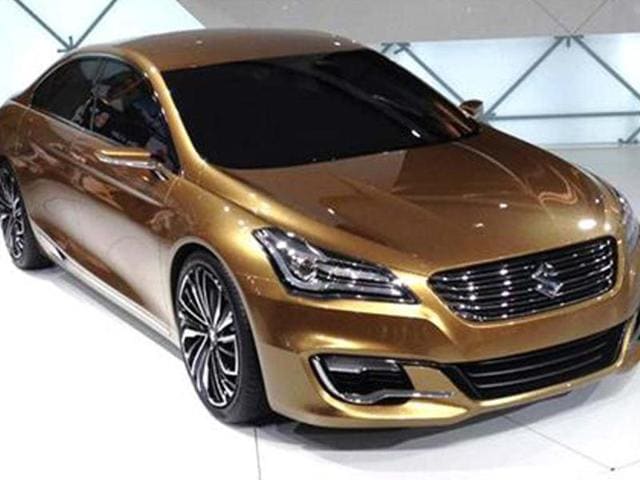 Best of the Shanghai auto show 2013
3 min read

.

Updated: 25 Apr 2013, 11:39 AM IST

Over the weekend, the Shanghai auto show featured plenty of high-profile reveals, joint venture initiatives between established names and local manufacturers and an array of launches by Chinese manufacturers.Here are the highlights of the

Over the weekend, the Shanghai auto show featured plenty of high-profile reveals, joint venture initiatives between established names and local manufacturers and an array of launches by Chinese manufacturers.

Here are the highlights of the show:
MG CS SUV
Similar Cars
The Geneva motor show earlier this year proved beyond doubt that the next few years are set to be dominated by new SUV launches, but few would have anticipated MG would enter the fray with such a confident offering. The production model is still two years away - at least - for European buyers, but if it retains the concept's looks (as MG says it will) then it will be quite worth it.
Maserati Ghibli
We can debate long and hard whether a BMW 5-series rival really has a natural fit in Maserati's line-up, given the Italian firm's reputation, but few can argue that the car itself is anything other than supremely good looking. If it drives decently, and the (Ferrari co-developed) diesel is good, it could be the premium alternative so many company car buyers say they've always wanted.

Mercedes GLA concept
There are rumours that the production version of the GLA won't be quite so dramatic to look at as this concept, which would be a great shame. Sure, the concept's overt styling may jar with some, but here again is a new Mercedes that dares to challenge convention and do everything but play safe. Inevitably that means it won't thrill everyone, but at least it will thrill some.

Volkswagen CrossBlue Coupé concept
While the naming strategy may do nothing to make its intentions clear, the succession of SUV concepts from VW continue to enthral and entice. This sportier version of the CrossBlue family sits between the Tiguan and Touareg in size. It will make production as a five-seater in China and the USA and has all the hallmarks of another sales success for the brand.

Ford Escort
Word is that the Escort name was revived because it carries so much resonance in China, but you can only imagine the internal debates within Ford as to whether reviving such a nameplate was a good idea. Ultimately, though, would we be giving a Chinese market five-door saloon a mention without that iconic moniker? No.
Audi S3 saloon
Part of me wants to love the S3 saloon, all performance and common sense practicality, and part of me wants to mark it down it for being a touch staid. Truth is, it's so good, you start to wonder why anyone would buy an A4. Here's a potent car, designed with common sense in mind, to the extent that it has decent rear space and a credible boot. In that regard, it is the Mercedes CLA's far, far more sensible sibling.
Citroën DS Wild Rubis
The strikingly styled but oddly named Wild Rubis is meant to be a car for the Chinese market only. But it looks so good and meets the growing, global trends for SUV sales so neatly, you have to wonder if it isn't a matter of time before its cash-strapped maker announces a slightly more ambitious launch plan for this latest DS model.
MG3 Euro
The car MG dealerships in Europe are most excited about, as it's now just a couple of months from going on sale. This European version features sharper styling and its own dynamic set-up. It carries a weight of expectation with it, having sold well in its domestic market and with the potential to broaden the brand's appeal in the way that the Citroën DS3 and Vauxhall Adam have done for their makers.
Nissan Friend-Me
If there's a car maker that's on the pulse of future trends, you'd have to say that it's Nissan. Think Qashqai and Juke, and you'll soon get the picture. So we should all take note when it unveils a car described as showing what the youth market will want to buy in years to come. This is no conventional four-seat saloon, then. Sharp styling and connectivity appear to be the watchwords, as does that eye-catching name.
Lamborghini Aventador LP720-4 50 Anniversario Edition
Should we care about a special edition of a Lamborghini that's already both fast and expensive enough? We could be cynical, point to the fact that these types of special editions have a habit of turning up at Chinese motor shows, where car buyers have pots of cash and endless enthusiasm for cars nobody else will own, or we could revel in the fact that Lamborghini continues to have the ability to wow.