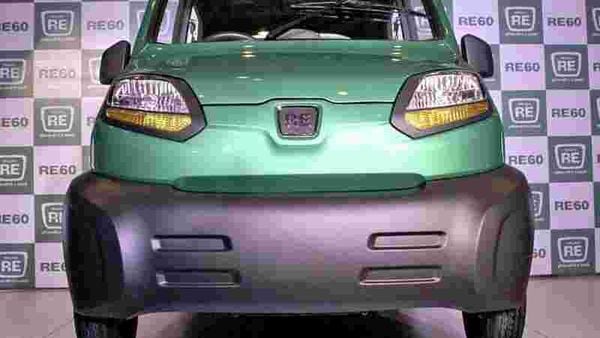 Bajaj to launch four-wheel vehicle but it's not a car
3 min read

.

Updated: 24 Feb 2014, 04:27 PM IST

Bajaj Auto is marketing the RE60, India's first quadricycle, as a more stable and comfortable alternative to the three-wheeled autorickshaws ubiquitous on India's roads even though it looks like a small hatchback car and is expected to cost less.

It's got four wheels and seatbelts, but Bajaj Auto, the creator of India's first quadricycle, would rather you didn't call it a car. Bajaj Auto is marketing the RE60 as a more stable and comfortable alternative to the three-wheeled autorickshaws ubiquitous on India's roads even though it looks like a small hatchback car and is expected to cost less.

Weight, top speed and other specifications, including safety standards, mean the RE60 will not be classified as a car. But that didn't stop executives from top automakers such as Tata Motors from comparing it to a car and finding its safety features come up short.

Rajiv Bajaj, the company's managing director, insists the RE60 is neither a car nor an autorickshaw. The government is even creating a new classification category for the vehicle, which is expected to be launched within months.

'In every market that a three-wheeler is available the quadricycle should be relevant,' Bajaj told Reuters in a phone interview.

'Because at the end of the day it provides a very logical upgrade from a three-wheeler for people who want to pay a little more and want to have the comfort and safety of four wheels, four doors, a roof and seatbelts,' he said.

In India, autorickshaws typically have no doors and a soft roof. The vehicles are usually turned into taxis and known in many countries as tuk-tuks. The RE60 is part of a long-term expansion strategy by Bajaj to boost sales growth at home and abroad.

The company is the world's largest autorickshaw maker and India's second largest motorcycle maker, and sales of both these vehicles have decelerated over the last two years, hit by falling demand in a slowing economy.

Bajaj's three-wheeler sales fell 6 percent in the 2012/13 financial year compared to a 17% increase in the previous year and a 28% rise in 2010/11.

Motorcycle sales also showed a similar trend: they fell 2% in 2012/13 compared to a 13.2% gain in 2011/12 and a 35% increase a year earlier.

Exports of motorbikes and autorickshaws account for more than a third of Bajaj's sales. The company counts Mahindra and Mahindra Ltd, TVS Motor Company Ltd and Italy's Piaggio as competitors in the three-wheeler segment.

Safer, but not cheaper

The RE60 weighs 400 kilograms (880 pounds), about 100 kg more than Bajaj's smallest autorickshaw and half as much as a small hatchback. The engine, which can run on gasoline or compressed natural gas, goes up to 70 kilometres per hour (about 40 miles per hour).

The vehicle is likely to be priced between an autorickshaw and a small car. Analysts expect the RE60 to cost ₹200,000, more than the roughly ₹150,000 for the most basic Bajaj three-wheeler but less than the ₹270,000 for India's bestselling car, the Maruti Alto hatchback.

Bajaj spent ₹5.5 billion developing the vehicle, according to media reports. The company can initially make up to 5,000 vehicles a month and has been waiting for two years to get them on India's roads.

The federal government is expected to allow quadricycles from October 1.

Bajaj hopes the quadricycles will catch on in countries where three-wheelers are widespread, and has sent samples for test runs in Sri Lanka, Colombia and Kenya. Managing director Bajaj, however, declined to give any sales forecasts.

Analysts said quadricycles are likely to have broader appeal than the autorickshaws.

'Specifically, in cities in the next three to four years it could replace the three-wheeler, primarily because it provides better safety, as well as comfort as well as better fuel efficiency when compared to three-wheelers,' said Nitesh Sharma, an analyst with brokerage Espirito Santo Securities.