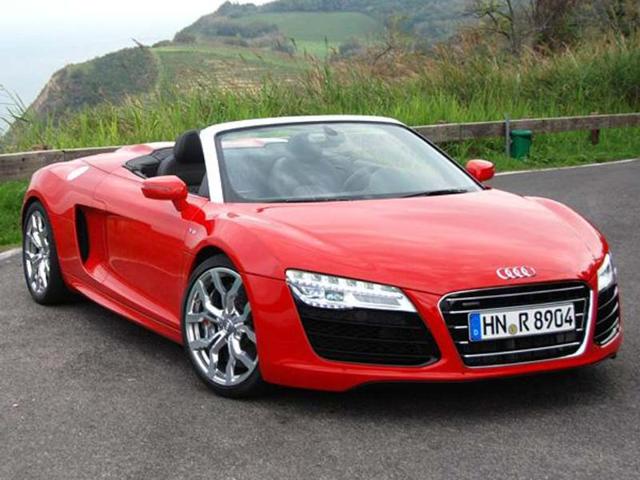 Audi R8 facelift review, test drive
4 min read

.

Updated: 20 Feb 2013, 06:27 PM IST

This Audi supercar seems to take pride in its efficient and no-nonsense garb. In fact, it even feels the same as it did five years ago, except now it looks even more technical. For instance, there are new full-LED headlights that are now standard fitment. There's the new chamfered, hexagonal Audi grille and the air intakes also match it.

We drive the updated Audi R8 and the changes are more than skin-deep.

It's been five long years since Audi bowled everyone over with its mid-engined R8 supercar. This means it's time for a facelift, and we were invited to the Misano racetrack in Italy to drive it.
Similar Cars
This Audi supercar seems to take pride in its efficient and no-nonsense garb. In fact, it even feels the same as it did five years ago, except now it looks even more technical. For instance, there are new full-LED headlights that are now standard fitment. There's the new chamfered, hexagonal Audi grille and the air intakes also match it. However, the most distinctive visual change is at the rear. The new all-LED tail-lights are really striking, and have turn indicators that 'swipe' outwards when activated. As for the rest of the R8, it's still very much the same. So the hockey puck looks sharper now, but does it drive any sharper?

The powerhouses remain unchanged - there's a 4.2-litre V8, and the engine in the car I was driving, the 5.2-litre V10. This Lamborghini-sourced motor develops 518bhp of power and 54kgm of torque. And the V10 in Spyder form weighs in at 1745kg; once again, pretty much identical to the previous car. All of these figures are the same as the outgoing R8, but when you look at the acceleration figures, the new car is faster. So what exactly is different?

The single biggest change to the R8 is the gearbox; the single-clutch robotised manual of old has been replaced by a dual-clutch unit. Developed specifically for the R8, the wet twin-clutch unit helps cut the 0-100kph time down by almost half a second, the ton now coming up in a claimed 3.8 seconds. And the top speed is 311kph.

Driving slowly through narrow roads near Misano, it's easy to forget that this is a supercar, because it feels so civilised and the gearbox shifts smoothly and quickly. The suspension feels nice and reasonably pliant too.

So the facelifted R8 is pretty much the same as the old car. It continues to be perfectly civil, extremely precise, even more efficient and just a little bit more exciting.

But that wasn't the end of the story. There was more excitement waiting for us at the Misano track. With the facelift, Audi has launched a new 'Plus' version of the R8 V10 coupé. It uses ultra-light forged wheels and carbon-ceramic brakes, which alone save 2kg. The front splitter is made of light carbon fibre, as are the rear diffuser and the R8's trademark side blades. It all adds up to shave 50kg off the kerb weight of the standard R8 V10. The engine bay is lined with carbon fibre too, and that jewel of a motor now develops 542bhp. That means it's finally on par with Lamborghini's entry-level Gallardo LP550-2. And that is very good news.

Yes, you can bet it was exciting, and with the loads of four-wheel-drive traction, all that power was put down with ease. The Misano race circuit is quite narrow, and if it wasn't for the 4WD system, I probably would not have enjoyed myself even half as much. Push hard into a corner and the R8 V10 Plus will slide, but the Quattro system just sorts things out and keeps you going. With the ESP on, it induces understeer even though it can only send a maximum of 30 percent of the torque to the front wheels. The new carbon-ceramic brakes delivered astounding stopping power, so you can brake really late.

The Plus also comes with non-adjustable dampers that are set to a sportier setup, which felt just right for the race track. And as I got more and more used to the car, I was able to push it harder, revel in the superb grip from the Quattro system and the massive 19-inch rubber, and the sheer balance of this mid-engined supercar. I could really push it through the long, fast bends and nail the accelerator coming out of the corners. And the Plus proved that it is every bit an R8, only faster and more exciting. But, somehow, it still won't give you goosebumps.

If what you want is simply the best-handling sports car you can buy for half the price of a Ferrari 458, then don't think any further. The chassis is so well sorted and the R8 feels so civilised that you can easily use it as an everyday car too. The neutral and fabulous handling makes you feel like a hero at the wheel, but it also leaves you a little cold at the end of the day. The R8 has all ingredients of a full-blooded exotic, but it still lacks some of the mystique of its rivals of Latin origin.

Fact File
Price Range (in lakhs)*
Ex-showroom price ₹1.6-1.9 crore (est. ex-showroom)
Engine
Fuel Petrol
Installation Mid, longitudinal, all-wheel drive
Type V10, 5204cc, petrol
Power 518bhp at 8000rpm / 542bhp at 8000 rpm (Plus)
Torque 54kgm at 6500rpm / 55kgm at 6500rpm
Transmission
Type all-wheel drive
Gearbox 7-speed dual-clutch auto
Dimensions
Length 4440mm
Width 1904mm / 1929mm (Plus)
Height 1244mm / 1252mm
Wheel base 2650mm
Boot volume 100 litres
Chassis & Body
Weight 1745kg / 1595kg (plus)
Wheels 19-inch alloy
Tyres 235/35ZR19-295/30ZR19
Performance
0-100 3.8 sec / 3.5 sec (plus)
Economy
Tank size 80 litres / 75 litres (plus) (90 optional)