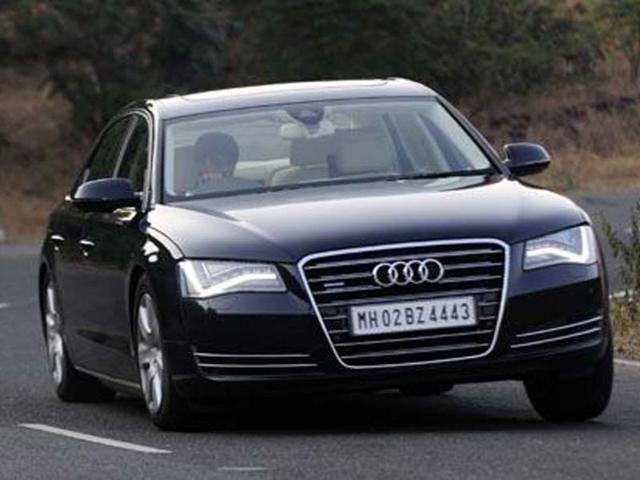 Audi A8 L 4.2 FSi Quattro Reviews
8 min read

.

Updated: 04 Jan 2013, 01:40 PM IST

Crafted with larger and even more confident brush strokes, the new A8L is as sharp and as crisp as any Audi. The combination of the big chrome grille, LED headlamps and minimalist styling looks as good as anything Audi has done.

The new A8 is a huge step ahead of the previous model

Crafted with larger and even more confident brush strokes, the new A8L is as sharp and as crisp as any Audi. The combination of the big chrome grille, LED headlamps and minimalist styling looks as good as anything Audi has done.
Similar Bikes
Problem is, some find its looks too generic. The A8 looks too much like its cheaper siblings and that, initially, is a bit of a dampener. Still, gaze at this car for long and its individual character emerges.
The car's profile is dominated by the strong shoulder line, long bonnet and slab-sided flanks, and this gives the A8 a regal air. Also adding considerable heft to the design is the block-like rear of the car. This is also a long car and it takes more than a few steps to walk its 5.2-metre length.
Under the skin, this car continues to be one of the few modern cars not to employ a monocoque construction. Audi has opted for space frame construction as this allows for the extensive use of weight-saving aluminium body panels, which, according to Audi, make the A8 around 90kg lighter than an equivalent steel monocoque car. The use of aluminium has not only kept weight in check but has increased the A8's torsional rigidity by around 25 percent as well. What adds bulk however is the Quattro four-wheel-drive system, and this takes the weight of the car upto 1960kg.
The A8 is air sprung with aluminium suspension arms and variable dampers are employed on the car as well. Sitting on large 18-inch wheels, the A8 gets massive ventilated discs all round along with ABS and ESP. Other safety systems on the Audi include eight airbags, seatbelts with pre-tensioners and neck restraints.
Like most Audis, the A8 too comes only with a space saver, which is not ideal given our driving conditions. But then that's better than having
no spare at all.

Interior
At first glance, the A8's interiors look like a cross between the insides of a luxury yacht and a business jet. Polished wood and brushed aluminium inserts lend a touch of class, white lighting, chrome, wood and leather give it a sense of occasion, and the styling is more avant garde than traditional.
What makes the insides of the A8 so special is the manner in which technology and tradition have been blended so seamlessly. What's also very impressive is that everything in the cabin works with a high degree of precision. You can see it in the way the screen dives under the central console, in the manner the glovebox drops open and the way the front passenger seat flips forward to give the rear passenger more legroom.
Audi's MMI system controls many functions but a proliferation of buttons and dials can be used to control most features as well. However, this sometimes tends to become a bit bewildering, until you take a closer look that is. Entertainment, information and communication and even seats can be adjusted from the MMI. You can alter settings for the engine, gearbox, suspension, steering, headlights and, would you believe, even the seatbelts!

Reading the owner's manual, also on the MMI, sure does help. You also get nifty features like a night vision camera, massaging seats, cruise control and an optional ₹6.5 lakh Bang & Olufsen stereo. Attention to detail is fantastic and clever bits like the touchpad and the two-pin power socket for the rear passenger add to this car's feel-good factor.
The driving position can be fine- tuned to perfection and all-round visibility is better than you expect, given the thick pillars that usually come with aluminium-bodied cars. The yacht-inspired gear selector looks terrific too but it is difficult to use. It's not as precise as it should be and that's especially true when you are going from drive to reverse and back. You often find the lever in the wrong slot.
Despite a relatively small wheelbase, rear legroom is superb. But what takes comfort and luxury to a different level is the optional Rear Executive seating package. It does limit seating at the back to two and costs ₹4.4 lakh, but the upshot is first class comfort.
Push a button and the front passenger's seat (sans passenger) slides all the way forward and a footrest pops out for the passenger sitting at the rear. The rear seats can be reclined further and there's a separate massage function built in as well. The message from Audi is simple - fly first class everyday.

Performance & Economy
Audi's direct injection V8 is a very special motor. It feels unburstable, massively enthusiastic and is so good that when you give it the stick, you just want to keep powering on.Also used to power the mid-engined R8 supercar, this motor elevates the A8L to another level.
On offer are 372 fired-up horses, 45.37kgm of twist from 3500rpm and, best of all, a 7000rpm redline that's willingly visited. And the excellent relationship the engine shares with the eight-speed gearbox only adds to the performance equation.
Hit the throttle and it will pin your shoulders to the seat, as the red needle shoots up the speedo. A linear surge builds from almost idle right up to the 7000rpm redline and if you don't pay much attention to your right foot, you will find yourself on the wrong side of 200kph. Flat-out 100kph is dispatched in a blistering 6.4sec and the A8L reaches a limited top speed of 250kph without losing its breath. Remember the size and weight of this car to get a full measure of what Audi has accomplished here. And it's creamy, totally hushed and super refined when out cruising.
But while the gearbox works beautifully with the motor in normal mode, there are some jerks experienced in S or sport. This is especially true if you go from an amble to full throttle. The massive disc brakes are also more than upto the task of hauling down this two-tonne-plus behemoth and it took just 25.56 metres to come to a full halt from 80kph. There is however a fair bit of movement under braking, which at times is a tad disconcerting.
A large petrol V8 hauling two tonnes is bound to consume loads of fuel. So it's no surprise that we achieved a very un-green 5.6kpl in the city and 10.4kpl on the highway. What was a bit of a surprise was the amount it took to top up the 90-litre tank — a wallet-emptying ₹5,600 at current prices!

Ride & Handling
By giving the A8 multiple suspension settings, Audi has attempted to broaden the A8's dynamic repertoire. These settings dramatically change the behaviour of the car. In Comfort mode, the car absorbs most of the bumps with ease and this mode is best for city use. But as speeds increase, it feels a touch too soft and there's a fair amount of vertical movement.
Go to the other extreme, Sport, and the A8 feels distinctly tauter and the ride is too stiff for most of our roads. It's only on super-smooth surfaces (hard to find) that this setting works well and complements the phenomenal traction offered by the Quattro four-wheel-drive system. We found the Normal mode to be the best compromise for high-speed transit as it offers a flat yet pliant ride, with good body control.
However, despite all this techno wizardry, a raised suspension and higher profile tyres, the A8's ride still isn't class leading. The big Audi doesn't feel as settled as we would have liked and on an uneven surface, there is a fair amount of body movement too.
Also, the steering though precise lacks feel and doesn't engage the driver in a particularly entertaining way. In Sport mode, the steering does weight up and get heavier but the feel or contact with the road doesn't really improve. The light and quick steering makes the A8 effortless to drive in town but you need to keep an eye out for its marine dimensions, which can be quite a handful in bumper-to-bumper traffic. You are always aware of the car's length and girth and this can make city driving quite stressful. Poor ground clearance is also a bit of an issue.
The huge overhangs and low nose make the A8L vulnerable and then the Audi's large underbelly is all too easy to scrape. And this feels worse than fingernails on a blackboard. There is a lift mode to increase the car's clearance by 20mm but that doesn't really help over large speedbreakers. Rear visibility too is hampered by the thick C-pillars but thankfully, while reversing, a camera lends a helping hand.

Verdict
The new A8 is a huge step ahead of the previous model. Equipped with a fantastic V8 motor, a cabin that is supremely comfortable and levels of equipment you can only dream of, the new A8 is poised to be the new benchmark in the luxury car segment. While it does most things brilliantly, it does have its shortcomings. A fair amount of road noise filters in at high speed, ride is not as settled as it could have been, and the gear lever has the potential to irritate. However, all this can be overlooked when you consider what a brilliant all-rounder this car is. Priced at a very competitive ₹89.00 lakh (ex-showroom Delhi), Audi's flagship is sure to give Merc and BMW a run for their money.
Technical Specs
Fact File

What it costs
Ex-showroom (Delhi) 372bhp ₹89.00 lakh
Warranty 24 months/ unlimited km
Engine
Fuel Petrol
Installation Front,longitudinal,four-wheel
Bore/stroke 84.5/92.8mm
Compression ratio 12.5:1
Valve gear 4 valves per cylinder, DOHC
Power 372bhp at 6800rpm
Torque 45.37kgm at 3500rpm
Power to weight 189.79bhp per tonne
Torque to weight 23.14kgm per tonne
Transmission
Type Permanent all-wheel drive
Gearbox 8-speed auto
Chassis & Body
Construction Four-door saloon, aluminium space frame
Weight 1960kg
Wheels 8Jx18
Tyres 235/55 R18
Spare Space saver
Suspension
Front Air springs, multi-link, double wishbones, anti-roll bar
Rear Air springs, trapezoidal-link with wishbones, anti-roll bar
Steering
Type Rack and pinion
Type of power assist Hydraulic
Turning circle 12.7m
Brakes
Front Ventilated discs
Rear Ventilated discs
Anti-lock Yes
Economy
City 5.6kpl
Highway 10.4kpl
Tank size 90litres