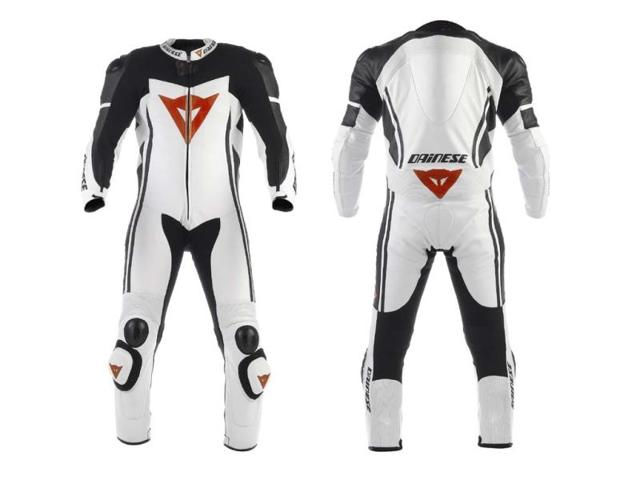 An air of safety for motorcyclists
2 min read

.

Updated: 25 Sep 2013, 05:01 PM IST

The closest thing to an airbag for motorcycles, the next-generation Dainese D-air is about to offer bikers even more protection, but there's a catch: you have to dress like a Power Ranger.

The closest thing to an airbag for motorcycles, the next-generation Dainese D-air is about to offer bikers even more protection, but there's a catch: you have to dress like a Power Ranger.

Still, walking away from a crash that would have otherwise killed you trumps sartorial concerns, and that is what Dainese has been working hard to achieve.
Similar Cars
The original system deployed airbags inside a specially designed motorcyclist's suit that provided cushioning and protection around the shoulders and collarbones in the event of an accident, and since the system was introduced and put though its paces by Dainese-supported professional racers there have been 306 crashes involving riders wearing the suits and in each case not a single rider has sustained shoulder or collarbone injuries.
But now Dainese is going one better with the second-generation system. Called the D-Air Thorax and set to go on public sale in 2014, it now provides badly needed chest and thorax protection too. Tested by riders in the British Superbikes Championship, the changes were made to address injuries sustained when a prone rider, having fallen off, is accidentally hit by another motorbike.
The suit has protected and is endorsed by everyone from Valentino Rossi to Moto3's Luis Salom who got to test its effectiveness in real-life situations more than once: "The first time I tried D-air Racing was at Jerez in 2011. I'm happy to use the new D-air as you feel more protection, not only on the shoulders but on the thorax as well. The safety feeling is definitely higher," he said.
Like the airbags in a car, the D-Air system inflates at the point of impact, thanks to a built-in air canister, but unlike the car-based system, the bags are designed to cushion the areas and keep them straight rather than bring a moving object to a halt. Finding the right balance is very challenging: inflate too much, too quickly and the airbags could actually crush the wearer, inflate too slowly or not enough and they'll be useless at preventing injury. But the technology doesn't stop there; just like inside a smartphone, the system uses an accelerometer, gyroscopes and GPS to calculate the optimum airbag deployment time and can record up to 2 GB of telemetry data which it can overlay onto Google Earth.
D-air has had to pass 800 stringent tests in order to be certified and the development process will continue as more professional riders start wearing D-air next season.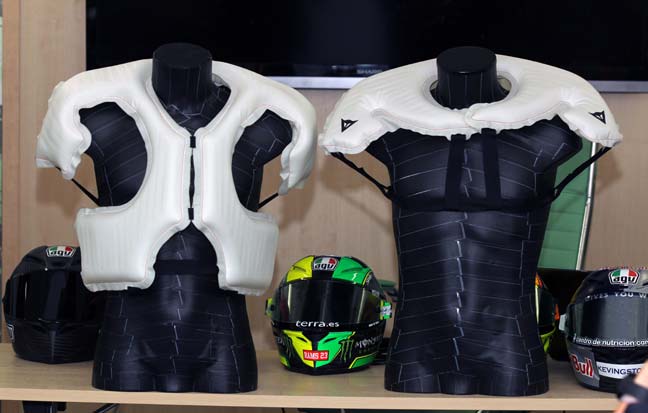 The improvements to the existing system were a joint effort between Dainese, British Superbikes championship and MotoSport Vision. "The current D-air system proved extremely effective in preventing collarbone and neck injuries, but below that are critical areas of the body, including major organs and that is what we wanted to concentrate on through our safety partnership with Dainese. [We] visited Dainese and between us all looked at what would be possible to achieve. This could be the biggest evolution of rider safety," said Stuart Higgs, British Superbikes director.
But the new system won't be confined to the racetrack. Dainese's retail dealers will also be able to sell the race specification and a road version -- D-air Street -- of the system to any motorcyclist looking for extra protection and though the company is yet to confirm pricing, the full Race suit, complete with a rider's choice of logos and graphics, is expected to retail for $5000. Meanwhile a jacket supporting the Street version of the airbag system could cost as little as $1500.