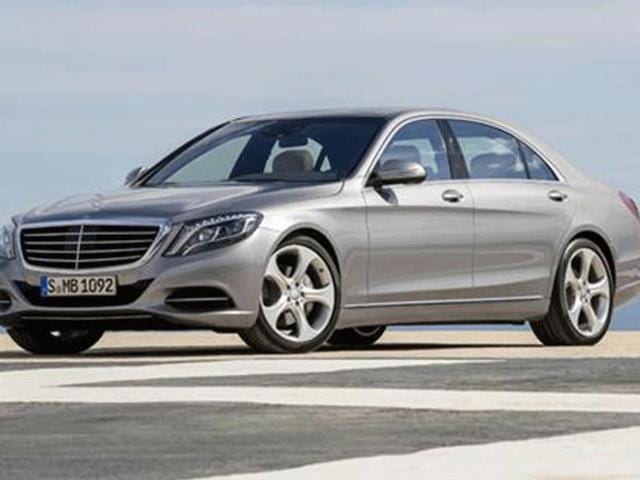 All-new Mercedes S-Class officially revealed
5 min read

.

Updated: 16 May 2013, 11:58 AM IST

The all-new Mercedes-Benz S-class aims to continue the plush four-door saloon's traditional dominance of the global luxury car market with a technological tour de force that combines comfort, space, efficiency, safety, quality and connectivity.

The all-new Mercedes-Benz S-class aims to continue the plush four-door saloon's traditional dominance of the global luxury car market with a technological tour de force that combines comfort, space, efficiency, safety, quality and connectivity. The new Mercedes flagship is charged with the task of replacing not one but two different model lines.
Similar Bikes
On the one hand, it has been developed to fill the role of the previous generation S-class on sale since 2007. On the other, it has been conceived to occupy the very same territory vacated by Mercedes-Benz's discontinued Maybach brand and its 57 and 62 limousines.
Reflecting the importance that Mercedes boss, Dieter Zetsche, has placed on it, the new car is planned support no less than five different models: short wheelbase saloon, long wheelbase saloon, extra long wheelbase saloon, coupé and cabriolet.
Stylistically, the new S-class, developed under the internal codename W222, is more evolutionary than revolutionary, representing a clear progression of the outgoing model rather than a complete departure of what went before it.
It shows obvious heritage in many elements, but the surfacing treatment is contemporary enough to give it modern appeal. Mercedes design boss, Gorden Wagener describes the car as having "more noble visual character" than its predecessor.
Continuing a trend that has seen all recent Mercedes-Benz models significantly undercut their predecessors in terms of aerodynamic efficiency, the big saloon is claimed to boast an impressively low drag coefficient of just 0.24.
Sitting proud up front is a traditional grille with added chrome, increased width and greater prominence than on any recent Mercedes model. Other design features of note include larger headlamps with more expressive internal graphics and up to 56 individual LEDs, a heavily structured front bumper, more contoured bonnet, less prominent wheel arch flares, and a signature dropping line along the flanks that runs from the trailing edge of the headlamps to a lower point above the rear wheel arches.
The underpinnings, like many elements of the new S-class, are a development of those used by its predecessor, albeit with numerous revisions, most notably in the area of electronics that sees the new car adopt some interesting new safety features.
These include an illuminated belt buckle extender and air bags within the belt straps for the rear passengers. Models equipped with the optional reclining rear seat also receive an airbag within the seat cushion; it's designed to prevent the occupant sliding forward in the case of an accident.
Many of the changes and developments have been made in an effort to improve rear-seat luxury, as the Asian market for traditional luxury saloons is becoming increasingly important. Interior space is greater than the previous generation and equipment like seatbelt holsters that rise electronically serve to boost what Mercedes-Benz calls the 'essence of luxury'.
Considerable lengths have also been taken to ensure that interior noise has been reduced, with structural and suspension components being specifically designed and manufactured to reduce noise, vibration and harshness. Damping foil and sound-deadening materials are used throughout the car to further quieten the cabin, while door and window sealing systems have been upgraded to cut wind and road noise.
In long wheelbase guise, the new S-class uses the same 3165mm wheelbase as its predecessor. Dimensionally, the new car is 21mm longer, 29mm wider and 11mm higher than before at 5246mm, 1899mm and 1491mm. The inclusion of new rear seats, which come with an optional reclining function, has lead to a 30-litre reduction in boot space at 530 litres.
Mercedes has increased the amount of lightweight materials used in the construction of the new S-class in a bid to shed weight; the entire outer skin, including the roof, is now made out of aluminium, while the internal structure uses a higher percentage of hot formed multi-gauge steel in a move that sees a reduction in kerb weight among some models.
With a kerb weight of 1900kg, the S350 BlueTEC tips the scales 20kg below its predecessor. At the same time, it is claimed to boast the most rigid body structure in its class.
Petrol, petrol-electric, diesel and diesel-electric drivetrains will all be offered globally. All four will come with a seven-speed automatic gearbox from the outgoing model carrying revisions that, Mercedes claims, provides smoother, faster and more intuitive shift action.
Included among the engines planned for international markets is a carry over 3.0-litre V6 diesel with 254bhp in the S350 BlueTEC and a 2.1-litre four-cylinder diesel with 204bhp in combination with a 20kW electric motor for a total output of 228bhp in the S300 BlueTEC Hybrid. The diesel hybrid has a lower coefficient of drag than conventional models, dropping from 0.24Cd to 0.23Cd, and is stated to emit 115g/km of CO2.
Also planned is an upgraded version of Mercedes-Benz's existing twin-turbocharged 4.7-litre V8 petrol engine that produces 20bhp more than its predecessor at 449bhp in the S500; a plug-in hybrid version is planned for 2015 as well.
The high-performance S63 AMG is yet-to-be-revealed. Like its predecessor, it is powered by a twin-turbocharged 5.5-litre V8 that is likely to offer a standard 536bhp, or 563bhp in combination with an optional performance package.
Most S63 AMGs will be rear-wheel drive, but selected markets will get S63s with Mercedes-Benz's four-wheel drive 4Matic system. These will be badged S63 AMG 4Matic.
Some international markets will receive the S400 Hybrid, which uses a revised version of the naturally aspirated 3.5-litre V6 petrol unit used in the outgoing model in combination with a 20kW electric motor for an overall output of 321bhp - an increase of 26bhp on the old S400 Hybrid.
In 2014, Mercedes-Benz will bring a new S600 model to the global line-up. It receives a revised version of the outgoing model's twin-turbocharged 5.5-litre V12 developing around 530bhp. In 612bhp 6.0-litre guise, this engine will also power a range-topping S65 AMG flagship.
Also planned for launch next year is a new S500 Plug-In Hybrid model, which Thomas Weber, head of research and development, says achieves combined fuel consumption on the European test cycle of more than 70.6mpg.
Heading the long list of technological advances incorporated on the new S-class is Mercedes-Benz's so-called Magic Body Control (MBC) system. Available as an option, it uses cameras mounted within the windscreen to scan the road and detect surface irregularities before automatically adjusting the damping characteristics to reduce body movements, better control roll and pitch and generally improve overall ride comfort.
Other innovations include a pair of dash-mounted 12.3-inch TFT screens. One displays instrumentation; the other functions as a sat-nav, multimedia and settings screen. Further improving interior comfort is the new 'Thermotronic' climate control system, which can filter out viruses, dust and spores.
Myriad advanced options are also available, such as a 'Comfort' package that allows the seats to mimic a hot-stone massage, night vision, adaptive cruise control, a range-topping 24-speaker sound system and a built-in atomiser that diffuses scents into the cabin.
Expect the new S-Class to reach our shores soon.