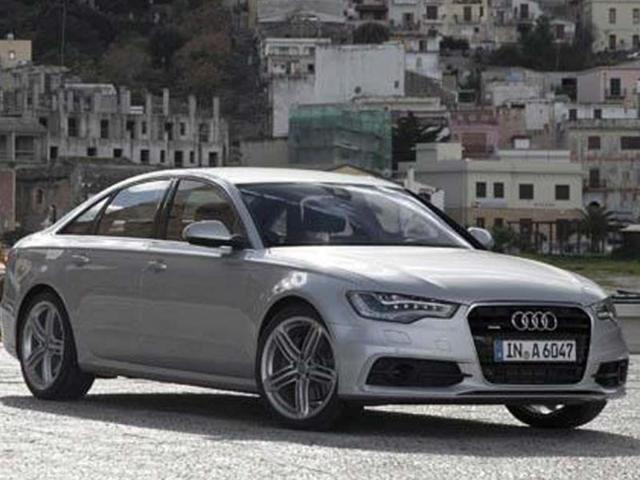 A6 3.0 TDI
9 min read

.

Updated: 03 Jan 2013, 05:06 PM IST

There is no doubt that Audi has taken the game considerably forward with the new A6

There is no doubt that Audi has taken the game considerably forward with the new A6.

Audi seems to be on top of its game as far as design is concerned. Both the A4 and A8L are superbly balanced and a treat to look at, and now this new A6 takes the game even further.
Similar Cars
Yes, it is a bit generic and Audi design cues are all over the car but as far as proportions, forms, detailing and even bright work go, Audi's designers don't seem to have put a pencil wrong. The sweeping roof and rear quarter-glass carry over the previous A6's look and the beltline reminds you of the earlier car too.

So this is both an Audi and an A6, no question but it's still very fresh and new. Those fabulous LED headlamps, the tightly cropped grille and the faux large inlets give it a unique identity. The rear of the car however is very A8, especially the elongated tail-lights and the manner in which the spoiler on the boot sweeps over.
Dimensionally this car has a slightly longer wheelbase and is also slightly wider than before but its overall length is a bit less. Also reduced significantly through systematic effort is the weight. The new A6 may be built on Audi's MLB platform, also shared with the A4, but there are plenty of aluminium bits here. Bonnet, fender, doors and the boot lid are all made of aluminium and under the skin things like cross-members, suspension towers and even the bulkheads are made from the lighter material too. The result of all these weight-saving measures is a car that weighs 80kg less than the outgoing one, which gives it an advantage as far as performance, handling and even fuel efficiency are concerned.
The A6 also comes equipped with Audi's Quattro four-wheel-drive system that gets a 60:40 rear bias. Adaptive air suspension and Audi Drive Select allow the driver customisable setting for systems like dampers, steering and engine mapping.
An interesting feature is how the adaptive restraint system networks with Audi's 'Pre Sense Basic' safety system. It detects how tall the driver and front passenger are and, if necessary, the airbags can quickly blow down a portion of their air volume to cushion the head and chest more gently in a crash!
Interior
Just as avant garde-looking as the exteriors are the gobsmacking insides. Again this is an Audi for sure but with some new shapes, new details and an even higher standard of fit and finish that makes you want to paw the cabin almost continuously. The wraparound design that starts with a wedge of wood on the doors is simply stunning and features from the A8, like the fabulous instrument cluster with the big screen in the centre straddled by raised dials, the touchpad control on the transmission tunnel and Audi's new asymmetric chrome highlights, lift the mood of the cabin to a different class. And there is visual drama here too. The MMI screen, for example, pops out from behind the vents or can be tucked away to give back the clean look of the dash.
Long-limbed drivers will find themselves particularly comfortable behind the wheel. There is acres of space for the driver, adjusting the seat and steering wheel allows you to find the perfect driving position, and visibility is very good as well even when you reverse. The driver's seat, however, doesn't feel very large and that's the case in the rear as well. Though the rear seat has loads of legroom and decent headroom too, it is set a touch too low and this adversely impacts under-thigh support. It's comfy enough at the back but we feel the rear seat could have been slightly larger and offered more support.

Audi hasn't stinted on features. Standard on the new A6 is the keyless entry and go, sunroof, four-zone climate control, iPod and Bluetooth connectivity, leather seats, a 20GB hard drive and adaptive air suspension. You can equip it further with LED headlamps (as fitted to the test car), the MMI touchpad, DVD changer, reverse camera and a BOSE sound system. And, as expected, there is a long list of safety features too. It's got ESP, ABS, six airbags, the Pre Sense system and of course the all-wheel-drive grip. Strangely, there is no stop-start or energy recovery system on the diesel. These will feature on the petrol versions that will debut later though.
Performance & Economy
Audi's new-generation 3.0 TDI is nothing short of a gem. A thoroughly reworked motor that now has vastly reduced levels of internal friction, this V6 diesel is so good that it could be a game-changer for Audi.
For a start it rarely ever feels like a hulking big diesel, either in the manner in which it revs or even how it performs under load. It may not rev as enthusiastically as a BMW straight six nor have a pleasing snarl but apart from this, Audi's V6 has the BMW licked.
First of all, idle is super smooth. There is no diesel clatter, only the faintest of vibrations filters through the bulkhead and this motor feels so smooth when you tap the accelerator that it all but purrs. And it's very responsive as well. Accelerate away from a standstill and it responds almost petrol-like but with plenty of additional torque tossed in for good measure. Progress is pretty linear too. This motor makes an impressive 51kgm of torque from just 1400rpm, so even at 1200rpm, there's a huge amount of pulling power ready to be tapped. At moderate revs there's a quiet humming sound from under the hood and just punting the A6 around gives you the feeling you are driving a large-capacity V8.
Devastating is an overused word, but performance for the most part is just that. Once past 2000rpm, the motor just catapults you forward and the push in the back stays very firm all the way to 4000rpm, soon after which a quick upshift gets the whole process going again. And with approximately 245bhp being unleashed at this engine speed, the scenery comes flying at you with a vengeance. Zero to 100kph takes just 6.3 seconds, making this one of the fastest four-door cars in our market. Overtaking is merely a tap of the throttle away, and the massive bursts of power unleashed when you go full throttle are truly gratifying. This engine's mid-range is its strength and the surge of power when you hit the sweet spot in the rev band is addictive. Get behind the wheel on an open road, and all you want to do is drive, drive and drive and when you get home here's a motor you want to roll up, tuck under your arm and take with you.
Also well mated and well up to the task is Audi's seven-speed twin-clutch automatic. Upshifts are a quick flick of the paddle-shift away and the gearbox shifts really well in manual mode too, increasing driving pleasure considerably. However, it does become a touch slow to downshift when cruising, and you can't get away from the initial lag, typical of the twin-clutch system which you don't experience in a conventional torque converter-equipped auto.
The new A6 is lighter, has more gears to play with and is also running an engine that boasts considerably reduced friction. So it's no surprise that this car is much more efficient than the one it replaces. And that's despite not having a fully integrated efficiency system similar to Merc's BlueTEC or BMW's Efficient Dynamics.
Our test showed that the A6 used a litre of diesel to travel 9.3km in city traffic conditions, and efficiency on the highway was 14.3kpl which is impressive for such a powerful saloon.

Ride & Handling
With its new stiffer chassis and adjustable air springs and dampers, Audi has found a happy compromise as far as ride and handling is concerned. The dampers set in 'Comfort' are extremely indulgent and the A6 really did surprise us with how well it rode. Helping the secondary ride in no small measure are the 225/55-R17
tyres whose relatively high profile provide considerable cushioning over bad roads.
The A6 glides over rough sections silently and with very little movement of the body, low speed ride is better than expected from an air suspension system. Even wildly undulating surfaces are ridden over with a very high degree of body control. Large holes, however, do result in a sharp thunk due to the short-travel suspension and the lightweight A6 does shudder a bit over particularly bad patches. Most disconcerting was the fair amount of tyre and road noise which is a problem that afflicts other Audis like the A8 and A7 too.
Audi, however, has done well to make Sport mode quite comfortable and useable. It's not as hard-edged or bone jarring as you would imagine and you can enjoy the best of what this car has to offer on some of our better surfaced roads.
The A6 is quite adept at shrink-wrapping itself around you. It feels no bigger than an A4 from behind the wheel, acts like a car with only half its mass when asked to change direction and the Quattro system provides it prodigious grip too. The A6 is fun to drive but not brilliantly so. There's a lot of understeer to deal with when pushed hard but the biggest party pooper is the steering which feels numb and devoid of feel, even in 'Dynamic' mode. As a result, it's not a very engaging drive and the brakes feel mushy too.
Also unique for a car in this class is the lift feature that makes the air springs raise the car 20mm to help it clear bad roads or extra large speedbreakers at low speed. Very practical.

Verdict
There is no doubt that Audi has taken the game considerably forward with the new A6. It's almost everything luxury car owners would look for- a class-leading diesel motor that is powerful and incredibly refined, interior appointments that can embarrass a luxury suite, and a comfortable ride. The A6 isn't particularly engaging to drive but it can still indulge enthusiastic owners a fair bit. We wish the rear seats were a bit more supportive and there is some road noise present as well. However, you can't get away from the fact that this is a well rounded and a superbly engineered car that has certainly set a new benchmark in its class.
Technical Specs
What it costs
Ex-showroom (Delhi) ₹53 lakh (est)
Engine
Fuel Diesel
Installation Front, longitudinal, all-wheel drive
Bore/stroke 83.0/91.4mm
Compression ratio 16.8:1
Valve gear 4 valves per cyl, DOHC
Power 245bhp at 4000-4500rpm
Torque 51kgm at 1400-3250rpm
Power to weight 142.44bhp per tonne
Transmission
Type All-wheel drive
Gearbox Seven-speed DSG auto
Dimensions
Length 4915mm
Width 1874mm
Height 1455mm
Wheel base 2912mm
Chassis & Body
Weight 1720kg
Tyres 225/55-R17, Pirelli P7
Suspension
Front Independent, double wishbone, anti-roll bar, air springs
Rear Independent, multi-link, anti-roll bar, air springs
Steering
Type Rack and pinion
Type of power assist Electro-mechanical
Brakes
Front Ventilated discs
Rear Ventilated discs
Economy
City 9.3kpl
Highway 14.3kpl
Tank size 75 litres
Range at a glance - Engines
Petrol 2.8 litre 204bhp
Diesel 2.0 litre 177bhp