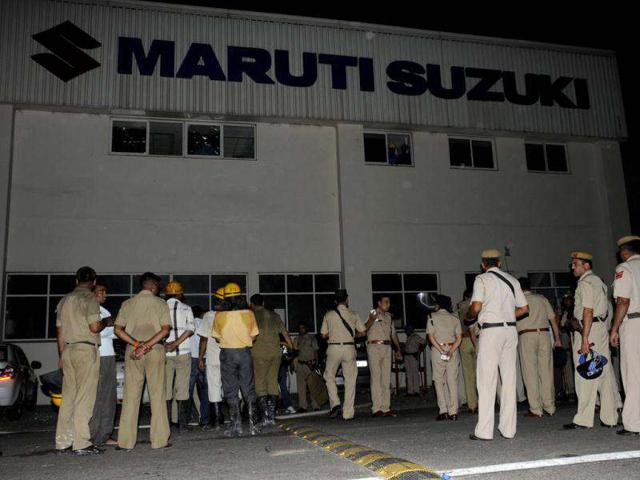 A bumpy ride ahead for Maruti?
6 min read

.

Updated: 22 Jul 2012, 10:52 AM IST

Two hours of madness on a sultry Wednesday afternoon last week, when a mob of workers ran amok at Manesar has brought Maruti Suzuki, the company that taught driving to generations of Indians, to a standstill. Sumant Banerji reports. The story of the family car

Two hours of madness on a sultry Wednesday afternoon last week, when a mob of workers ran amok at Manesar has brought Maruti Suzuki, the company that taught driving to generations of Indians, to a standstill. As the firm tries to pick up the pieces and get on with life, an existential question stares it in the face.
Similar Cars
Will Maruti ever be the same again?
There is still no clarity on why there was so much blood on the shop floor. In a kind of labour unrest rarely seen before, 51-year-old Awanish Kumar Dev, a senior human resource executive at the twin factories in Manesar, met with a brutal death. Another 100 managers and supervisors were left battered or bruised. In what is clearly the darkest hour for the company, the trauma is immense and reality yet to sink in.
"This is a terrible tragedy and the saddest day of my life," says 64-year-old Shinzo Nakanishi, managing director and CEO of the company. "It is the biggest challenge of my career. I have put a bad dot in the company's history. I don't know why this happened. Our own workers hitting our managers is unimaginable."
Maruti has five factories spread in a radius of 30 kilometres that produce over one million cars every year. Starting out of a cowshed in Gurgaon in 1983, it has single-handedly sculpted the future of the area as one of the biggest industrial hubs in the country.
But unlike Gurgaon that has seen only one instance of workers' strife back in 2000, Manesar is the new kid on the block, and a problem child at that. Last year, it witnessed three labour strikes on the issue of recognition of a union that caused a revenue loss of R2500 crore and production loss of 83,000 cars. It also cost Maruti its halo of invinciblity.
"This is the most challenging time for Maruti," says Pradeep Saxena, head, automotive research, TNS India. "There doesn't seem to be an easy solution. The Japanese way of functioning is strict. They do not tolerate violence or indiscipline of this kind."
There were problems between the management and workers at Manesar. Wage negotiations, always a tedious exercise, were underway but workers were getting restless. Last year's strike - which was resolved when 16 workers, including the leaders of the agitation, were offered a voluntary retirement scheme allegedly sweetened with a hefty pay out - also left the workers at large dejected. Maruti never clarified the financial payout that was offered and the opaqueness may have led to simmering tensions and strained relations.
"Initially, the impressions were negative," admits SY Siddiqui, chief operating officer (administration) at Maruti. "But we explained to the workers how we handled it and it was alright later."
The one significant difference between Gurgaon and Manesar is the age profile of workers. At Gurgaon, the average worker is 38 years old, married and with children. They have seen their lives improve with the growing stature of the company. At Manesar, workers are between 20 and 24 years old, young, brash and aggressive. The association with the company, at under five years, is short and loyalty is suspect. "Their lack of experience and maturity often came out during negotiations," Siddiqui says. "We often had to hold their hand and guide them."
Hand-holding is what a young man from that area does not like. The dream of the youth in Haryana is to rule as a landowner or by joining the army or police. "He would rather start a small business than join the worker class," says Harihar Singh, a Manesar dhaba-owner.
Even then, there are no definite reasons for the extremity of the reaction and the company is clueless. While the plant will remain closed in the immediate future, there is a question mark over its survival in the long run. So far, Maruti's attempts at increasing communication with workers and enhancing trust after last year's agitation seem to have failed. The violence may impair the morale of supervisors as well.
"After last year's strike, we thought the 'shadow of outside' was removed and the new union at Manesar was recognised," Nakinishi adds. "If investigation reveals that there is still some outside influence, then it's a failure on our part."
Manesar is crucial to Maruti's business plans. It makes the Swift and Dzire, two of the most in-demand cars in the company's portfolio. The strike last year, resulted in Maruti's marketshare fall to less than 40%. If Manesar remains unstable, it may cost Maruti its crown.
"This is not a situation from where they can't recover," says Saxena. "The brand is strong and a good PR campaign explaining the problems to the consumers would do the trick. A disruption of 2-3 weeks or even a month will not be an issue. But in the long term, problems should not recur."
Producing over a million cars every year, Maruti remains head and shoulders above everybody else even though an expanding market has seen its grip loosen. It is also the cherry on parent Suzuki's cake accounting for half of its sales globally, a third of its profit and a quarter of its turnover. And it makes by far the most loved cars in India.
Perhaps, it is time for Maruti to finally live up to its name and be the Hanuman that is revered cross country... for its strength and immortality.
"We demand a CBI (Central Bureau of Investigation) inquiry in the complete episode. The workers cannot be so brutal," says Kuldeep Janghu, union leader at Suzuki's Gurgaon factory.
Labour unrests across the world
Worker protests have forced many companies to their knees in the past.
Flint Sit-down Strike, 1937-38
Soon after the Great Depression, a 44-day strike caught General Motors off guard. The strike forced GM to recognise United Auto Workers as the sole labour representative. GM had to increase pay by 5% and adjust wages to American living standards.
Great Bombay Textile, 1982
About 250,000 mill workers and more than 50 mills went on strike for a month due to the rigid stance from both government and union. Many mills moved outside the city and the strike collapsed eventually, yielding nothing for workers except joblessness and majority of mills closing down permanently.

Daewoo Strikes, 90s and 2000s
Now-defunct Korean giant faced many strikes over layoffs and better pay. In 1999, workers went on a two-month strike over layoffs of 6,800 out of 18,000. In 2010 again, workers demanded reinstatement of the workers and recognition of the union.

SangYong Motors Strike, 2009
Workers occupied the South Korean plant after a proposed lay-off. The employee strength had decreased after takeover by China's Shanghai Automative Industry Corporation. The 77-day strike ended only after police raided the plant using helicopters. An agreement was reached over wages and reinstatements. Company filed a lawsuit for $45 million against the union and claimed $258.6 million in damages.

UPS Workers' Strike, 1997
In order to reduce cost, UPS which controlled 80% of the packaged delivery in the US, hired huge number of cheap part-time employers. After 15 day strike, they agreed upon an increased pay for both part-time and full-time workers, also to upgrade 10,000 part-timers to full-time status. The strike cost the company $650 million.
Dunlop Strike, 2009 and ongoing
Tyre-maker Dunlop's plant in Chennai are demanding uniform compensation to all employees, irrespective of experience. The management has suspended operations alleging indiscipline among workers and safety concerns. Now their demand is to reopen the plant with the full workforce. Talk continues but plant remains shut.