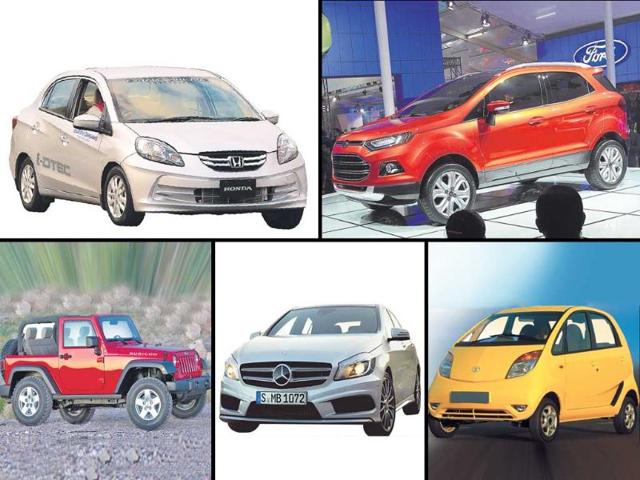 2013 watchlist: what's coming
1 min read

.

Updated: 07 Jan 2013, 12:50 PM IST

2012 may not have been great but Motown is not taking its foot off the pedal. HT takes a look at 5 cars expected to make a big splash.

Honda Amaze

Expected launch : April 2013
Expected price :
₹ 5.2-6.5 lakh for petrol
₹ 6.5-8.0 lakh for diesel

With the Amaze, Honda breaks new ground in India. When it hits the roads, it will be its smallest and cheapest sedan in the country and more importantly, its first diesel offering.
Similar Bikes
The 1.5 litre powertrain that has taken its own sweet time coming, will eventually be seen in a range of other Honda cars like Brio and Jazz. Essentially a sedan version of the Brio, Amaze will pose a serious challenge to reigning segment leader Maruti Swift Dzire. And while resuscitating Honda's flagging sales in the country, it may also perk up a segment that has been at the receiving end of the craze for compact SUVs in the last 12 months.
Jeep Grand Cherokee

Expected launch : End 2013
Expected price : ₹ 30 lakh plus

You have driven the Scorpios, Fortuners, CRVs, Pajeros and Endeavours of the world. You have also been driven in the age old Jeeps in the hinterlands over dusty non existent roads. This year, you will get the chance to experience the real deal. Finally. The contemporary Jeep Cherokee makes its way into India by the end the year, and, for an off road junkie, its an icon like none other. An ultimate all-terrain vehicle with no pretensions, it only promises to take you places you can only dream of. At the same time, it offers all modern gizmos and comforts. Hence the price. Don't expect a Land Rover out of it though...because a Jeep is a Jeep. Its success will depend on how well Fiat, the owners of Jeep, handle it but for a SUV crazy nation, the absence of it surely rankled. Now no more. Laddakh...ahoy.