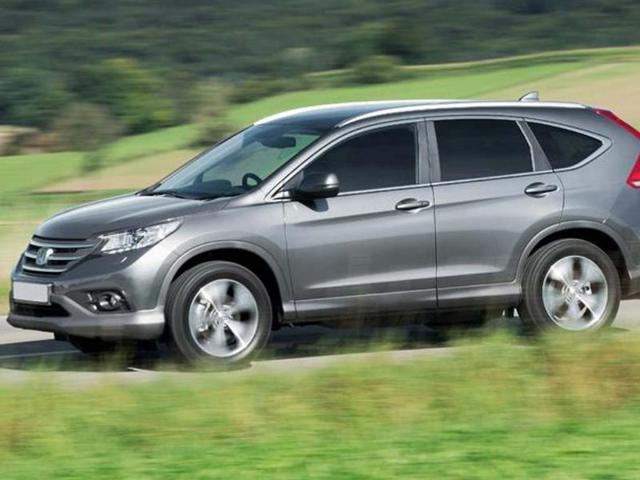 2013 Honda CR-V review, test drive
4 min read

.

Updated: 08 Jan 2013, 03:27 PM IST

Honda's new CR-V promises more style, more comfort and more fuel efficiency. We drive Hondas soft roader to see how good it is.

Honda's new CR-V promises more style, more comfort and more fuel efficiency. We drive Hondas soft roader to see how good it is.

The folks with the MBAs like to call it the 'first-mover advantage' - discover a need or niche and fill it before the competition does.
Similar Cars
If your product resonates with consumers, you're likely to get a lock on the market.
Precisely what happened when Honda introduced the original CR-V in the Indian market almost a decade ago. Here was an SUV that was as smooth and friendly to drive as a car, but had the look, feel and practicality of a middle-of-the-road off-roader. Men liked this duality and, unsurprisingly, their wives liked it even more. Soon the CR-V drifted up and bumped its roof against the top of the box-office, remaining the best-selling import in India for a considerable span. But time, other imports and a sky-rocketing Yen have taken its toll on the CR-V, and today, Honda's soft-roader is nowhere near as popular as it used to be. So can the new car change
all that?
Fresh but familiar
The design, like that of the current CR-V, is a blend of quirky modern details and fundamentally sound dimensions and proportions. A key goal was improving the new CR-V's aerodynamics, in turn yielding better fuel efficiency and less wind noise. What's surprising is that the new model appears bigger even though it's actually slightly shorter overall. What will matter more is that Honda has done a better job of utilising space; the new model boasts more room in just about every category that counts. The front of the cabin feels much wider, it is easier to get comfortable on the nicely contoured back seats, and the flat floor at the rear contributes to a feeling of airiness. The design of the dash, like the exterior, is evolutionary.
Honda has also expanded the size of the centre console and created a storage space large enough for a woman's purse, with the sort of litre-sized cupholders customers love. There is also a five-inch multi-information display, or MID, which is reasonably easy to use, and you even get a text message reader. A welcome addition is a system that allows you to access internet radio stations via your iPhone, which is quite fantastic. Also very useful for India is the new Multi-Angle Rearview Camera, which allows drivers to switch between a 130- and 180-degree field of view.
There is plenty of room in the rear to toss heavy bags into, and the large cargo compartment becomes positively cavernous when you fold down the rear seats. On the downside, there's still a bit of hard plastic and the 2012 CR-V does not necessarily look more expensive or especially well-detailed on the inside.
On the move
On the mechanical front, the 2012 CR-V is pretty traditional. The updated 2.4-litre in-line-four engine is smooth and responsive, and Honda seems to have taken a "good enough" approach, opting for port fuel-injection and a five-speed gearbox, where much of the competition has migrated to direct-injection and six-, seven- and even eight-speed transmissions.
The powertrain may not be state-of-the-art, but it's not going to bother the typical CR-V driver. The 185bhp is more than sufficient for everyday use and smoothness and refinement at low speeds is good as well. What it lacks is a bit of agility. That instant slug of torque is absent when you floor the throttle, and the five-speed automatic is also not as quick as many modern autos. Bags of performance are available if you're patient and wait for the engine to spin faster, after which the CR-V, like all good Hondas, snarls to the 7000rpm redline with plenty of energy.
As on the car, chassis stiffness is very impressive. This means there's relatively little roll, directional stability is very good and the suspension is pretty pliant and comfortable. What somewhat kills the fun-to-drive factor, however, is the new electric steering system.
Worth the wait
At first glance, the all-new CR-V is familiar and not wildly impressive. Delve deeper though, and you soon realise that this car scores very strongly on all parameters. It's very comfortable and spacious, the performance is strong, the build quality and fit and finish are good, and it is likely to be very reliable. The only thing missing, of course, is a diesel engine, which, as ever, is in the pipeline but not expected immediately. And this will limit its appeal. But if you are looking for a petrol-powered soft-roader that's a perfect blend of large saloon and big, middle-of-the-road SUV, this could be the car for you.

Fact File
Price Range (in lakhs)*
Ex-showroom price ₹28.36 lakh (est)
Engine
Fuel Petrol
Type 4cyls, in-line, 2354cc petrol
Power 185bhp at 7000rpm
Torque 22.5kgm at 4400rpm
Transmission
Gearbox Five-speed auto
Dimensions
Length 4528mm
Width 1818mm
Wheel base 2618mm
Chassis & Body
Weight 1500kg
Suspension
Front Independent, MacPherson struts
Rear Independent, multi-link