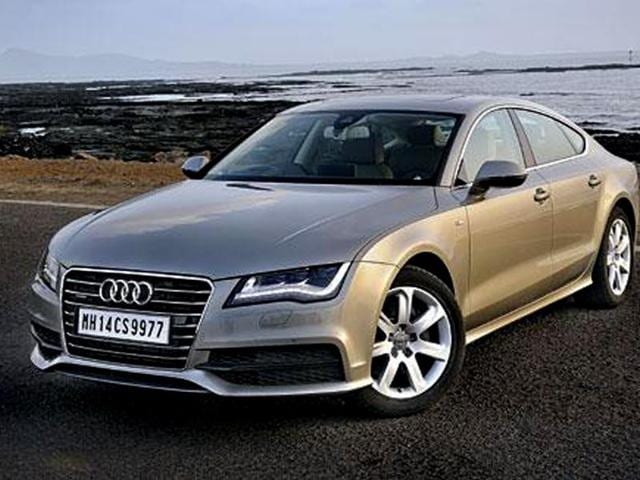 2011 Audi A7 3.0 TDI
5 min read

.

Updated: 31 Dec 2012, 05:28 PM IST

The A7 turns heads. Everywhere. You would think that the metallic beige Audi isn't unique enough to catch the jaded Mumbaikar's eye, but that's just what it does.

Audi's five-door coupé scores on style, but what about substance?

The A7 turns heads. Everywhere. You would think that the metallic beige Audi isn't unique enough to catch the jaded Mumbaikar's eye, but that's just what it does.
Similar Bikes
Credit goes to its low, brooding stance and slit eyed headlamps, but where the A7 is racier than the regular German executive cars is with its Mustang-like fastback rear. We think it looks fantastic and other road users seem to unanimously agree.
We like what's under the skin too. The A7 shares its innards with the A6 and, indeed, the A4 and A8, all these models using Audi's MLB platform. It may look like a coupé, but the car occupies quite a bit of real estate. At a shade under five metres long and almost two metres wide, it is longer and wider than an A6, but smaller than an A8.
And, like its siblings, the engine is longitudinally mounted and sends power to all four wheels. Audi's tried and tested 3.0 V6 diesel motor has been improved for the A7 by using higher injection pressures, new camshaft profiles and a revised turbo. As with most Audi Quattro systems, this one sends 60 percent of its power to the rear axle. Suspension is by way of double wishbones up front and a multi-link setup at the rear with Audi's adaptive air suspension taking care of damping. A lot of the body is aluminium, including the front suspension struts, so this car weighs in a rather light 1770kg (for its size). The 54/46 front/rear weight distribution is impressive too.
This is a long, low car, and it feels that way when you get in. You stoop to enter, and sit a lot lower than in conventional saloons of this size, but it's a comfortable place once inside. We liked the interior's craftsmanship and trimmings that make it feel quite special. The swooping dashboard and door inserts, the precision machining of the aluminium centre console controls and the showy arrival of the MMI system's screen that rises out from a slot in the dash, all create an alluring first impression.
At the rear, the fastback roofline will scuff the scalps of taller people, and sitting three abreast is a bit of a squeeze. Legroom isn't bad but what makes it a tad uncomfortable is the upright seat back. The underlying message here is don't buy this car if the rear seat is a priority. The boot is reasonably spacious and though it's a bit shallow, it makes up with its length and you can split and fold the rear seats for a bigger load area.
There's no stinting on equipment. Standard features include adaptive air suspension, two-zone climate control, a fuel saving start-stop system, Audi's Multi-Media Interface, a parking system with a reverse camera, and 18-inch alloy wheels. The options list is quite long too, so you can really spec it up. But, as with all Audis, the spare tyre is a space saver.
Drive it, and you'll see the A7 is much more than just a looker. Press the engine start button and the 245bhp, 3.0-litre V6 diesel starts and settles into a beautifully refined idle. The strong point of this engine is the way it makes its 51kgm of torque. It peaks at a low 1400rpm and stays there all the way to 3250rpm. Keep the engine spinning in this range (easy to do via the seven-speed, twin-clutch auto) and you'll find a car that is rapid in its responses. Flat out, it moves off with convincing urge and performance is befitting of its sporty looks - 100kph comes up in a very rapid 6.6sec and 200kph comes up in under half a minute. The engine is incredibly smooth and refined for the most part, and gets audible only when nearing its redline.
If there is a slight hiccup with the powertrain, it's that the transmission occasionally hesitates when you want to kick-down. Using the paddleshifts cures this problem, so it is best to do so when you want a quick overtake.
Adding to the car's relaxed highway manners is the tall seventh gear which gives it long legs. It's a shame then that there is so much tyre roar in the cabin, especially over concrete roads. It's the one thing that stops it from being as relaxed a tourer as some of its German rivals.
Around town, the low driving position can be a bit intimidating at first, but you get used to it. That big rear window really makes it easy to see out the back though. It has a genuinely comfortable and pliant ride despite the big wheels and the low-profile rubber. With the adaptive air suspension in comfort mode, it absorbs bumps well and we love the way it dispatches bumps and expansion joints with solid thunks. The comfort setting does allow the car to wallow ever so slightly over undulations and small bumps do tend to catch it out but this isn't too bad. Ground clearance isn't as bad as we expected either - simply raise the car on its suspension and it'll climb over most speedbreakers.
Audi's drive select system (standard on the A7) lets you tailor everything from engine responsiveness, steering weight, suspension setting and even seatbelt pre-tensioning. Select the dynamic mode and the steering weights up a bit more and you can feel the suspension tightly controlling body movements. Around corners, the A7 displays phenomenal grip and fantastic body control and is quite fun to drive on a twisting road. The electrically assisted steering is a big letdown though - it feels too inert, lifeless and vague. If not for the desensitised steering, the A7 would have been quite a hoot to drive.
The A7 costs ₹64 lakh (ex-showroom Delhi) which means it sits exactly between the A6 and the A8 on price. It is expensive but that's the price you pay for style. The A7's looks, drivetrain and equipment are all compelling reasons to buy one. It rides well, is very refined and is a lot more practical than its shape would suggest. Sweet chariot it is.

Fact File
Price Range (in lakhs)*
Ex-showroom price ₹64 lakh (Ex-showroom, Delhi)
Engine
Fuel Diesel
Installation Front, longitudinal, all-wheel drive
Type 6 cyls in-vee, 2967cc, turbo-diesel
Power 245bhp at 4000-4500rpm
Torque 51kgm at 1400-3250rpm
Transmission
Type Auto
Gearbox Seven-speed twin-clutch
Dimensions
Length 4969mm
Width 1911mm
Height 1420mm
Wheel base 2914mm
Chassis & Body
Weight 1770kg
Wheels 18 inch
Tyres 255/45 - R18
Spare Space saver
Suspension
Front Double wishbones
Rear Multi-link setup with adaptive air suspension
Steering
Type of power assist Electric
Brakes
Front Ventilated discs
Rear Ventilated discs
Anti-lock Yes
Performance
0-20 1.02
0-40 1.93
0-60 3.11
0-80 4.74
0-100 6.67
0-120 9.18
0-140 12.29
0-160 16.38
0-180 21.46
Acceleration in gear
20-80kph in 3rd gear 4.39s
40-100kph in 4th gear 5.31s