Mammoth 2.21 crore vehicles were sold in India in 2022
The Federation of Automobile Dealers Associations (FADA) reported retail sales figures for 2022 with 2,11,20,441 passenger vehicles and tractors sold in the previous calendar year. The auto sector witnessed a 15.28 per cent jump in volumes year-on-year as against 1,83,21,760 units sold in 2021. The passenger car and two-wheeler segment showed double-digit growth in CY2022.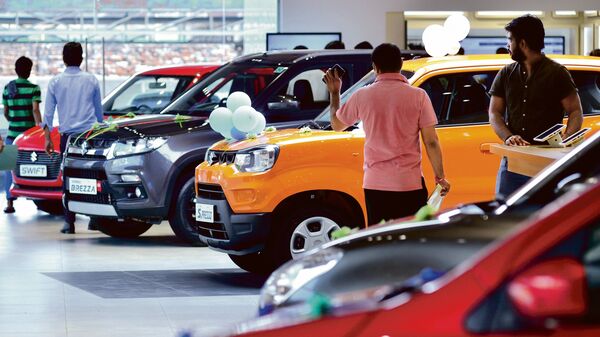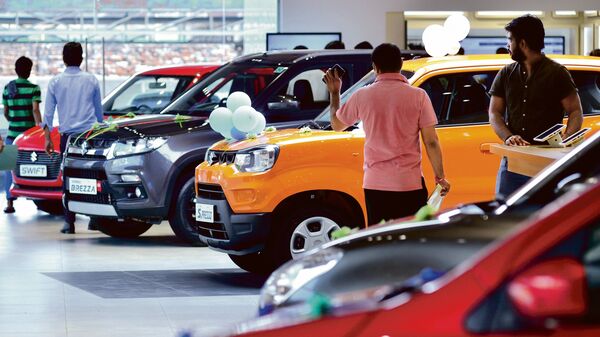 Car retail sales showed strong recovery in 2022 beating expectations and were higher than pre-Covid levels in 2019
Passenger vehicles retailed at 34,31,497 units in 2022, registering a growth of 16.35 per cent, when compared to 29,49,182 units sold in 2021. The two-wheeler retail sales stood at 1,53,88,062 units in 2022, a hike of 13.37 per cent as opposed to 1,35,76,682 units sold in 2021.
Also Read : Car sales continue to soar in December but two-wheelers remain big worry
Speaking on retail sales in 2022, Manish Raj Singhania - President, FADA, said, "For CY2022, while total vehicle retails grew by 15 per cent year-on-year and 17 per cent compared to CY20 it failed to surpass CY19 retails, (a pre-Covid year) and registered a fall of 10 per cent. The PV category during this period continued to gain new grounds by clocking 34.31 lakh retails during the full year. This is by far, the highest retails which PV has done till date."
That said, the two-wheeler sector has not been able to make as quick a recovery as expected. Singhania commented that the rise in inflation, increased cost of ownership, recovery of the rural market and the increased EV sales, have all contributed to the slow recovery of the internal combustion engine two-wheeler segment.
With respect to commercial vehicles, retail sales stood at 865,344 units in CY2022, a growth of 31.97 per cent as compared to 655,696 units in 2021.


Two-wheeler retail sales showed signs of recovery but are yet to reach the pre-pandemic levels
Speaking about the same, Singhania said, "The CV segment has continued to grow during entire CY2022 and is now almost at par with CY2019 retails. With an uptick in demand in LCV (light commercial vehicles), HCV (heavy commercial vehicles), buses and construction equipment, the government's continued push for infrastructure development has kept this segment going."
The three-wheeler segment, which was most affected during the Covid pandemic, has shown strong recovery as well. Retail sales stood at 640,559 units, witnessing a massive hike of 71.47 per cent over 373,562 units sold in 2021. The sector has managed to narrow the gap when compared to CY2019 (pre-Covid). The new electric three-wheelers have been fuelling new demand in the segment.
"Within the segment it's the electric rickshaw sub-segment which is showing triple-digit growth thus pushing the EV market share above 50 per cent mark," Singhania added.
Tractor sales hit a lifetime high in 2022 with 7.94 lakh units, in the wake of a good monsoon, improved cash flow with farmers, better MSP of crops and the government's focus on better procurements, Singhania said. In comparison, tractor retail sales stood at 769,638 units. The timely sowing of rabi crops and a normal festive season after a hiatus of three years further contributed to the strong volumes for tractors.
December Retail Sales
Moving to retail sales in December 2022, the auto sector saw numbers drop to 16,22,317 units, a decline of 5.4 per cent volumes when compared to 17,14,942 units sold in December 2021. Passenger vehicle sales were in the green at 280,016 units, up by 8.15 per cent over 258,921 units during the same period last year. Commercial vehicle retail sales also registered a 10.67 per cent growth in December last year with 66,945 vehicles sold, when compared to 60,491 units sold in December 2021.
However, the two-wheeler space showed a major decline in volumes with 11,33,138 units sold last month, a drop of 11.19 per cent over 12,75,894 units sold in December 2021.
"Auto OEMs have done routine price hikes in December and have announced the same at the beginning of this year. Apart from this, BS-VI phase II norms coming in, there will be further price hikes across all categories," FADA said in its statement. It also advised automakers to rollout special schemes so the growth momentum continues. .
FADA warned of a cautious start to 2023 in the wake of price hike and change in vehicle norms. Furthermore, global geopolitical headwinds, tightening monetary policy and the lingering effect of the pandemic are also expected to contribute to a difficult last quarter of FY2023.
First Published Date:
05 Jan 2023, 11:50 AM IST
NEXT ARTICLE BEGINS

Shop Now